Billy the Kid was a punk
thats for sure
the key to his fame
was getting kilt by a guy
that wrote a book about him
and as every artist knows
thats a ticket to immortality
for better or worse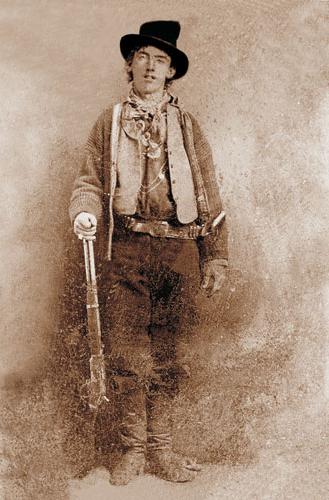 one of the only known fotos of Billy the Kid
from wikipedia
On November 7, 1880, the sheriff of Lincoln County, New Mexico, George Kimbell, resigned with two months left in his term. As Kimbell's successor, the county appointed Garrett, a member of the Republican Party who ran as a Democrat and a gunman of some reputation who had promised to restore law and order. Garrett was charged with tracking down and arresting a friend from his saloon keeping days, Henry McCarty, a jail escapee and Lincoln County War participant who often went by the aliases Henry Antrim and William Harrison Bonney, but is better known as "Billy the Kid". McCarty was an alleged murderer who had participated in the Lincoln County War. He was said to have killed twenty-one men, one for every year of his life, but the actual total was probably closer to nine. New Mexico Governor Lew Wallace had personally put a $500 reward on McCarty's capture.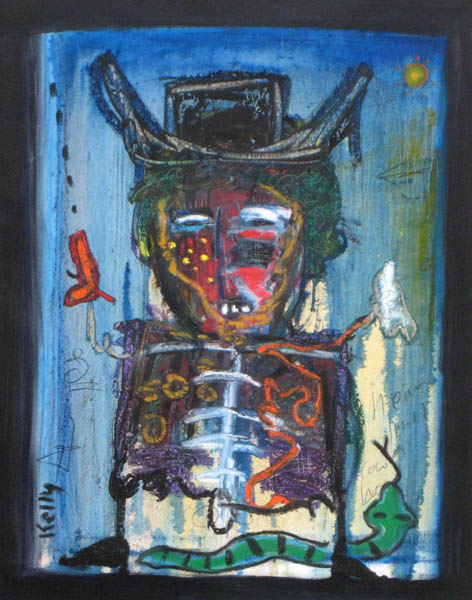 dead cowboy paintd in 2009
During a December 19 shootout, Garrett killed Tom O'Folliard, a member of McCarty's gang. A few nights later, the sheriff's posse killed Charlie Bowdre, captured The Kid and his companions, and transported the captives to Mesilla, New Mexico, for trial. Though he was convicted, The Kid managed to escape from jail on April 18, 1881, after killing his guards J. W. Bell and Bob Olinger.
On July 14, 1881, Garrett visited Fort Sumner to question a friend of The Kid's about the whereabouts of the outlaw. He learned that The Kid was staying with a mutual friend, Pedro Maxwell. Around midnight, Garrett went to Maxwell's house. The Kid was asleep in another part of the house but woke up hungry in the middle of the night and entered the kitchen where Garrett was standing in the shadows. The Kid did not recognize the man standing in dark. "Quien es (Who is it)? Quien es?" The Kid asked repeatedly. Garrett replied by shooting at The Kid twice, the first shot hitting him in the heart, and the second one did not hit him. (Some historians have questioned Garrett's account of the shooting, alleging the incident happened differently. They claim that Garrett went into Paulita Maxwell's room and tied her up. The Kid walked into her room, and Garrett ambushed him with a single blast from his Sharps rifle.)
There has been much dispute over the details of the Kid's death that night. The way Garrett allegedly killed McCarty without warning eventually sullied the lawman's reputation. Garrett claimed that Billy the Kid had entered the room armed with a pistol, but no gun was found on his body. Other accounts claim he entered carrying a kitchen knife. There is no hard evidence to support this; however, if he did so it is likely he intended to cut some food for himself, since he had no idea anyone was waiting for him. Regardless of how he died, Billy was a wanted criminal, and so Sheriff Garrett chose not to give him a chance to surrender.
Still, at the time the shooting solidified Garrett's fame as a lawman and gunman, and led to numerous appointments to law enforcement positions, as well as requests that he pursue outlaws in other parts of New Mexico.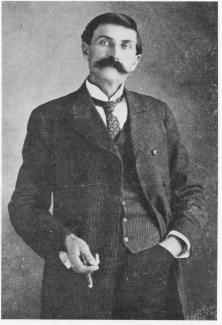 Pat Garrett
Henry McCarty (November 23, 1859[1] – July 14, 1881), better known as Billy the Kid, but also known by the aliases William Antrim and William Harrison Bonney, was a famous 19th century American frontier outlaw and gunman who was a participant in the Lincoln County War. According to legend he killed 21 men, one for each year of his life.
McCarty was 5'8-5'9 with blue eyes, smooth cheeks, and prominent front teeth. He was said to be friendly and personable at times,[2] but he could also be short-tempered and determined. This made him a very dangerous outlaw, when combined with his shooting skills and cunning. He was also famous for (apparently) always wearing a sugarloaf sombrero hat with a wide green decorative band. He was little known in his own lifetime but was catapulted into legend in the year after his death when his killer, Sheriff Patrick Garrett, published a wildly sensationalistic biography of him called The Authentic Life of Billy, the Kid. Beginning with Garrett's account, Billy the Kid grew into a symbolic figure of the American Old West.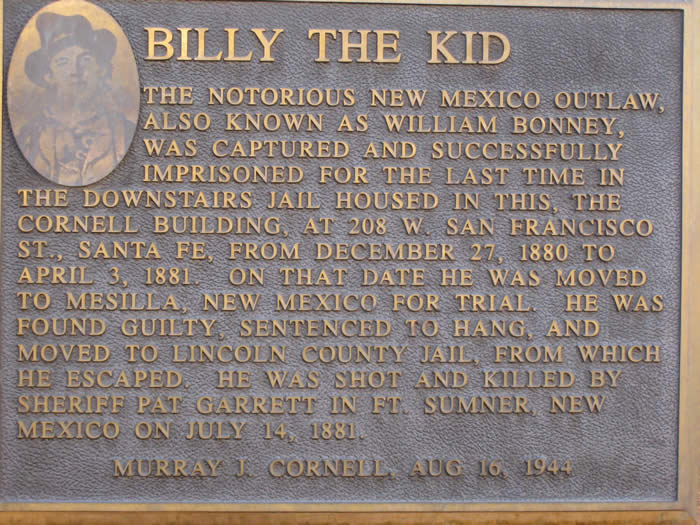 Plaque in Santa fe off the Plaza
Bonney was jailed in the town of Mesilla while waiting for his April 1881 trial and spent his time giving newspaper interviews and also peppering Governor Wallace with letters seeking clemency. Wallace, however, refused to intervene. Bonney's trial took one day and resulted in his conviction for killing Sheriff Brady; the only conviction ever secured against any of the combatants in the Lincoln County Cattle War. On April 13, he was sentenced by Judge Warren Bristol to hang. The execution was scheduled for May 13, and he was sent to Lincoln to await this date, held under guard by two of Garrett's deputies, James Bell and Robert Ollinger, on the top floor of the town's courthouse. On April 28, while Garrett was out of town, Bonney stunned the territory by killing both of his guards and escaping.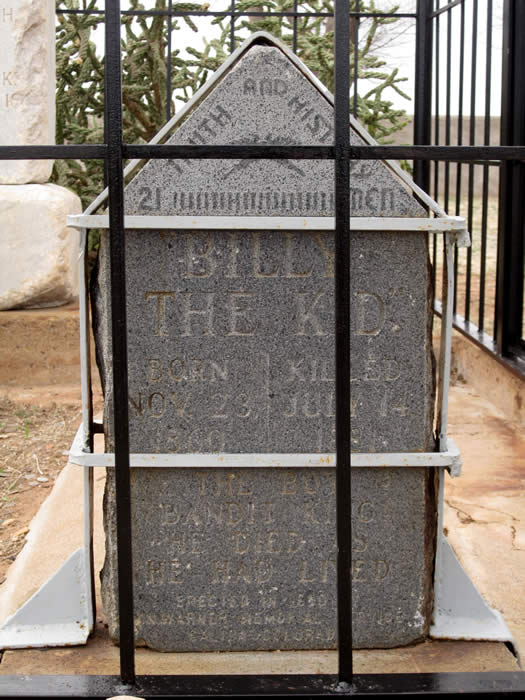 billy the kids grave
near bosque redundo
near fort sumner
The details of the escape are unclear. Some historians believe that a friend or Regulator sympathizer left a pistol in a nearby privy that Bonney was allowed to use, under escort, each day. Bonney then retrieved this gun and after Bell had led him back to the courthouse, turned it on his guard as the two of them reached the top of a flight of stairs inside. Another theory holds that Bonney slipped his manacles at the top of the stairs, struck Bell[8] over the head with them and then grabbed Bell's own gun and shot him.[4]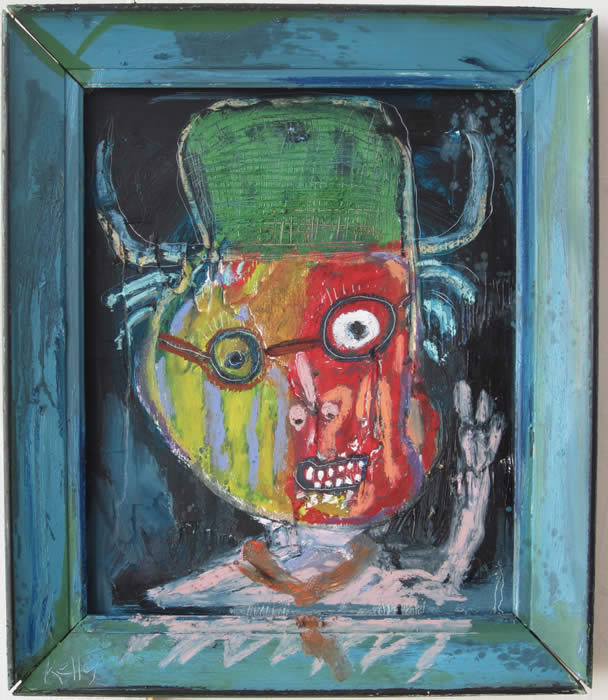 Young Billy the Kid
However it happened, Bell staggered out into the street and collapsed, mortally wounded. Meanwhile, Bonney scooped up Ollinger's[9] ten-gauge double barrel shotgun and waited at the upstairs window for Ollinger, who had been across the street with some other prisoners, to come to Bell's aid. As Ollinger came running into view, Bonney leveled the shotgun at him, called out "Hello Bob!" and shot him dead. The townsfolk supposedly gave him an hour that he used to remove his leg iron. The hour was granted in thanks for his work as part of "The Regulators." After cutting his leg irons with an axe, the young outlaw borrowed (or stole) a horse and rode leisurely out of town, reportedly singing. The horse was returned two days later.[4]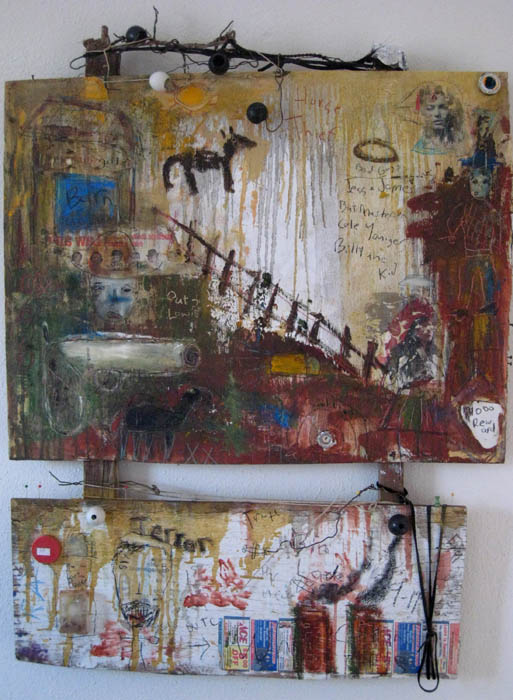 my painting "Billy the Kid and Osama Bin Laden"
burning old man gloom...Zozobra