buy my new art book Absurdity is my Friend
chck back for a new painting this front page ever monday
(ya bookmark me)
come see me at my Shed at the flea market
on the tesuque reservation in new mexico (mid march thru december)
or
Dark Bird Studio at the end of the alley at 620 Canyon Road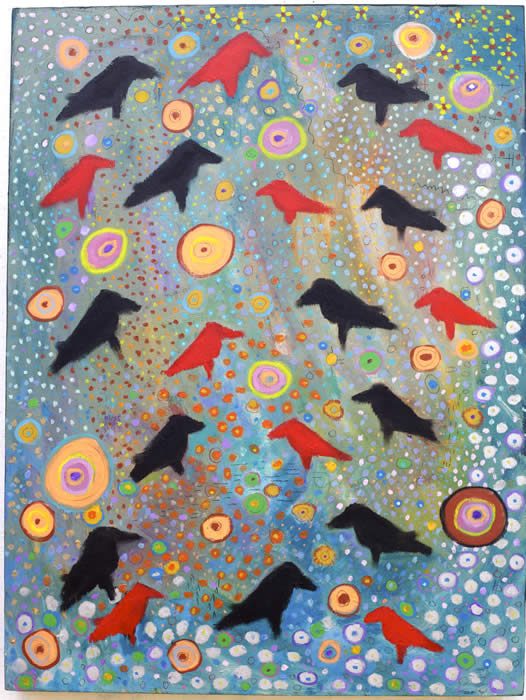 Dark Bird Map----May 20 2013
24 x 30 mol oily on wood
some people dont think
my jokes are funny at the flea
but today the tv station in my head
is tuned to Hee Haw
where the audience always laughs
and the music never stops
earning me the reputation
of the funniest flea market painter
in the world

if someone doesnt save me
im going to do
what everyone else does
in the end

i sit down after the show
and pour a tall glass
of low fume paint thinner
mixed with a tiny bit
of red cadmium
with a chaser of varnish
careful not to drink
so much that i become
a sad caricature of yet another
drunken stand up comedian
banjo playing painter
at a flea market

returning to my easel
Roy Clark and Buck Owens
break into a banjo jam
picking and a grinning
while i paint a brilliant chicken
which we will eat for dinner later
while listening to Ricardo Montelban
explain the wonders of corinthian leather
in his Chrysler Cordoba



a commercial break interupts Ricardo
singing that
"for the time of our lives"
i should get a camera
so i can remember all the crap
i cant get out of my head
40 years later


i begin to paint
three red finches
sitting on a horse
contemplating their existential fate
when Conway Twitty breaks in
with a song of hard luck and lost love
that moves the birds so deeply
that they put on their tiny cowboy hats
and begin swaying back and forth
in a line dance
on the horse

while i weep softly
at the beauty
of the red finch line dance
Vanna White begins moving slowly
from one painting to another
simply smiling and pointing
at the art
returning all promise and hope
to my life despite protest from
other vendors that she
is an unfair advantage
which i explain i will need
to make it this year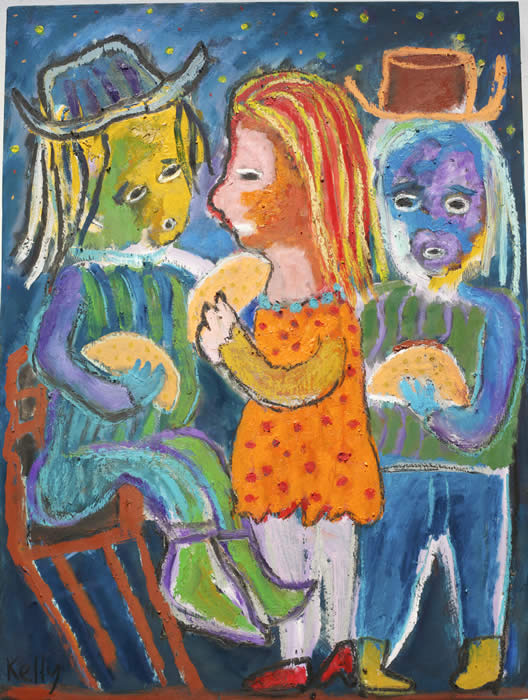 Tacos at the Flea---SOULD
oily on board about 24 x 30-----(CLIK hear for two more paintngs Big Dawg and Outlaw Angels)
pondering the universe
while gazing at the mountain
i got to the bottom of things
but when i looked up
the rope i descended from
was no where
in sight

people come and go
some leaving a big memory
some forgotten before the
door closes
i still remember a rabbit
that lived under a storage container
at the flea
but cant remember the name
of the guy who owned it

did i really see
a humming bird
joyriding on the back of
a dark bird?

another generation
of finches gave birth
in my shed this spring
my face forever imprinted
on the chicks minds
as daddy
i wonder if they wonder
when their beards will
grow around their
tiny lil beaks?

last week a guy
derisively called my art folk art (not that theres anything wrong with that)
and i thought to myself
is there anything more avant garde
to contemporary art nowadays
than painting
a horse or a coyote?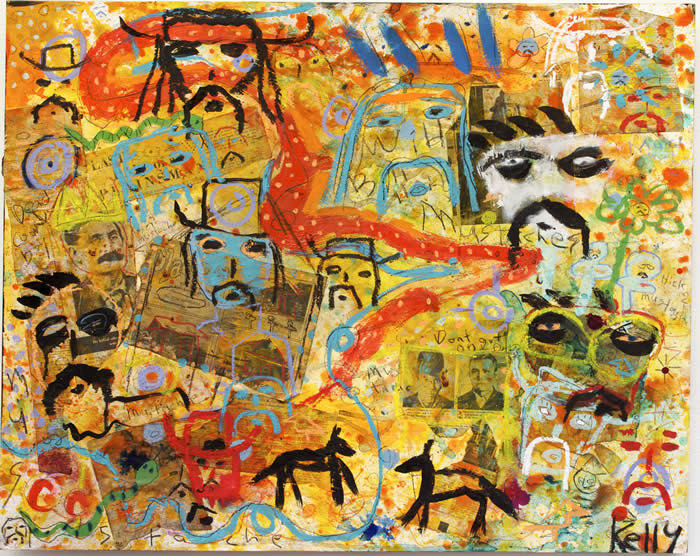 Bill Hickok's Mustache
oily on board 24 x 29
theres so much
i want to say
that i cant say
but in time will say
that i hope when
the time comes
when i can say
what i want to say
im still as pissed
as i am
right now


in the mean time
i will occasionly talk
about cute bunnies
pretty finches
and wild ponies
but be sure 24/7
night and day
dark birds
fly in my veins


why do i see
everything as
"a sign"
why cant a cracked mirror
be just a broken piece of glass?
why arent doors
just another way
to enter another room?
i got hung up yesterday
on a Pass with Care sign
on I-40
and later couldnt get around
a slow lady with a full cart
at the grocery store....


when the car hit the billboard
he went right thru the windshield
and skidded about 100 feet
unraveling like a ball of twine
until he looked like day old spagetti
with one noodle still spazaming
on his ifone trying to respond
to one last text
from his
BFF


eatn dust and spittn paint
one guy tould me my art
was so bad it was good
it felt like a kick in the nuts
followed by a pat
on the back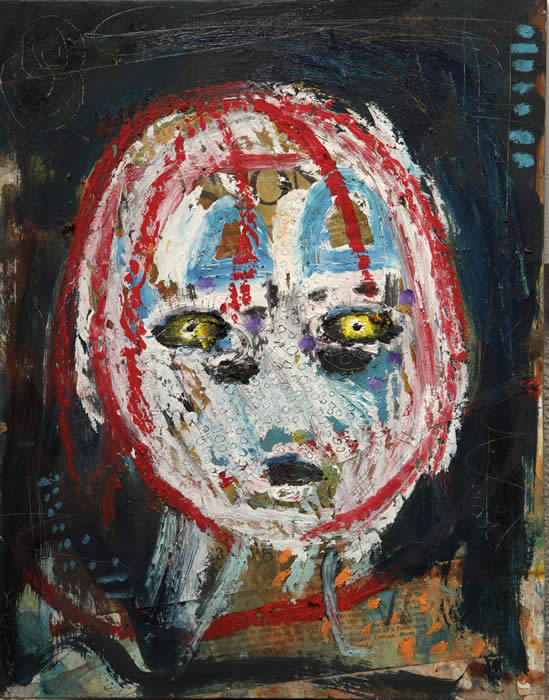 Lost Childs Vision
oily on wood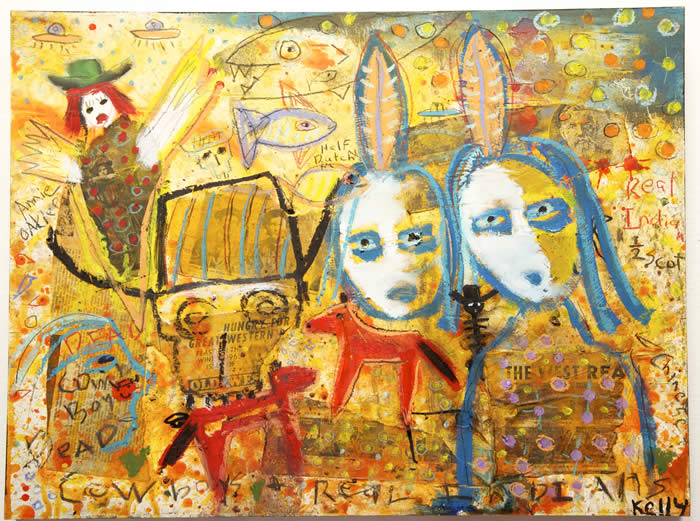 two Real Indians and one Dead Cowboy--SOULD
my monthly art newslettr goes out any minute now
click right hear if u want some
good tasty SPAM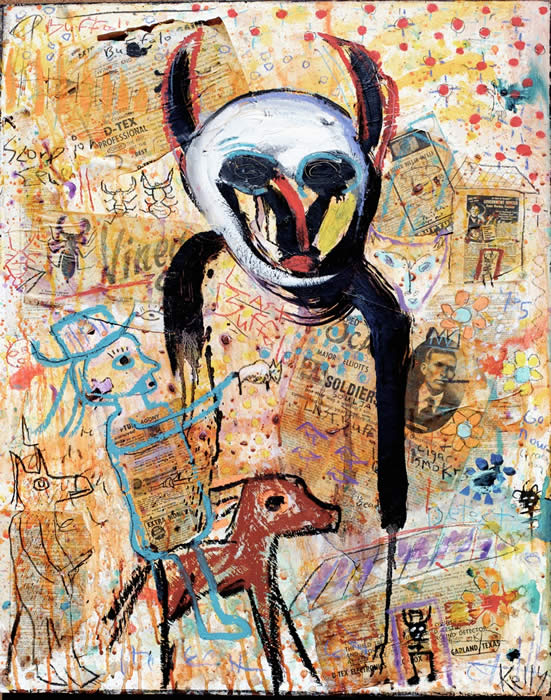 White Buffalo
click hear to see new art from the last weekend at the Flea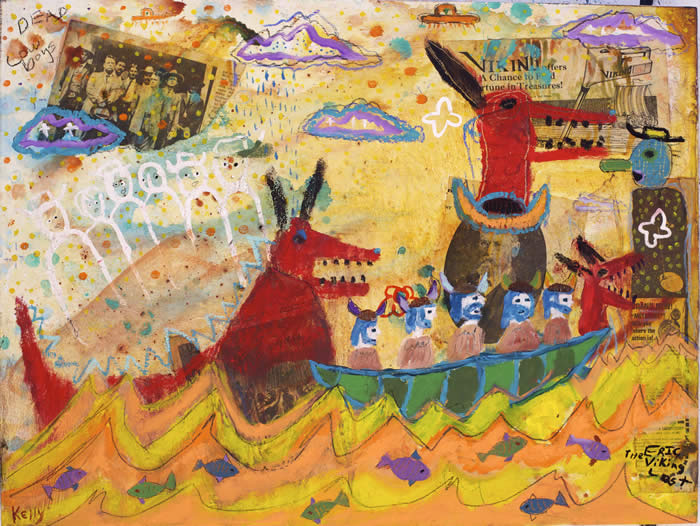 VIKINGS in the Desert----SOULD
18 x 24 mixed up media on a board
click here to take advantatage of my tax day art sale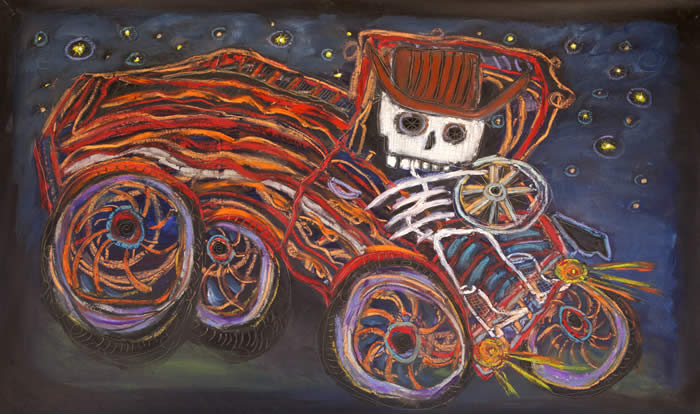 Dead Mans Curve----SOULD
big wacky loose canvas
in my dream
i was carried away
by a dark bird
high over the volcano
and then low over the plains
where we turned south at red dawg mesa
til we saw a shimmering lake
below the mountains
where a yellow castle floated
in the water in the desert
like a fold in time

i stopped reading the news
turned off the tube
threw away my phone
there was a higher transmission
trying to come in
like a faint song being sung
by thirty deer mice
in a valley far far away
so i decided to start walking
towards the music
and sing along with
the dream

i was a viking named Ivan the Skull Splitter
taking my plunder and, well, splitting skulls...
in another dream i was a pirate in the carribean
taking treasure and fighting the spanish armada
when it was convenient
and in my last dream i was a cherokee indian
at Jamestown where i shot a pilgram so full of arrows
he bled right into my viking dream
where i finished him off with my
trusty skull splitting ax.....

when we arrived at the castle
i went inside where i saw
one bad painting after another
on the the wall
of people i didnt recognize
but felt certain i should know
continuing down a hall i saw a light
coming from a room
which i entered and saw
Lost Child looking out the window
quietly whispering
"water water everywhere what i'd give
to see a black bear"

it made no sense
i was confused
and then i looked up on the wall
over Lost Child
and there was a giant portait
of Dead Cowboy
finally
some good art

the Dark Bird Crusade--(SOULD)
big oily on loose canvas done on march 18? or is this this 19th? what year is this anyway?
for the true on
full blown spirits of the world
fighting the idiocy of the day to day
is a full time war
so get your dark bird on
and join the fight
of the dark bird crusade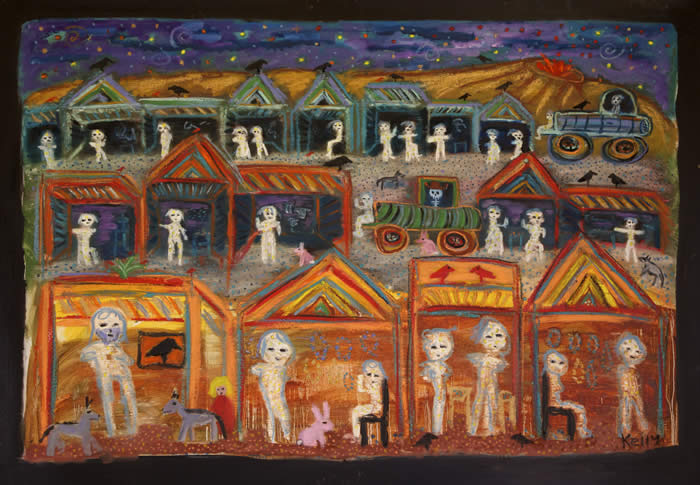 Old Souls Market---SOULD
big oily on loose canvas march 11 2013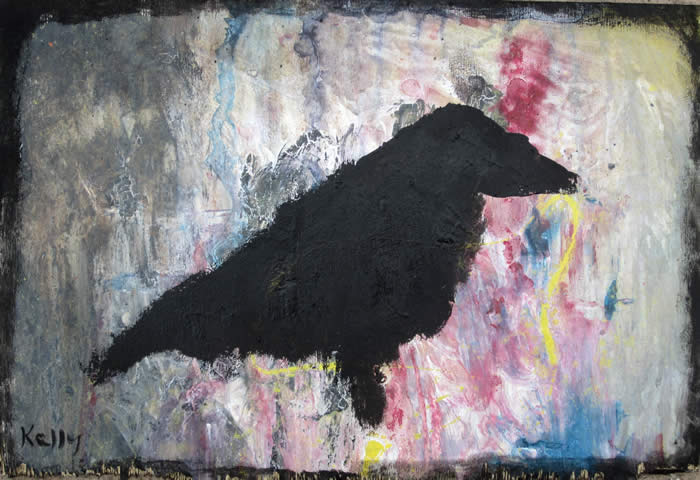 Spring Dark Bird--SOULD
small painting
lost lost lost
two months the flea market
was closed and i wandered
the desert like a blind man
but now i am found
my shed is open
and all is well


a rusted out yellow van
with a dust trail a mile long
pulled into the flea market
and an old man with dreds down to his ankles
wearing the same long purple
gown i had seem him in last winter
stepped out into the
new mexico cold spring air in his sandals
yelling at the top of his lungs
"infinite horrifying beautiful baffling
mystery of the eternal she headed goddess
growing from the navel of the mother of the cosmic universe
has returned me for the 4 millionth time
to this everlasting holy ground i know to be
a proving dream for every man woman and child
and i dont mean MONEY
i mean this is the ground the place the space
we all do battle with karmic duality
with what the misguided jesus people call
judgement day which is really just
one step up or down on the tree of life
that takes us
NO WHERE
to NO NAME
to NO PLACE
theres only QUESTION my child
which is
will you return as a dung beetle
or will you get a front row space at the flea market
when the gods eye births your new dream?!?!


that night in my dreams
people were coming
to the market by boats, planes and trains
some were simply floating in the air
into the parking lot
as the flea is so far off
the main road
cars cant go there
and people
wont walk there

here comes dead cowboy
driving his red truck
way too fast
with a eatshitlookngrin
on his face
afterall whats the worse thing
that can happen to a
dead cowboy?


sister righteous pulled the
snake oil out of her truck
& tould me she had been
selling at the Yuma flea
where the average age is 73
and folks are just dying
not to be dying
and will buy her snake oil
so long as its either really expensive
or it promises you
eternal life


when i gave a lady from los angeles
my exact GPS coordinates at the flea
she called back asking if i was ok
"as it appears from your location
my computer is tracking your remains
inside a wolf about 10 miles
outside of town in the middle of the desert
and i know that cant be right"
ya lady
its right
and im there
all summer long


and with that i can honestly say
the flea market is open for 2013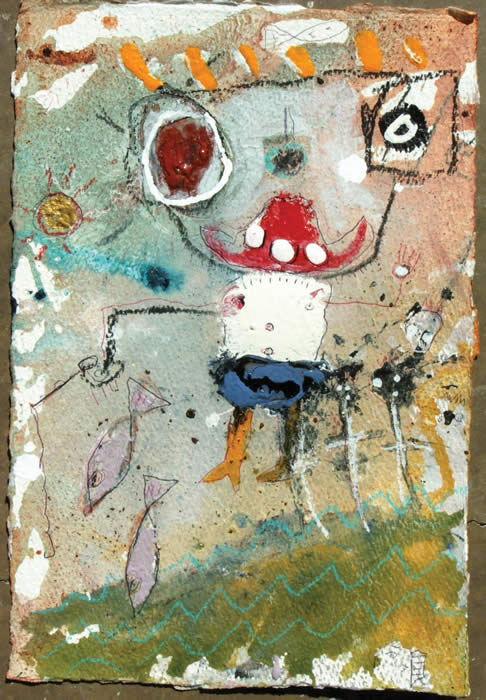 Fishing
(old painting from 2007 thats sould and had a home for a while now)
eye can see clearly now (sorta)
and i expect this year a the flea market
to be a big fun year with lots of surprises
at the shed.....(maybe a few more snakes or a lost Child sighting)
but if you cant come out to the tesuque reservation to see me
for art updates etc so fort and so on and so soans e ae
aneke u git what im sayn now?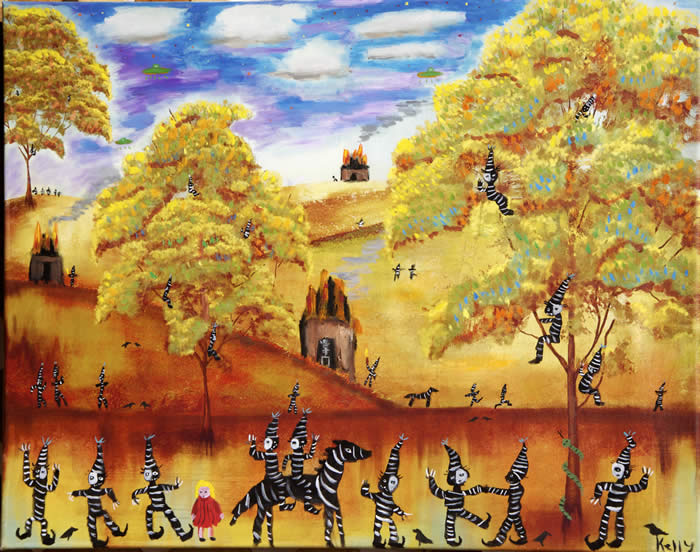 Lost Child in the Trickster Realm---SOULD
piggyback painting (painting on an old painting i found)
-------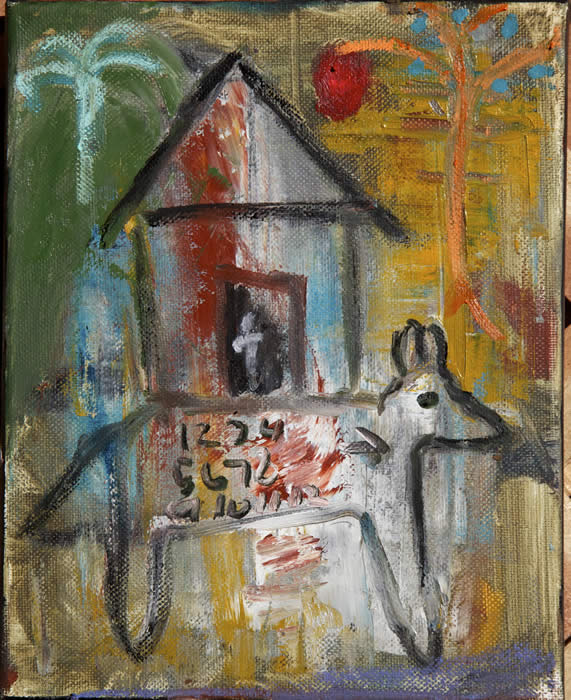 --==-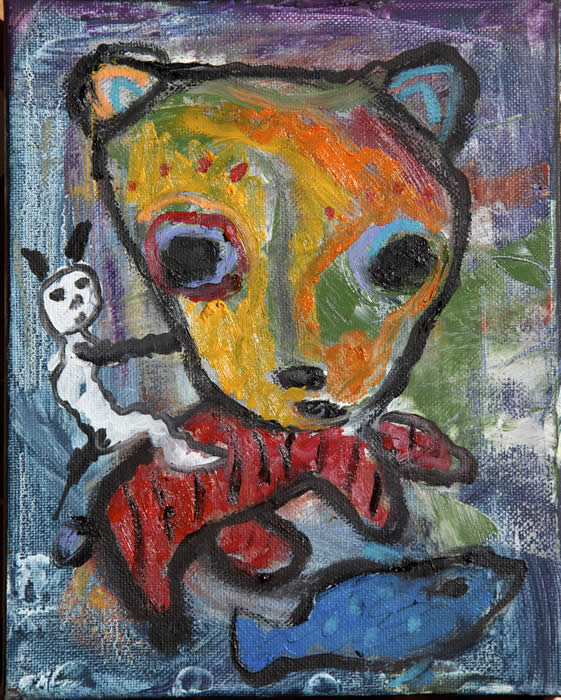 Three Small Paintings--SOULD
clikck riite hear to see
these small paintings full size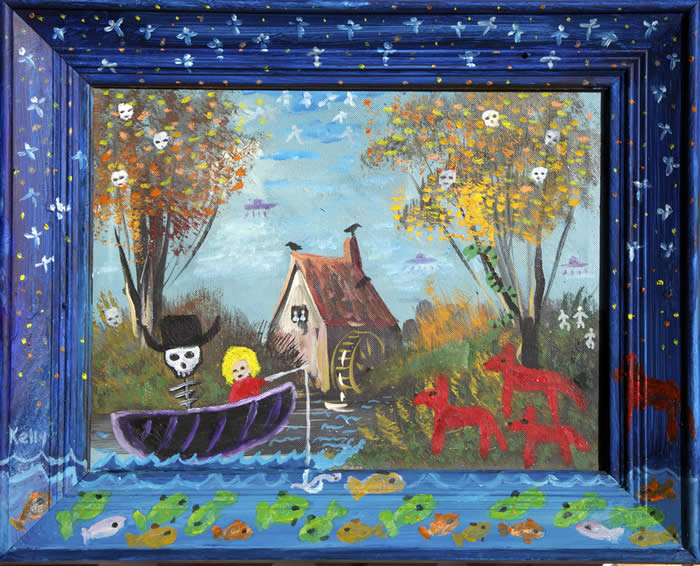 Dead Cowboy goes Fishing with Lost Child---SOULD
small oily paints on old painting plus its frame
I'm at the African Art Market in Tucson Arizona this month
so come by and see all the great art and african goods
(i walked outta africa about 50,000 years ago)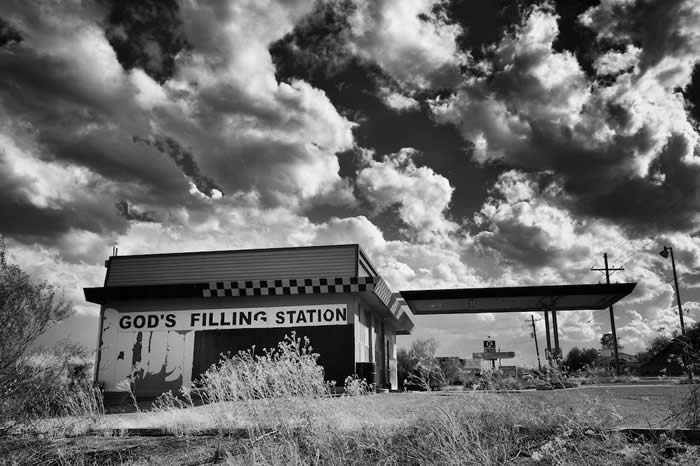 Gods Filling Station
january 28 2013...foto by Kat Livengood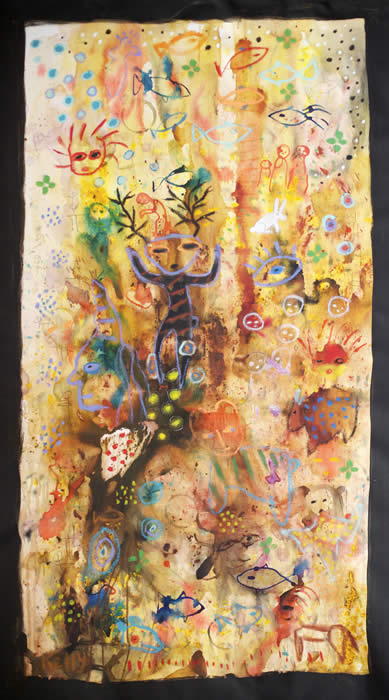 the Lucky Painting---SOULD
big lucky painting on loose canvas
newslettrs is tomorrow clikr hear to join it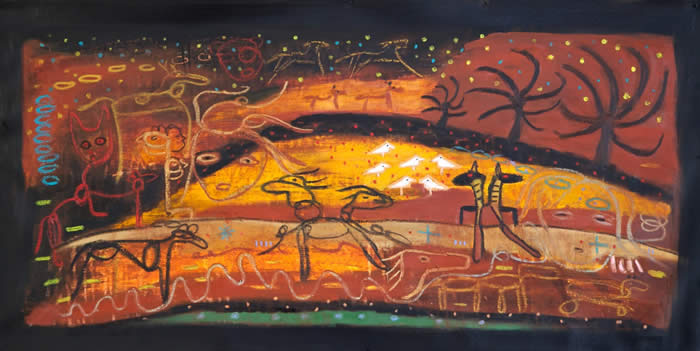 Windmill Trees
big oily on loose canvas
god bless americans
and their guns
im surprised someone
hasnt whined
our govt took away their
right to own a
tomahawk missile

going home for x-mas
right thru the "heartland of america"
the view from the innerstate
is cows, billboards,
oil trucks, tailgaters
and various animal parts
sprayed all over the road
a veritable highway
grotesquerie

one billboard said
"GOD IS ALIVE"
which is a bit like TV star
who everyone thinks is dead
and then he suddenly turns up alive
on entertainment tonite
and everyone is
surprised
but not enough
to buy his book

i pull over at a truck stop
where on every aisle
in a bright colorful plastic package
for a low low super discounted price
you can buy
sugar water sugar food sugar music
sugar souvenirs and most importantly
in the bathroom....sugar sex....
cuz by gawd
this is the american way

i broke down
just outside of elk city
and watched
the racing cars go by
why is it
i seem to think
if only i could understand traffic
i could understand life?

(pissin in a cul de sac
that used to be
a field of dreams
now its just a dead end
full of SUV's)
a strange soundtrack
of field mice singing a bizarre
chorus line stuck in my head
as i walked up an off ramp

couldnt find a garage
to fix my car
but the guy who ran tow
tould me it wasnt necessary
to take it too far
so we hauled
it to his front yard
and fixed it right there
sometimes its hard
to tell the difference
between truth and luck
my end of the year sale is almost over
click hear to have a look at whats left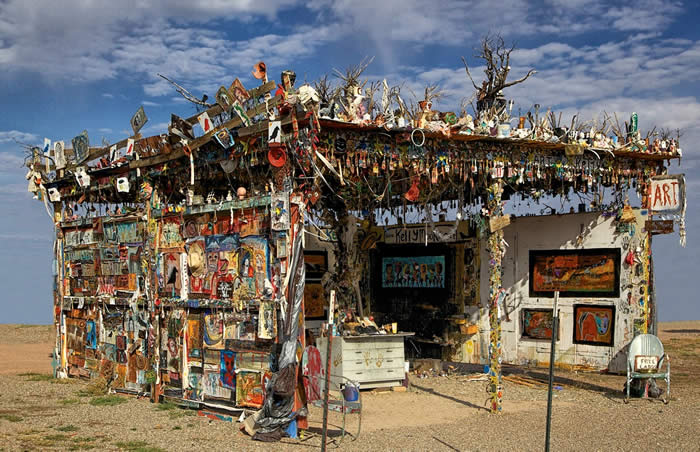 Kelly Moores Painting Shed at the Flea Market
thanks to all that have come
to the Tesuque Pueblo Flea Market over the years
to view my paintings at my rag tag weird wild shed
land of the remnants
home of the Dead Cowboy, Lost Child, Dharmageddon, Dark Bird, Wild Horses, Desert Dawgs
and the Naked Assasin...
clik hear to check out my ongoing painting sale
which will run a few more weeks or until they are sould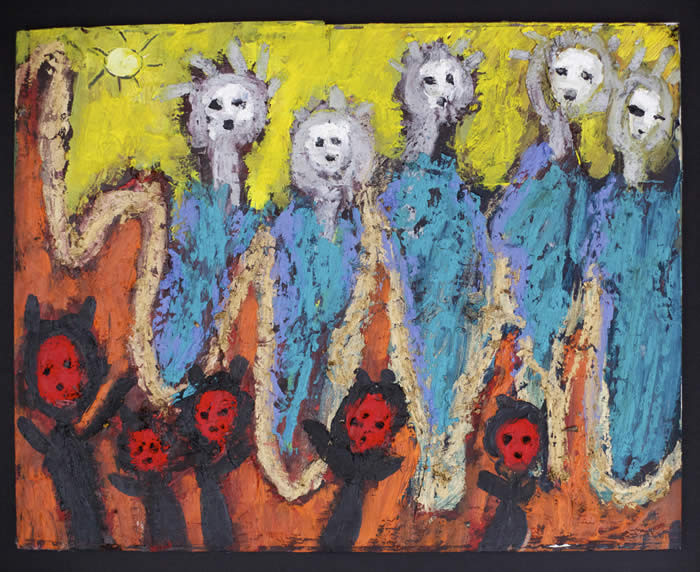 Devils & Angels
19 x 16 oily board---Dec 31 2012
Suppose we all know
what 2012 looks like now
the question on the tip of everyones
walking waking dream is
what story will it be in 2013
devils or angels?
my big art sale continues
and thank you to all that have been so
generous with adopting my paintings this year and reading my
consistantly weird newsletter emails;)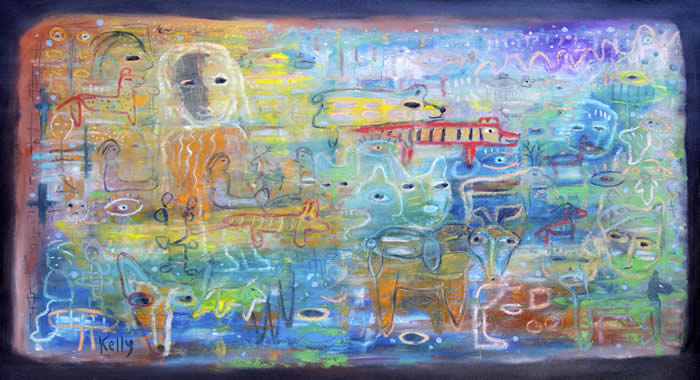 Desert Dream ----SOULD
big oily mess
I will be at
Dark Bird Studio
(end of the alley at 620 Canyon Road)
this holiday season
from lunch til 4 or 5 every day...
come by and see the art and injoy the fire...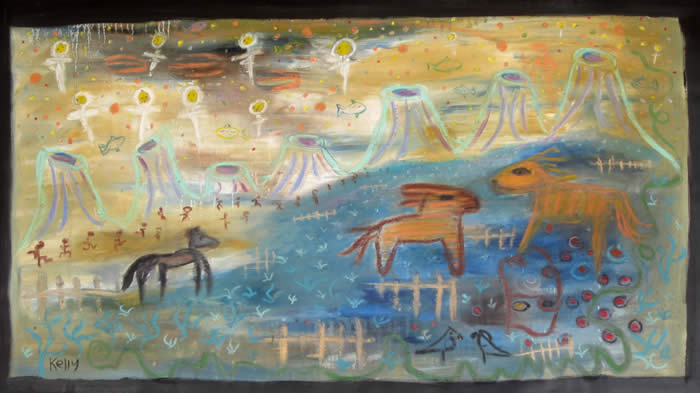 No Fences
big oily mess
"your friend died yesterday"
a message that rode in
on an electrical pulse
describing the lack
of a pulse
sometimes i feel
like im swimming in a world
full of people
certain of everything
and i still dont know
if eating eggs
will kill me
passed by a church
playing "holy night"
from a stereo box
tied atop its church bells
a bit like a boom box
strapped to a cow
that plays "moo"
over and over again

while eating chicken fried steak
in a cafe that felt & looked
like a hospital emergency room
a couple next to me
didnt speak or move for thirty minutes
prompting me to check
the back of my neck for a lump
where the aliens had surely
implanted a computer chip

i saw santa riding a dinosaur
in front of a church in kansas
theres nothing else
to say
lots more new art on my art page
where im posting a new painting a day thru x-mas...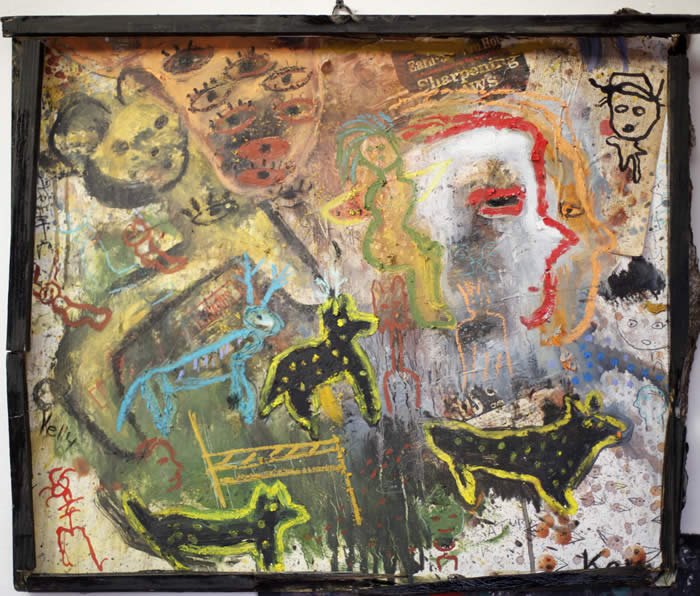 I cant recall
medium sized oily mix with stuff and other crap plus this and that
the soft curve
of her body awakens
the first part of me
light shining off
the hotels skin dust
awakens the last part
of me

i watch her rise
from the sheets
like a feline phoenix
surely i deserve such luck
due to some perverse injustice
in a previous life
maybe i was a salem witch
or a lost child


hitting the road
we stop for gas
god appears as a small black child
in the front seat of a ford ranger
she waves slowly at me
and mouths something
i cant hear
was this child
my child
in a previous life?

i truly wonder why i fear
breaking an ankle
but somehow i know
how it feels for a bone to shard
what a slow motion fracture
sounds like
what blood smells like
on panicked skin
& what bone jutting thru skin
looks like


maybe i was left behind
by my clan
because i could not walk?
they say inside all endings
are beginning and beneath it all
lies a mystery beyond words
i cant recall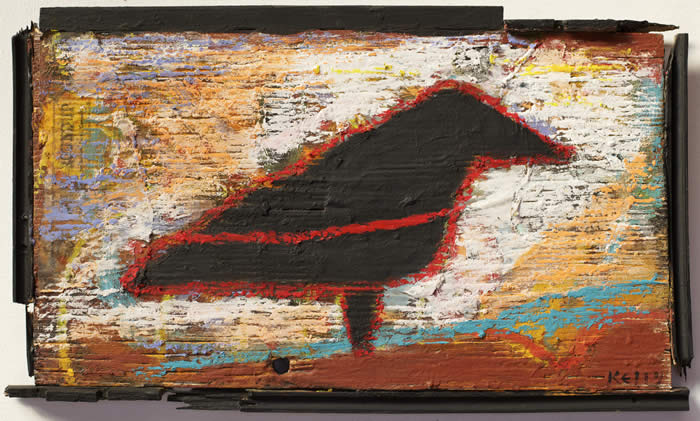 Dark Bird
SOULD--Nov 26th 2012
i will be posting a new painting every day til x-mas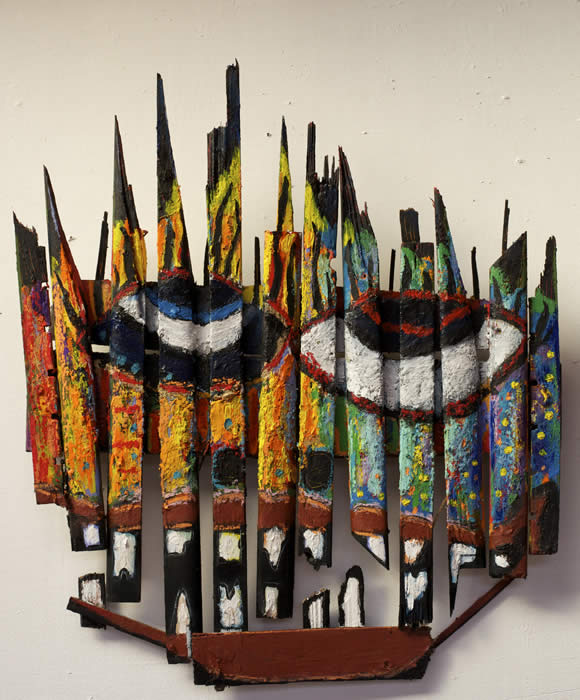 Lashes
SOULD--Nov 19 2012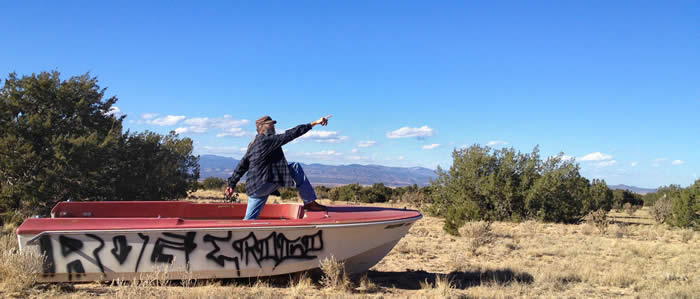 Foto By Kat Livengood
gettn my full idiot on
sailn in a barf boat
cross sandy rock not
(where are my hand knapkins?)
take the down low with a big gulp to show low
hang a U'y
at the off ramp
pickd up a taco pickd up a taco
sayd it caught a ride
horse going up the wrong side
smell aint so bad the first day you die
but a cold bowl of cheerios in milk stiinkss in a hour
no way to know even though we think we know
get your idiot full on
and scare the pants off the Spock rabbit
(exposes not much)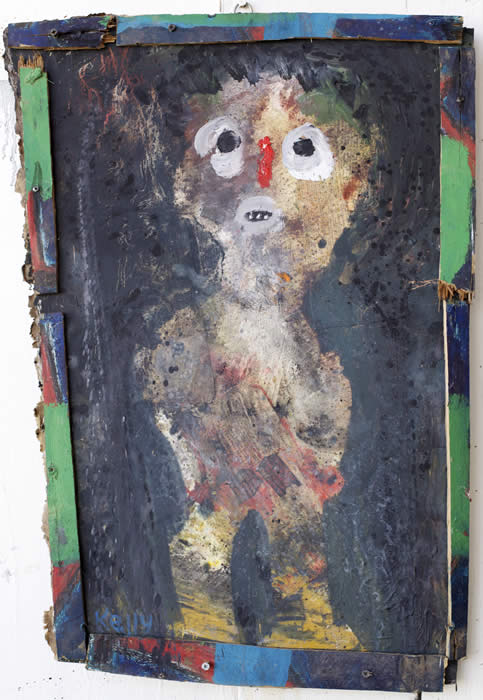 Cecil
SOULD---oily collagey flea market style framed painting
Rivers of stars
drifting thru us
color washing over us
like beautiful waves
and tomorrow
the election is
finally freakn over




i saw slugger
pulling his red wagon
across aisle J
carrying his magic rocks
which he sayd the dark dawgs
led him to last nite



worrying about things you only worry about at night
allows me to spend all my day time
doing important things
such as waiting for night
so i can
sleep


watching the dark bird
eat the rest of my chicken taco
i wondered if feathered fowl
considered him
a nasty cannibal




the flea market in november
tarps flapping in the wind
i wonder if they are
waving goodbye
to the season


Desert Justice
mixed medias on the loose canvas (clik hear for more new paintings)
aspen leaves blinking
off and on in the wind
i wonder if
ive ever had
a conscious moment
in this life


"wake up kelly wake up"
words from a black panther
stirring up the brain fizz
sending bubbles with one eye open
thru out my bloody railroad


out come the tanks
in the shape of horny lizards
spitting bullets of confusion
at my bullet proof armour
rendering me silly
as the highest evolved animal
of the desert
(the mule)

if the great editor in the sky
is listening
please strike all my righteous assertions
about what is right or wrong
and replace them with
bunny rabbits
shaped like pink question marks

pondering the perfection
of a chirping cricket in my shed
i wonder if its possible
humans are at the very bottom
of evolutions crazy ladder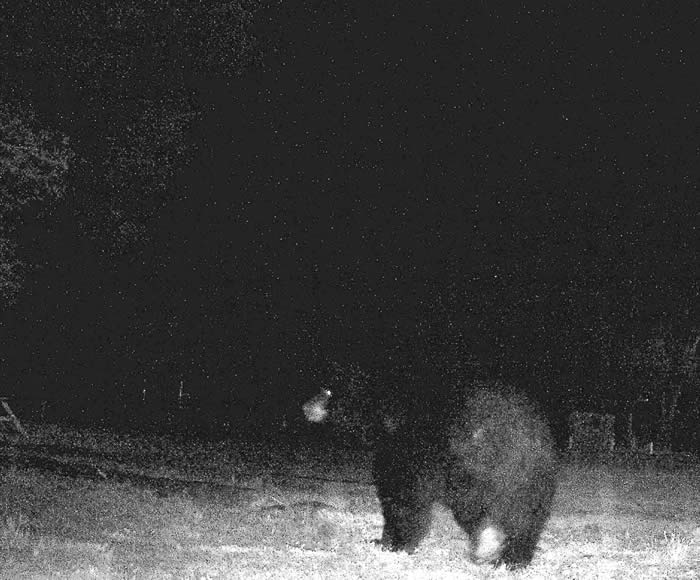 Night Bear at the Shed
desperate to sleep
i called on
my animal powers
choosing bear to ensure
a nights hibernation
and also if need be
to sit on my demons
while eating parts of them
all night long

rolling out of bed
i felt like a bear
waking from hibernation
i was hungry for meat and ready to mate
but first i crawled to the toilet
on all fours to keep the
dream intact

when i walked out my front door
i surprised the alley cat
who stared at me in shock
and then bolted away
clearly aware of the
dangerous animal
i had become

walking into the coffee shop
i looked at the art on the wall
smiling smuggly to myself
that i was the better artist
when a lady approached me
probably aware of my
status as an artist
pointed down and whispered
"XYZ"
(was the cat simply shocked at my lack of modesty?)


upon returning home
i checked my email
for lottery money
none arrived
so to raise my spirits
i turned on my favorite music video
by the the only man i respect
the Korean master of dance Psy
joining him for several minutes
Gangnam Bear Style
restoring my animal powers
(at least around the cat)
for the rest of the day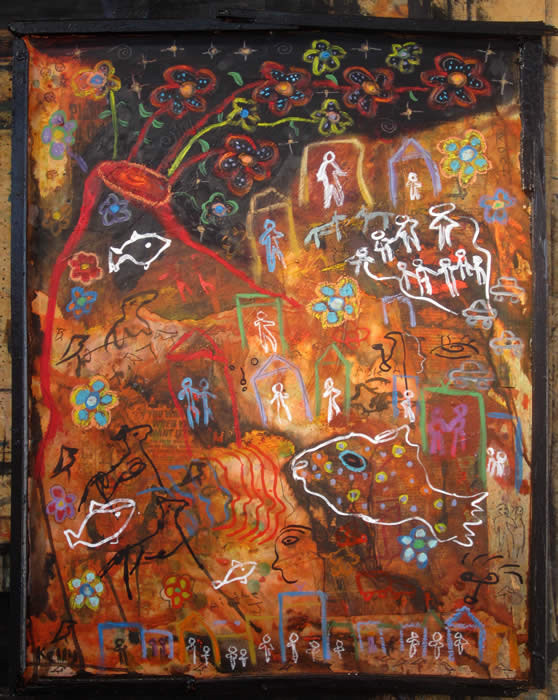 Flower Volcano
SOULD....mixed crappola on wood framed flea market style
October 15th 2012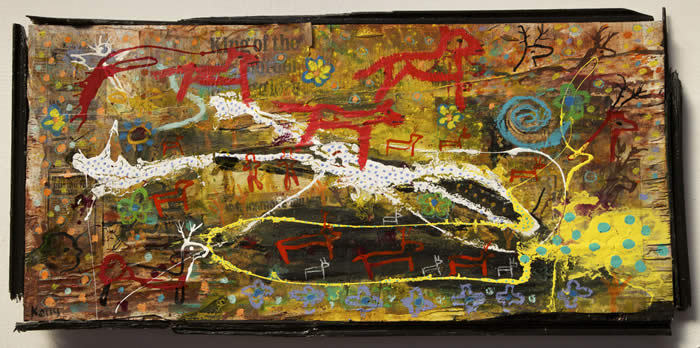 King of the Border
misc crappola on wood
last nite i dreamed
24 hummingbirds
picked me up by my sleeves
and airdropped me on my shed
which began shaking violently
as though a three year boy
were having a fit

crosses, spirals & chamisas
the most often painted symbols
at the flea
we are quite frankly so far
out on the cutting edge of art
we have lapped the field

im learning how to
start fires by rubbing two sticks together
build shelters with brush for cold nights
and to catch jack rabbits
by speed of foot for dinner
just in case
the dark birds, wild horses & black bears
decide to take over
and return us to the land
so they can wear suits and ties
while tooling around in buicks
discussing
whats best for us

insanity runs in my family
of course it started with me
and it will go no further
than me
unless you consider my art
insane

a cloud of yellow butterflies
followed us down the road
in the trees peacocks
with a thousand eyes
watched us
and a bear offered us
two blue feathers
which we swallowed
turning us into red deer
as we ran to the 5th mountain
safe at last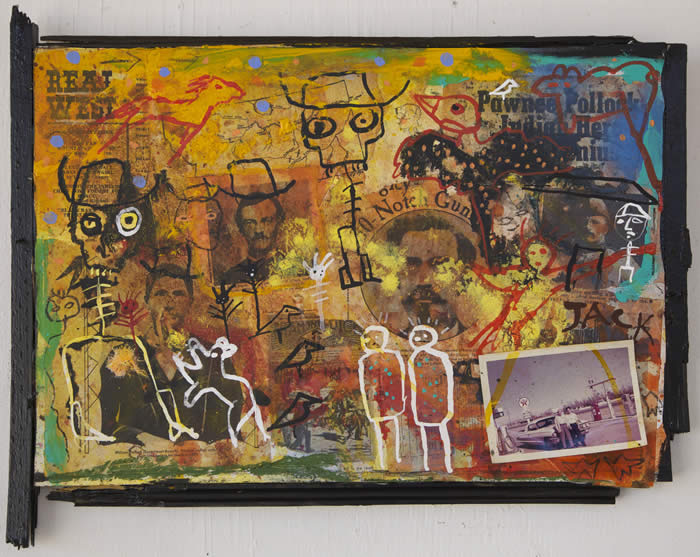 Real West
SOULD----sept 30 2012------mixed up mediaias on board framed flea market style
(more new art if u click hear)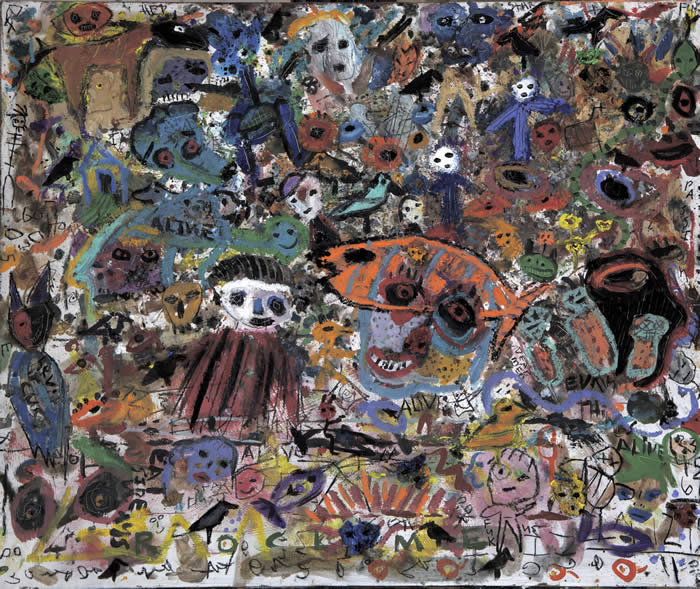 crzy sh*t
SOULD--multi crappia on 20 x 24 board
theres a hundred soldiers
marching in my head
all of a different mind
each with a different weapon
but the one that keeps
the enemy at bay
the one they fear the most
is the one
who runs alone
against orders
without a gun
into the fray
hes the one
that does
crzy sh*t

2012
SOULD--big oily on loose canvas
i dreamed
of being washed down
a rushing river
drowning as i held on to my luggage
until finally letting go
to save my life



the faster
i went backwards
the faster the antelope
went forwards
you cant catch a dream
by trying to
remember it


scat steaming hot
was all over the ground
bears must be puzzled
where we hide
ours


why would i let those words
hurt me if i know
reality isnt really real
how could i not
believe we were flying
if a dream
is more than a dream?


when i was a child
i could be come any animal
by just by saying
its name
"wolf"
ah well
im still here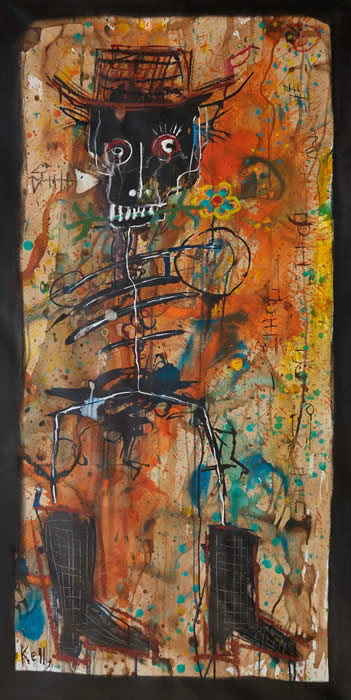 e
Dead Cowboy
SOULD---big messy on loose canvas
he circled my shed
as though it were a wild animal
leery to enter
he slowly backed up
photod & facebooked it
an internet big game hunter


lalo aka roger
tould me it took him 10 years
to find the right name
noting we should all rename ourselves
"why the same boring names
over and over again?"


dancing with the dead cowboy
flowers between his teeth
a loaded gun in one hand
with a crazy smile on his face
just to let you know
boring really means tame


a colorful animal
with three sharp horns
and a bushy tail
rushed from my shed
carrying the lost child
on his back
headed for the volcano
suddenly stopped
at the tumbleweed cafe
for two tacos to go

i climbed up my shed
screwing a license plate to a board
suddenly face to face
with a stinky goat head
i left there last year
a sign that being stubborn
can begin to smell?

Desert Nights
SOULD--27 x 59 mol acrylic, oil and ink (clik hear for one more new paintn)
burnt umber
turquoise green
a warm yellow
splashed over my canvas
washing away the days news
beware when folks say
they want freedom
it usually means
they want
yours

a red tail hawk
circled from thousands
of feet in the air
the raggedy lil sparrows
shuddered in my shed
hiding from his
avian radar


sometimes a human being
walks into my shed
and sits down quietly
looking at the art
feeling the space
saying nothing
maybe smoking a cig
after a while they smile
and walk away
a perfect moment


truckr came by today
tould me he cant
get off the road
theres no where to stop
and no where to go


people are weird
animals are wild
so lets get one thing straight
ones a compliment
the others
a joke


they lived in their bus
while they sould at the flea
i loved his blues
but things didnt work out
so it was off to cali
for the next big thing
the medicinal herb
king of the crop
the next best stop


we fell out of favor
long ago
we are now
what folks say they want
but dont want
we arent the cliche
we really are the ends of the earth
outsiders outside of the outsiders
we are
the remnants of the desert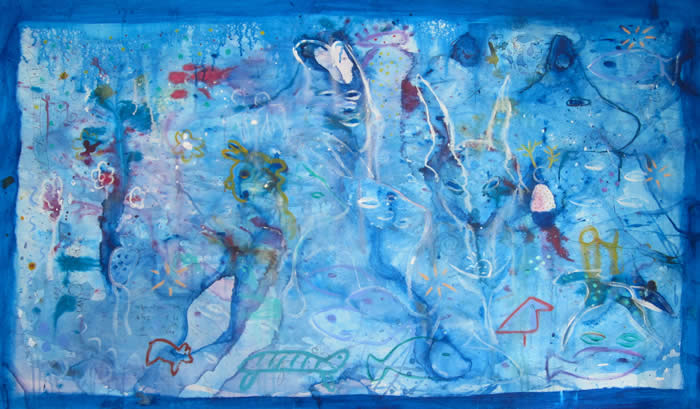 monsoon dream
SOULD---oil, acrylic & ink on loose canvas
anxiety dreams
drown me at night
lately smarmy Rod Stewart
has showed up in his tight pants
singing "do you think im sexy?"
(oh gawd what does it mean?
what does it mean?)



just when i got over
my fear of asteroids
destroying earth in a firey crash
i learned theres a giant spinning
black hole in the center of our galaxy
that will inevitably suck
me and my shed
into its dark center
spitting me out the other side
into a reversed parallel universe
where i will spend eternity
undoing my bad paintings

why do i have
Journey on my play list
at the shed?
there is no way
to explain the look
on peoples faces when they see
my middle aged ass
trying to sing and dance to
"loving touching feeling"
while i paint



more anxiety
deep in the night
just outside my bedroom window
i worry the 7 skunks who stroll by
at 3 am will bump into
the two completely insane squirrels
who just moved in
and seem hell bent on
owning the
"hood"
one minute im a freakn genius
hailed for my visionary art
and brilliant colors
the next moment a lady asks
if "is that a cocker spaniel or a horse?"
i call it
the flea market ego enema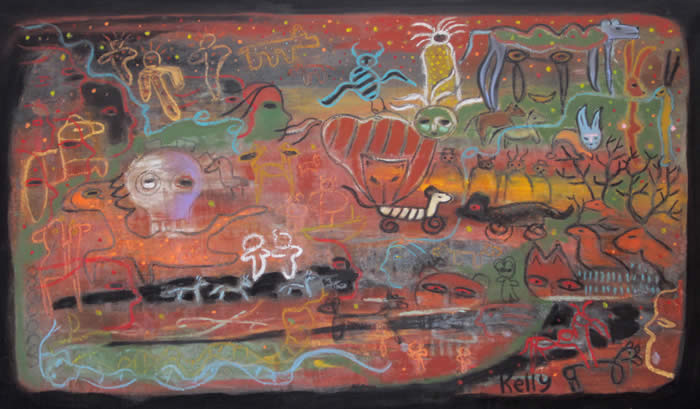 we meet again
(sould) big oily on loose canvas (clik hear to see another one)
yesterday i saw
a dozen mule deer
walking down the aisle
on their hind legs
all wearing capri pants
carrying purses wearing round hats
when they passed my shed
i heard one say to another
"weird art"


ive never seen
the skeleton
of a butterfly


"jesus is coming jesus is coming"
"ya i hear hes getting
that plum spot
on aisle J next week"
(overheard at the flea this week)


white whine
served anyplace anytime
intoxicating in its aroma
sweet beyond belief
but bound to make you puke
if you hear enough of it


the secret life of animals at night
has me convinced
we are all puppets
of a brilliant raccoon
sitting high in the tree of life
looking down at us
with big curious eyes
pulling strings with his tiny hands
all the while
smiling like a bandit

lost child came by
wearing a pink tutu
with a blue pony on it
asked if i had any good jokes
i thought hard
but but couldnt even remember what day it was
she smiled and told me
my dark birds were pretty
and ran around the corner
gone just like that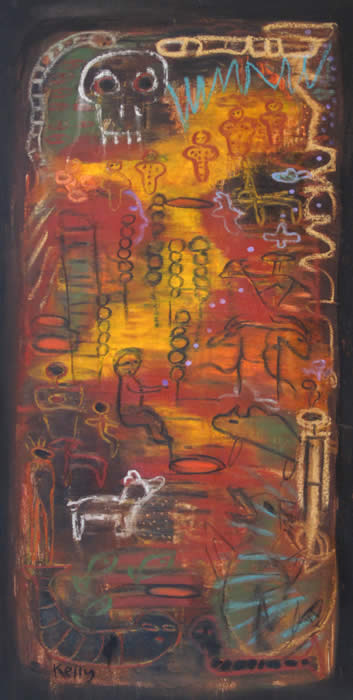 Telegraph
july 29 2012------Big Oily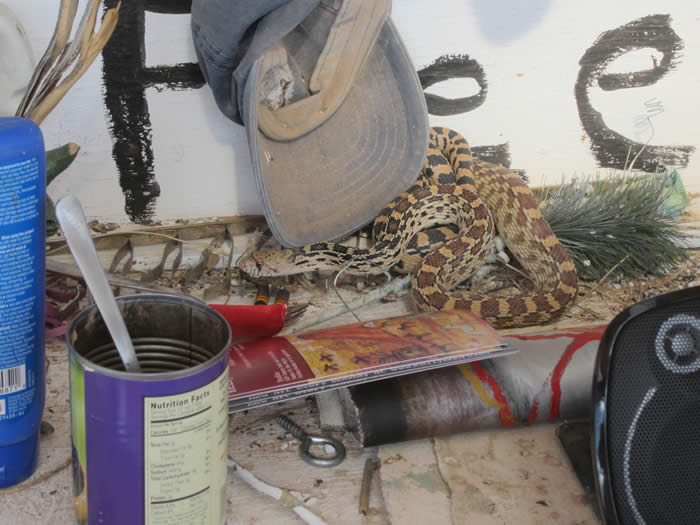 the Snake on my Desk who fell from the Sky much to the relief of the chick in the nest high above
i walked into my shed
and knew
i had been there before
not last week
not last month
but 14.5 billion years ago
when the star burst

time is collapsing
into a shaky snake
swallowing its tale
from afar
it looks like a dot
of an undiscovered color

i saw a dark bird
scamper past me
wearing rabbit pajamas
i bet it watched
cartoons all morning

the sound of a snake falling
sizzle and bump
one of his eyes turned up at me
wondering if he could
swallow me whole

i met a guy who painted
with the tail of a dragoon
had the chin hairs of the serpent
and
disappeared in a puff of smoke

crzy world
Sould
big oily mess-o----clik hear 4 two more new ones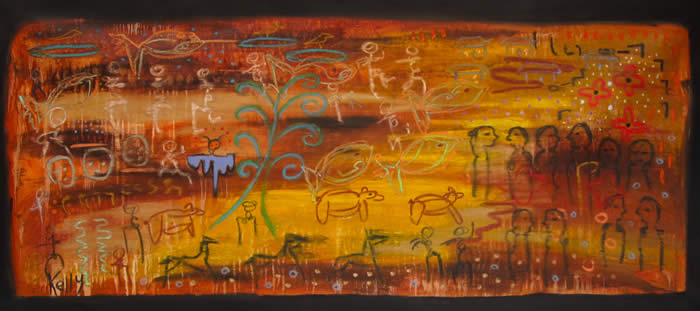 Oasis---SOULD
big oily on loose canvas
click here for several more new paintings
purple skies
so full of color
they gave way
to blue rain
my paintings
seem haunted by faces
i dont recognize
and by voices unclear
a grey candle
my only cipher

everything slides away
faster and cleaner
could be bad
except all my problems
come from what
i remember
i dreamed i was lost in a dark hall
and then i felt your love
so strong
that i became a light
and moved right along
my sense of humor
forever smells of death
its dark and howls
like a one eyed jackel

Dancers--sould
big oily on loose canvas.......clik hear for a few new paintings
a thousand bits of beauty
hanging from my shed
a musical space ship
playing wonderous tree music
as it lifts up and floats
across the desert at night


wonderful chicken tacos by the tumble weed cafe
a tailgater from kansas
with lots of old school cowboy gear
a new painter from burkina faso
chief has some great new turquoise
and some fine folk music
on the front aisle
what a great day
to paint at the flea market

taking a piss
a surprising epiphany
i know more about porta potties
than any painter in the world


reckless with skunks
not the name of a band
just a reminder
8 beautiful stinkers
live in my alley


shaking and sweating
a beautiful sight
who woulda known
a kat could fly a kite?


some folks never complain
its not that they dont know
the truth
its just that they have no choice
but to keep on keeping on
they are my heros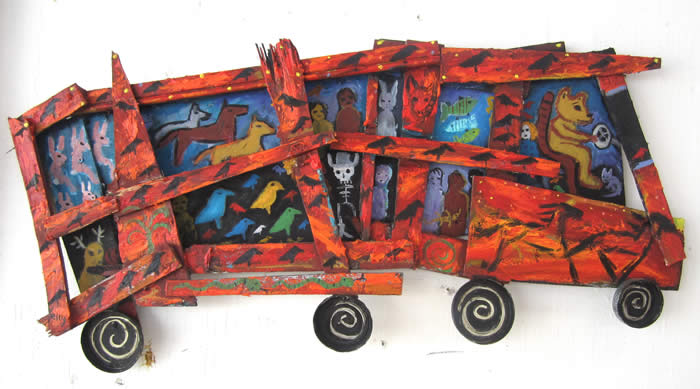 the Dark Bird Express
about 30 inches long
made at the tesuque flea market
outta wood paintd scraps
the crazy brown bear
puts the petal to the metal
the red finch leans into the wind
and the lost child who stowed away
eats oatmeal cookies
all riding on the
dark bird express


wild horses
bucked and snorted
pushed and pulled
dragging the metal mustang up and down
box canyons
over mesas
and thru black holes
the ticket was a one way ride
back to the volcano


dead cowboy sat quietly grinning
watching the sage race by
like a dusty green streak
under the turquoise blue sky
he knew his love
the naked assasin
was waiting there
for him


floating about the bus
were dark dawgs alchemy birds
and how did they get there fishes
all enjoying the ride
but still wondering
"how many more miles?"


a nervous dear and feisty squirrel
sat in the back
with the terrorfyd bunnies
all trying not to look scared
all trying not to look back
afraid the three grey men
might be closing fast


amid the ruckus inside the buss
the dark birds flapped and sqwacked
some might say tawked
all knew it was a wandering path
occasionally lost occasionally found
and thats why they call it
the dark bird express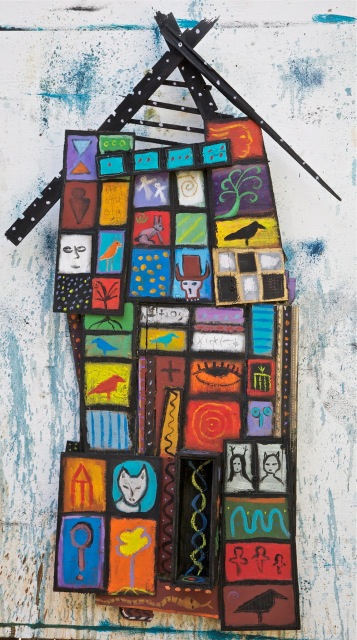 House of the Double Helix
found wood scraps paintd with oily (click here for more art)
is about 35 inches tall
thanks to all that have added my art to their Pinterest page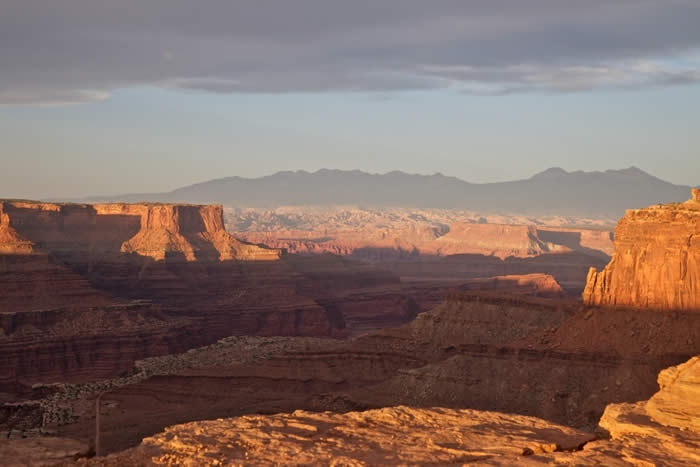 Canyonlands
foto by KatLivengood
a glimpse of her leg
the smell of ripe apricots
golden light floating in ether
please baby please
dont bite me


the bone trader at the flea
started playing his guitar
and singing his song
called "it all makes sense"
and before you knew it
all of the misfits & outlaws
were doing
the dead cowboy dance


young dark birds
outside my window
butchering the corvid language


blinding white light
pouring thru bold blue sky
the past present future
all sewn together
like an invisible blanket
thats rumpled up
with holes in it


i saw a mouse
murder a scorpion
underdawgs everywhere
smile
and refuse to talk to the
cops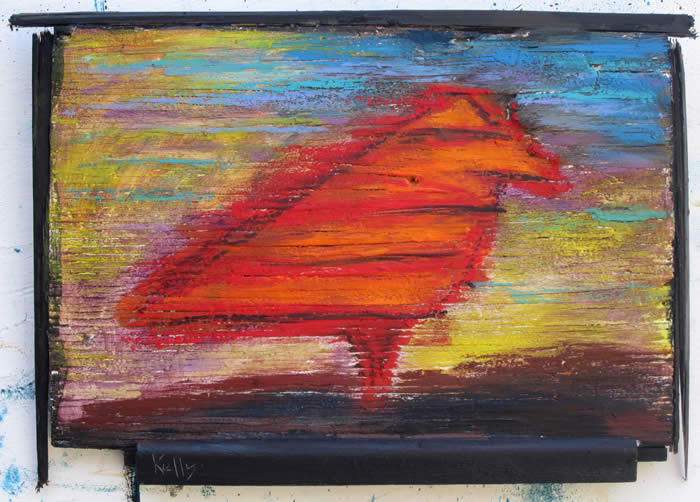 alchemy bird
sould
9 x 11 mol
oily on wood scraps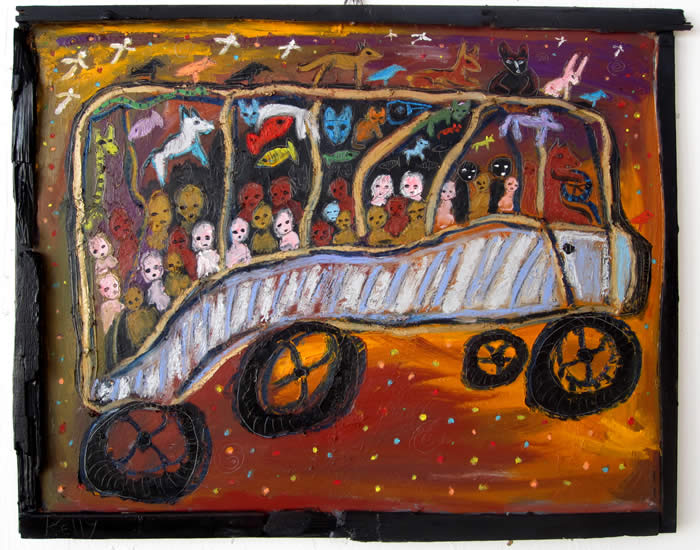 the tourist buss at the Flea Market
sould
oily on wood framed with wood scraps
from a broken down couch i found off a dirt road 8 miles west of roswell new mexico
art passion beauty
art passion beauty
art passion beauty
es muy importante
art passion beauty
art passion beauty
art passion beauty
es muy importante
art passion beauty
art passion beauty
art passion beauty
es muy importante
art passion beauty
art passion beauty
art passion beauty
es muy importante
(many thanks for the words of 80 year old master artist Manuel Miranda
whispered to me at the flea this week)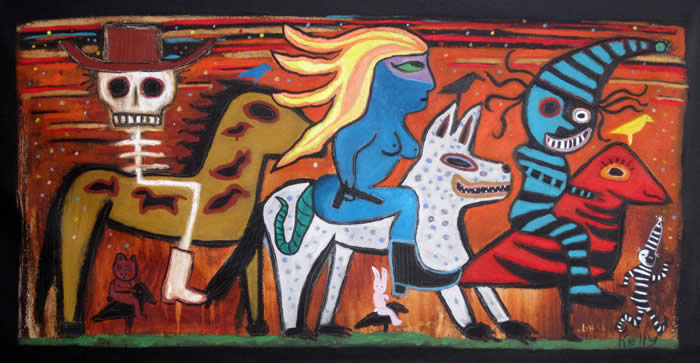 Dead Cowboy follows the Naked Assasin
sould big oily mess
may 14th 2012
roswell
clumsy dream memory
cups falling
limbs snapping
cars crashing
houses burning
its all in slow motion
im watching myself
from the top of a tree
as the lie slips thru
thin lips


violence lays hidden
a moths eyelash
beneath the sensitive skin
at night it comes with
guns and knifes
polite talk gone
the business of justice
done


starshine
awakes the confusion
like a blood red orange
looking for
the color its called by
clear now not so clear
where is my navel


white bright day noises
like leaf blowers
mans most obvious sign
of failure
a rake surpassing anything
that backwards blowing snake
can breathe


back to floating
between dreams
between sleep
between red hot blood
i staggered thru an open field
looking for starstuff
found the check book of carlos ramirez
the balance overdrawn
tryed to buy love



near the fields edge
a lady pulled her
grave marker behind her
out to the car
loaded it in the trunk
took it to a moneymaker
asking him to
bury her


all the birds are silent here
most eating plastic and paper
lost in lawnmowers chewd up noise
almost none have twig nests
one sleeps on
a light tower
the rest hope to be abducted
by bird aliens this year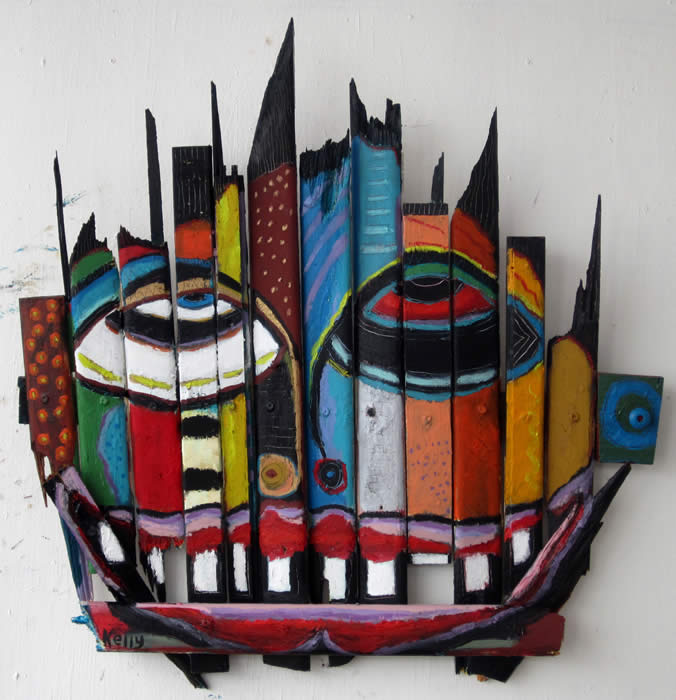 Smiley
oily on wood scraps SOULD
clik hear for several new paintings from the shed
he was wearing the biggest
sunglasses i ever saw
non sensical until
he handed me a star


while painting at the flea yesterday
a fella told me
that when they cremated his uncle
he could see thru the tiny peephole
and sure enough when the fire
got red hot enough
his arms raised up
and then his body sat up
all ready to leave this world
for sure


he asked how long i had been
doing indian art
i said forever
he askd
what tribe you from?
i said 100% commanche
and i can shoot a man
with a bow and arrow
while riding on my horse
at full gallop
and then bury him up to his neck in sand
til the ants finish him off


this year at the flea market we have
beads, rugs, pottery, tomahawks, african art,
russian wood carvings, south american wearables,
hats of all sorts, tee shirts, rocks and gems,
tibetan miscellanea, photos, tacos, indian fry bread,
cheap jewelry, chile jam, turquoise necklaces, perfumes,
blankets, used office furniture and books offered
by people from all over the world
at the most beautiful place on earth


no
this isnt my shed
and i dont know who or
where kelly is


my air conditioning friend from texas
told me most folks
prefer to hide the compressor
so we just might wanna put it on top
of the shed
but the duct work would be a cinch
given my shed is about 12 foot high
however he did say my lectric bills
would be sky high unless i did
something about all the leakage
i was gonna have due to the
front of my shed
being completely wide open


she walked by
with her mouth wide open
thats funny i had never
seen your shed before
i wonder if it takes
just so many people to see
something before it becomes
real?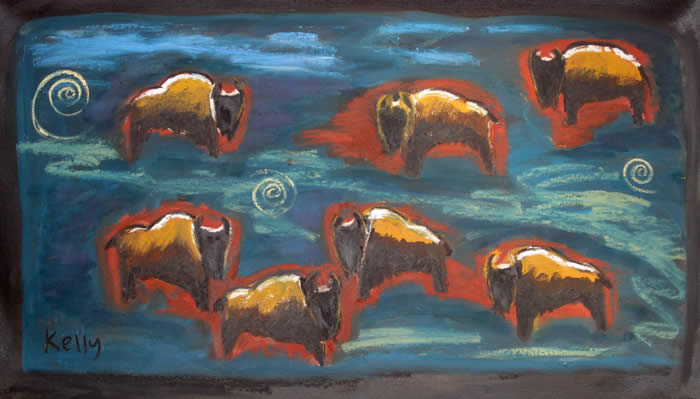 the last buffalos
sould
oily on loose canvas
my newsletter comes out this week if you
care to get first looks at the new art
plus a story from the southwest
just clik here and join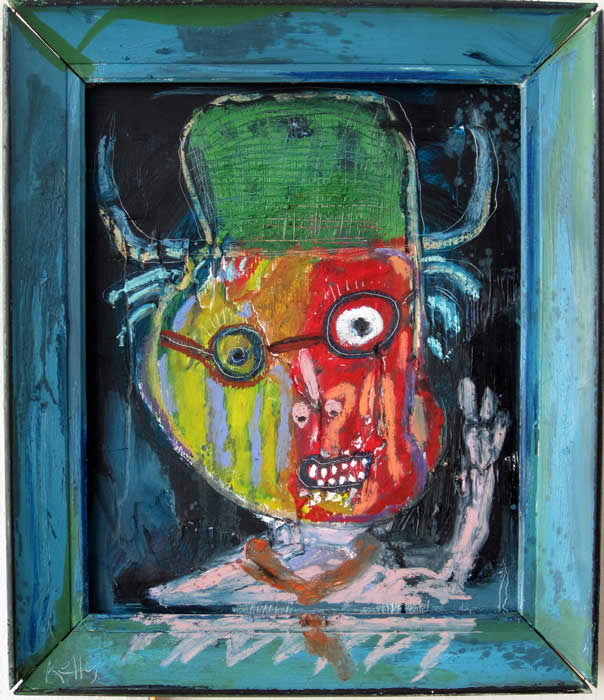 young billy the kidd
sould
16 x 20 mol oily on picture frame
plus more new art clik rite hear
i am young billy the kid
of course that aint my given name
but thats thars besides the point
all u need to know is that i startd
by shootn innocent rabbits dead
which aint hard to do
if you got a good runnin dawg
and a shotgun

i dreamd i was in a cave
under the volcano
standing in shallow water
when i saw a boat lit up with torches
coming my way
full of bunnies bleeding from shot gun
and various varmit attacks
they were paddlin towards a light
with the biggest carrots
id ever seen


in the rabbits mind
the bullet raced backwards
into the barrel of the smoking gun
the bunnys wound closed up
as though it were never there
and the beagle dog ran backwards away
from where the rabbit was hiding


the priest at the head of the church
announced to the flock
there will be no room for bunnys in heaven
creating a stir in the pews
the sobs & crys of rabbits
plus a few really ticked off Jacks
thumping their big toes in loud protest
as all were cast out of their reward of good carrots
minus dogs, cats & shotguns


and i see nothing rong with eatn
them thar rabits but i gotta admit
i dont know how to cookem either
so i givem to the dawg
or sometimes just letem lay out thar
and rot which it hindsight
was the beginning of my life of crime
senseless killins of rabbits
by me young billy the kid
yes sir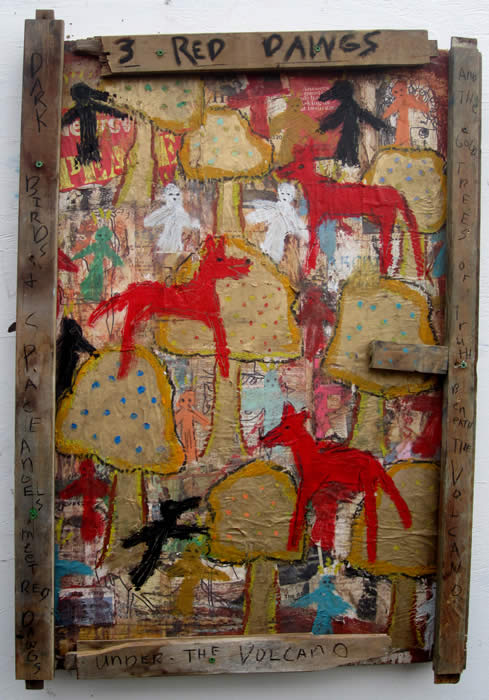 Three Red Dawgs
(sould) oily on board
i crawled thru the kiowa grass lands
imagining i was quanah parker
sneaking up on a white buffalo
but as i edged closer to the enourmous animal
i couldnt pull the trigger
and he didnt stomp me to smithereens
so we built a fire and made cowboy coffee
as we sat and talked all thru the night
under the comanche moon


in 1982 police outside of basil switzerland
stopped me on the autobahn
where i was trying to hitch a ride to zurich...
i should have known i was on
the road to the flea market
but at that time
i didnt know there are no truths
only stories



dark birds picked me up off the ground
and we circled high in the sky
over the flea market
and then we drifted towards the volcano
where they dropped me down near a cave
which they explained to me
was where dead cowboy
and the lost child live


4 months after the autobahn
i was kicked out of the national art gallery in london
as i sat staring at a turner painting
while peeling an apple with my swiss army knife
which the guard thought made me
a canvas slasher
another example of my
upsidedownedness
(they never gave my knife back
my first contribution to an art museum)
in my dreams last nite i joined
the wolves on the mountain
stealthing around the woods
looking for a path to the snowy peak
where the space angels land
an entry point to the mystery
of the cosmos
the police in zaragoza spain woke me up
at 3 am in the morning & told me
i would be arrested if i slept in the train station again
so i walked into the dark in a strange place
with no where to go
something i would repeat again and again
until i found my story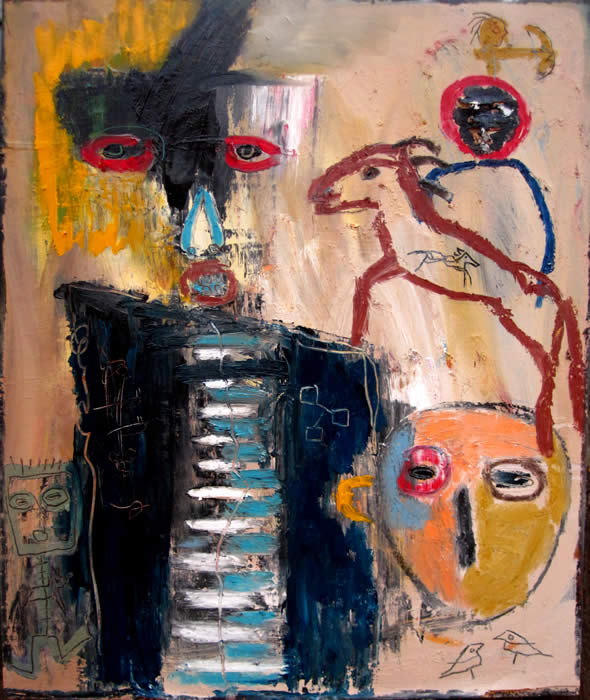 Renegade
sould
20 x 24
oily on piece of old plywood
the sparrow wearing the black bandana
watched my can of rice and beans
as though he were a bandit
casing the flea market bank & trust


the mouse was still limp
oh gawd i hope i didnt kill it
to have the sin
of mouse murder on my soul
is too much for me to bear



the man walked up to me
and said
"kelly dont make war dont make war"
i put down the knife
spit out the liver
and feeling a bit embarrassed
wiped the blood from my face
smearing it across my mouth



the red finches are back
and at last count they have built
4 new bird condos in my shed
and have applied for a permit to construct
a pool on top of my corrogated tin roof



and where are the rabbits?
are they still asleep in their burrows?
they are so gentle and friendly
we miss them all
please come back soon
yours in friendship
signed coyote
Ancient Voyagers
big oily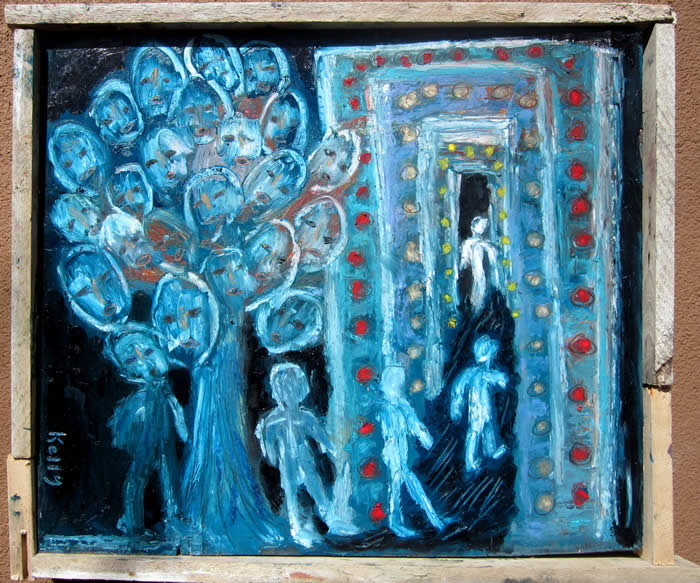 Doors
small oily on old wood
the flea market is open for 2012
and to all those who have
already come by
to my shed
to look at my art
say a kind word
respect my art
buy a painting
or possibly just pass
with a knowing smile
you are
truly appreciated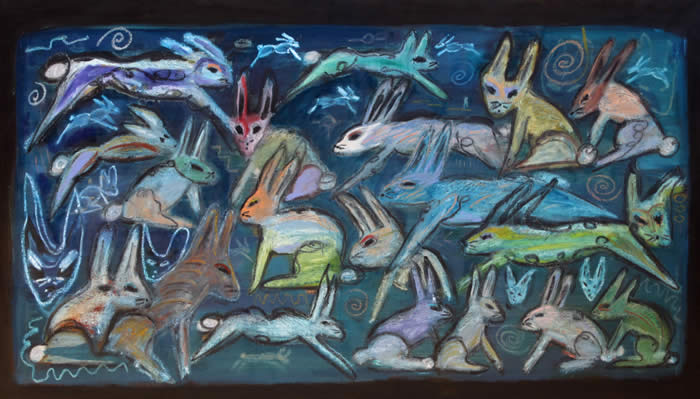 Spring Rabbits
sould
big oily
Demons in my Head
sould
oily in kitchen drawer
feb 2012
in january
snowbirds head south
looking for the sun
but dark birds
we fly west
looking for the other side
of the moon


Quartzite AZ
home of an entire tribe
of mad maxs living in old RVs
& trailors held together
with baling wire & duck tape
selling screwdrivers, rocks,
personalized license plates, cures for arthritis
and awful tee shirts
in the cool winter desert
until the scorching heat returns
and even the scorpions
head for santa fe


the Yuma AZ market
is home for anyone over 65 with an RV
and a budget of $7.98 a day
which is all you need
to sit in bermuda shorts & diabetic socks
wearing a tee shirt that says
"im the CEO of the piss and groan club"
while eating a hotdog wrapped in bacon
washed down with a date milkshake
while listening to Vern the country western singer
croon about the good old days
and why oh why
cant they come back?

Slab City isnt exactly a market
but a place that no body wants
which is perfect
for people that nobody wants
so if you are one of those people
(and you know if you are...)
then bring a tent
drop a trailor
or sleep in your car
and completely drop out of modern life
(or at least hit the pause button)
while you take a look around
at the space between those
beautiful tough plants in the desert
and you may come to the conclusion
that less people in the world
is better than more people
in the world


on to Venice Beach California
where weird is no longer strange
& the all hippies cure what ails them
with a daily hit of medicinal weed
under the everlasting 72 degrees
and even an old homeless man wearing a dress
while dancing with a mackeral in his mouth
can lewdly proposition all the well dressed ladies
(lets do the bang bang porpoise kitty)
and no one really notices
or cares
because Venice Beach is a competitive freak show
evidenced by the middle aged rocker
trying to play sultans of swing
and the three girls wearing loose fitting spuritual clothes
with mandatory dreads & hairy armpits
(and of course this scene would not be complete
without one breast feeding her infant child)
doing yoga poses that could only be described
as grungy man totally grungy.....
-
-
-
-
-

next week i will be back
at the tesuque flea market
where i belong
painting pictures
and telling my story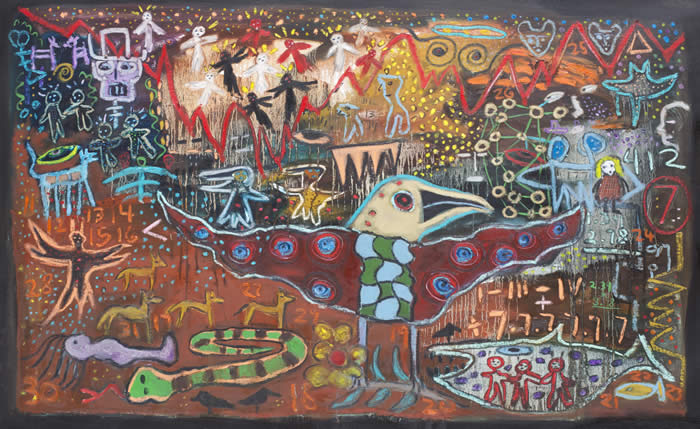 the Golden Eagle
sould
big oily mess on loose canvas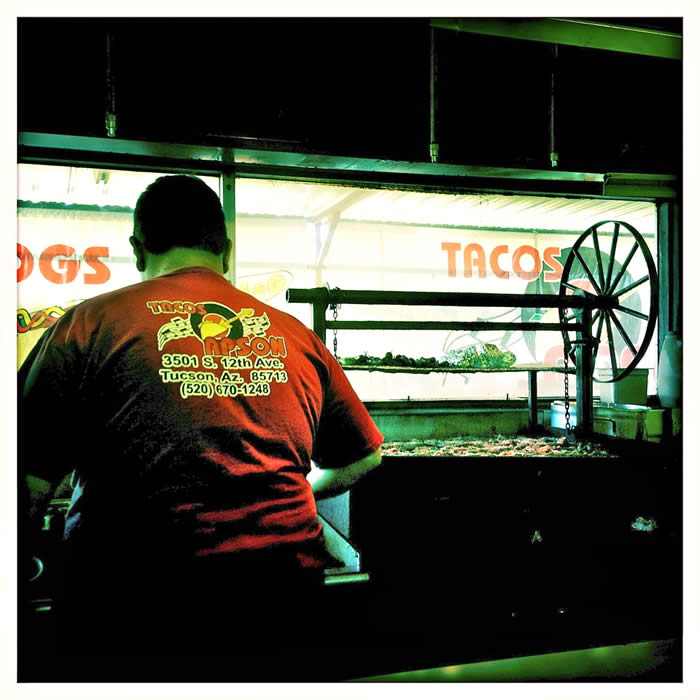 Tacos al Pastor
foto by Kat Livengood
last week in tuscon

it was three Tacos al Pastor
with avocado and refried beans
at Apsons Taqueria.....
today all i get is
two gallons of clear liquid laxative
for lunch dinner & breakfast
before they send
a garden hose with a flashlight
up my asshole looking for trouble

last night as i was waiting
on my prescription at Wal Greens
i browsed the canned food aisle
reading about pressed meat and gelatin
when a elderly hispanic lady
passed by me looking me up and down
before suddenly stopping and coming back
suggesting there were some very nice
jackets up front that are regularly
24.99 but are now on sale
for only 14.99.....

i continued reading
about pig intestines in a can
wondering if the subliminal suggestion
of me studying the ingrediant labels of vienna sausages
at 9 pm was enough
to trigger the nice ladies
empathy button

but when i looked up
at the video camera surveiling me
i realized i prolly appeared to her
as more likely a homeless guy
hoping to make a meal of pressed ham
with a shot of jack daniels
than an artist in need of a
wardrobe makeover

life grows shorter
funnier and occasionally more tragic
when i forget the miracle of being alive
on a tiny planet in a vast universe
and then i cheerfully remember
christmas candy is on sale (chocalate reindeers)
on the next aisle over
and that would be a nice desert
to go with the canned tripe
and a shot of jack daniels
when i lay down to sleep
under the bridge tonite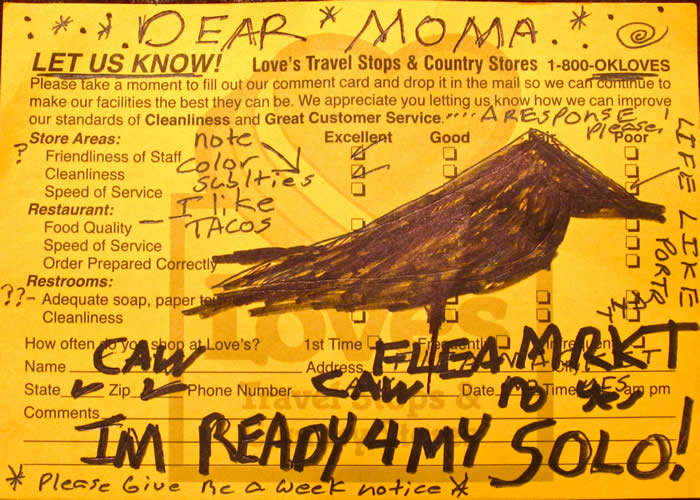 DEAR MOMA MUSEUM OF MODERN ARTS
CUREATOR OF THE ARTS MS ANNE TEMKIN
LAST WEEK WHILE IN OKLIEHOMA I STOPED AT A TRUCKSTOP
FOR A BATHROOM BREAK (#1)
AND WHEN I HAD FINISHD MY BUSINESS
EYE TURNED AROUND
AND LO AND BEHOLD
THERE ON ONE OF THE VENDN MACHINES
WAS A PIXTURE OF A WOMAN WHO LOOKD JUST LIKE YOU
(EXCEPT HER MOUTH WAS WIDE OPEN AND HER EYES WHAS CLOSD)
AND I REALIZD IT WAS A SIGHN FROM GOD
(HE HAS ASSURED ME MY TIME IS COMN)
THAT I WRITE YOU
THIS WEEK TO LET YOU KNOW MY CUTTING EDGE
(I AM WORKN ON HORSES AND RABBITS REAL HARD ANDAS I LOOKED ON YOUR WEBSITE
I NOTICED THAT SURE ENOUGH YOU DIDNT HAVE ANY HORSES RUNNIN WITH DARK BIRDS FLYN OVER THEM
AT THE MOMA MUSEUM)
FLEA MARKET ART IS READY FOR THE SOLO FIRST TIME YOU
GOT A DRY PATCH AND WANT ME TO MAIL
THE NEW HORSE PAINTINGS YOUR WAY
(PLEASE GIVE ME A WEEK NOTICE)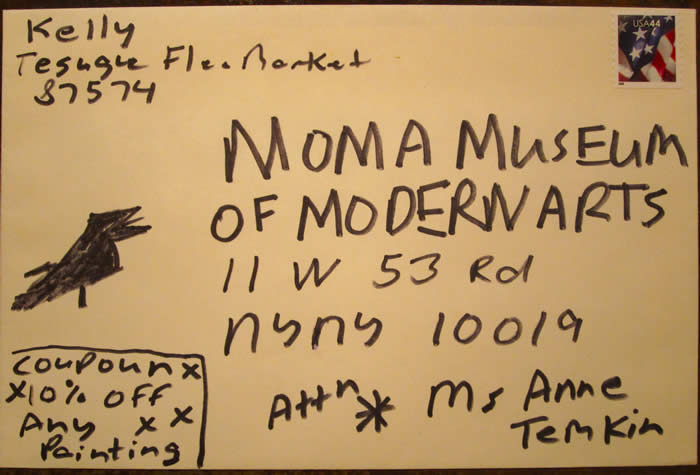 WILL BE MAILD JANUREY 17 2012
January 10th 2012
taking a week off
while traveling thru Oklahoma and Arkansas
and will have
something to post next week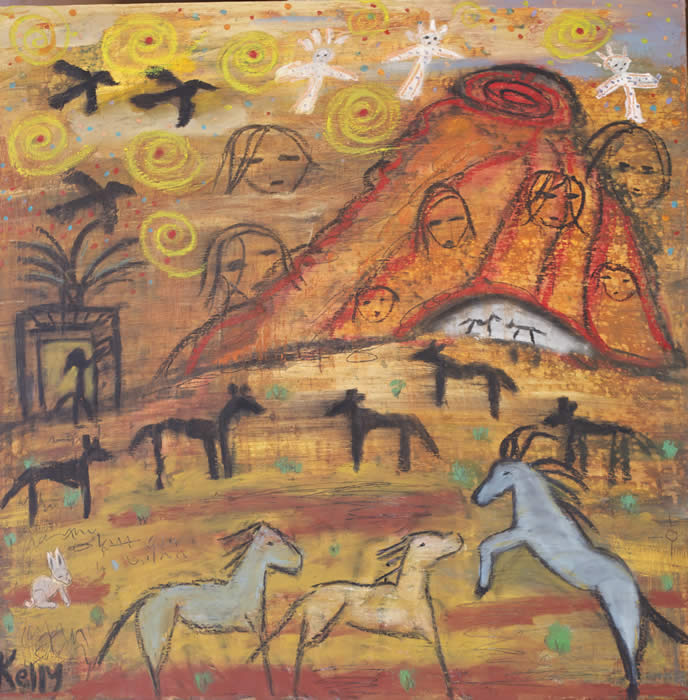 Under the Volcano
sould
32 x 32
oily on a door
Dharmageddon

thinks the mayans
were right about 2012
being the end
and has cans of beans
gallons of water
and crystals piled high
in his van....

Sister Righteous says the rapture is near
and if your not ready for jesus
you will spend eternity in the
firey lake...
Hatman says nature will correct
the imbalance soon
and possibly it will be the volcano
behind the flea
that washes us all away....

Guru on aisle C says
it doesnt matter
if this life ends
because most of us
are gonna come back
and do it again


Dead Cowboy says
cant make a dime
at the flea
its the end of the money
thats for damn sure
Peter Bilt
says he hasnt a clue
it dont matter to him
hes gonna drive his truck
til they pull him out
of his 18 wheeler
dead or alive

and me?
im not sure
about anything
but i do know that at night
under the light of our moon
the dark dawgs
the dark birds
and the wild horses
will come out to celebrate
under the volcano
the miracle that we are
still alive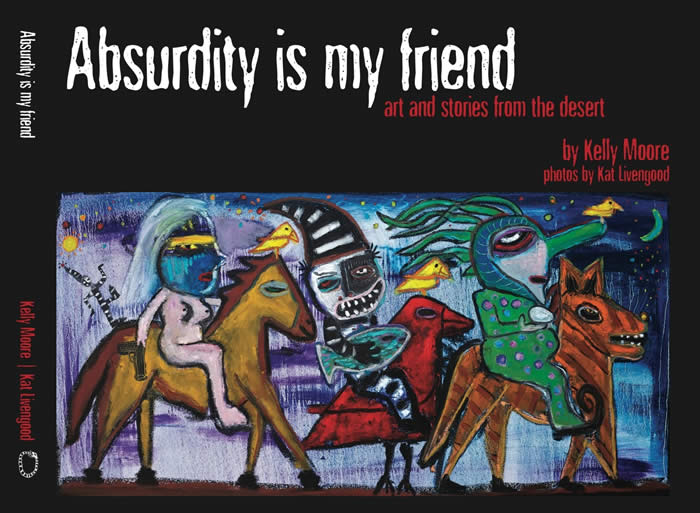 my New Book
Absurdity is my Friend
available now
(free shipping til january 1st)
192 pages featuring
over 80 paintings & 61 writes by Kelly Moore
and almost 40 photos by Kat Livengood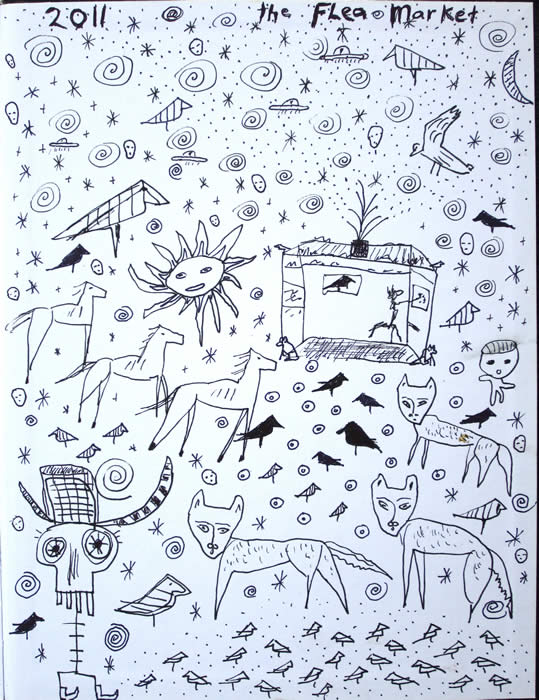 End of the Year at the Flea
drawing (not for sale)
thanks for coming out
to see me at the flea this year
in a world of indoor malls, big box stores and corporate discounts
it is appreciated that folks
will still
come see some of the biggest underdawgs in town
at the tesuque pueblo flea market......
starting this friday my alley studio on canyon
will be open pretty much everday
thru the first week of the year.....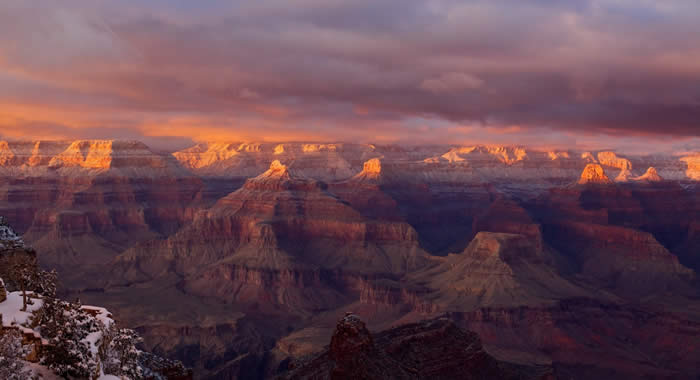 one real thing
foto by Kat Livengood
an original homestyle hotel
on the way to the grand canyon
plastic apples
plastic bananas
plastic plants
in a bowl made in china
on a fake wood mantel
on a fireplace of styrofoam rock
with a copy of a copy of a painting
of an Indians sacred painting
hanging over the fire
which has a cord running out from it
that is plugged into a wall
which lights up the electric flickering flame
in the good old fashioned
American way

At the rim of
one the wonders of the world
everyone is admiring
their cameras and phones
I watch three young girls
Scream "like oh my gawd!!?
over and over again
While staring at a vidio
on their phone
of a dog water skiing
with a cat on its back
with a rat on its head
while all three
wear pirate hats

inside the lodge
a midwest couple sits behind us
a doughy middle aged man
with diamond rings on both hands
and a lady wearing a hair helmet
with a mask of mascara and lipstick
that seems to be as thick
as the gravy she ordered
over her canned bisqits
while she prays fervently
over the powdered eggs
"thank you jesus for our daily bread"
and im wondering
if this is the best
he can do

as we get up to leave
I notice two two Russian fellows
underdressed for the cold weather
wearing short sleeved soccer shirts
with tight jeans and bling
armed with a Russian radar
that has located my gals tits
as missile silos
armed and dangerous

Today outside of the bright star lodge
I saw a young Japanese lady
with a hat that looked
like a white hairy mushroom
walk right by a amish lady
who had her hair bound up
in a net wearing clothes
prolly worn by her dead grandmother
who walked right by
a young girl with flaming red hair
who was wearing a black trench coat
and had head phones on
while singing at the top of her lungs
"i love rock n roll"
as she walked by three elk
that were wearing nothing
and couldnt care less

and the illusion continues
when i washed my hair
the next morning
i discovered no matter how much
lotion looks like hair conditioner
they arent the same thing

parts of the grand canyon
are 560 million years old
given mythic names such as
Shivas temple
Elephant Butte
Zorasters temple
Kaibob plateau etc
but not a single reference
to the jesus story
or a note that Noah
successfully came down
the colorado river
in an ark

and yet
beyond all the baloney on the rim
the Grand Canyon is still
one real thing
in a world of virtual living
and plastic crap
if you take the time
to
look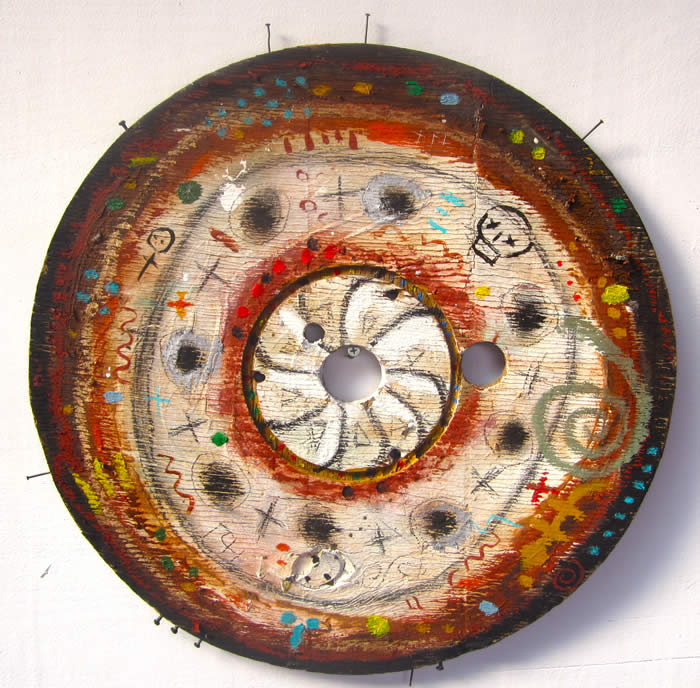 The Wheel
oil and misc other on wood
its the end of the year at the flea
and im enjoying painting in the cold
more than usual
thanks to the sun and three layers
of artificial skin
rabbits are hiding
under the metal storage containers
an impregnable
varmint bunker
the sparrows fly into my shed
at 4 pm everyday
returning home from a long days work
i think they want me to fix dinner
and tell them a story
clik here for my end of the year misfits, hidden aways & unwanteds sale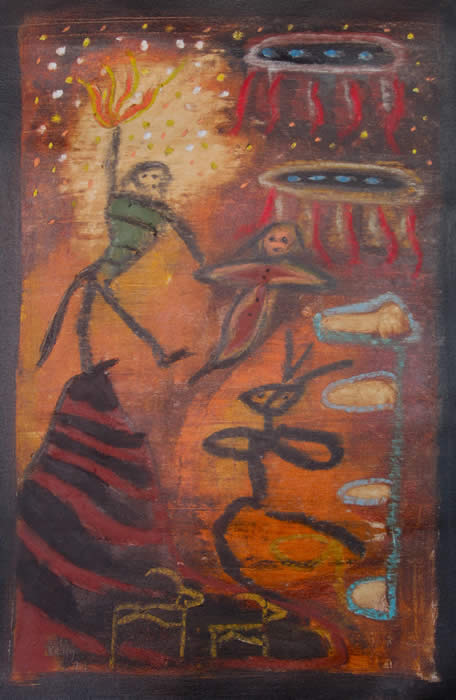 Fire Theft
sould
small oily canvas
ya i know
they say Bronco Bob died
but did you see an obituary?
do you know anyone who was at the funeral?
dont repeat this to anyone
but Bronco Bob was abducted at the flea
on a monday when no one was here
and i should know
im the one who found his open tarps flapping in the wind
with his stuff laying on the ground
no sir he was taken up into the sky
and it wasnt in some holy chariot
it was a bolt of light brighter than the sun
and darker than the night all rolled together
but im not saying we arent gonna see him again
because i dont think hes dead
i just think he got sucked up into the sky
where they are implanting new memories into his brain
and i will not be surprised to see him on aisle A again
selling his photos next summer
course that doesnt mean whoever the fella
with long silver hair wearing a big white cowboy hat
selling photos really is Bronco Bob
now does it?
Dharmageddon
last week at the flea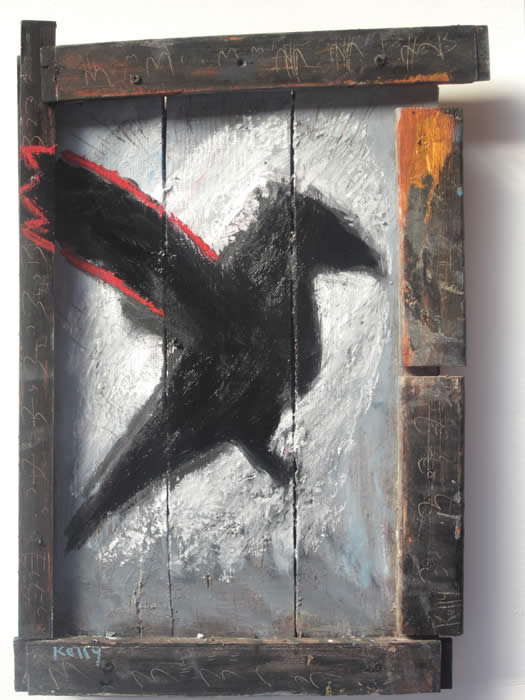 dark bird landing
sould
oil on odd bits of found wood 17 x 24
"last i heard of Sister Righteous

she was selling sunglasses
at the gorge bridge in taos
course she moves around alot
as shes always preachin her jesus stuff
to the heathens at the market
which naturally wears out her welcome pretty fast
and it doesnt help that she drinks Johnny Walker red
straight out of the bottle
when she goes to her van for "supplies"
but she'll be back to the flea
next summer i would expect
cause theres no foot traffic
on that bridge til june
and my goodness the april wind on the gorge rim
might just blow over her van
into the rio grande anyway"
Voice of Angel
at the flea nov 2011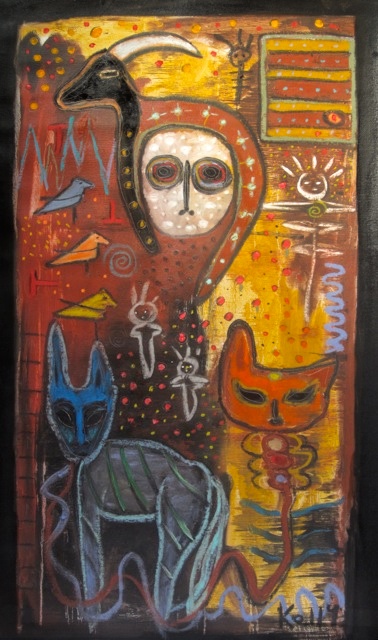 mountain spirit
sould
oily on canvas
(clik hear for one more painting)
yesterday at the flea

i poured seeds

out of my rolled up canvas

a mouse granary
now a sparrows buffet
rabbits took cover under my car
an RV (Rabbit Vehicle) for the bunnies
who wish they could
hop inside and drive 55
to the farmers market
armegeddon
for the insects
they all saw it coming
begged & prayed for mercy
to their bug gawd
but nothing could stop
the mercury from hitting
32
we danced on the rim
of the grand canyon
while elk watched us from afar
studying every shimmy and shake
a new dance sensation for the 4 legged
up on their hind legs doing
" the meat eater"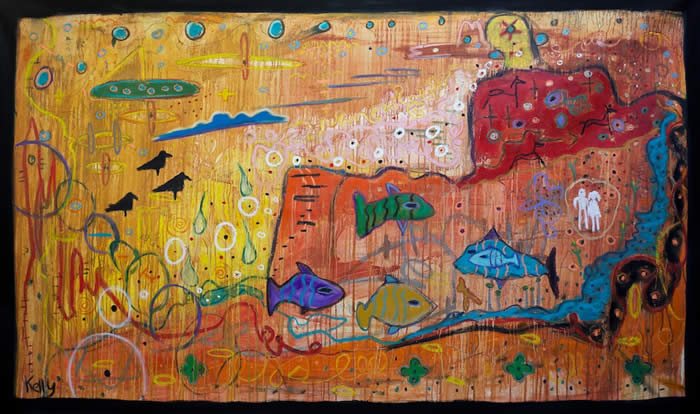 the last two people on earth
sould
50 x 83 oily on loose canvas
clik hear for one more new painting
a dirty little bird
stuck his head into
my can of rice and beans
at the flea yesterday
a fair trade for listening to me
try to whistle like a sparrow
all weekend long....

a tiny particle
broke the law of the speed of light
mystery being the only constant of the cosmos
that can be confirmed in the labs....


a sage walked into my shed last week
he whispered
medicine...this is medicine....
his voice was wise
he was a great artist
of course he didnt tale me that
no real artist ever does

im repeating myself
im repeating myself

its time to disappear
into a place where altered states
come natural to you
if you hum while you walk
the words show up later
when i paint at the shed

Dead Cowboy joins the Naked Assasin
sould
big oily on loose canvas
in the summer of 1969

i hit a baseball
over the persimmon trees
past the fence
into the cow pasture
and i was suddenly
a hero to every boy
in my neighborhood...
i was golden that day
as i rounded the bases
past a friend who would
eventually become a cop
and was greeted at home plate
by my hysterical team
including the asthmatic twins with their
chihuahua dog bandito
(who despite standing in 80 degree heat
was shaking as violently as ever....)
those were the days
when the game was all that mattered
could you hit?
could you catch a ball?
more importantly
would you be on time
for the game?
religion, politics
and the bumps of life
hadnt strangely distorted us yet
as we played on our field of dreams
when the game was over
we would drink water
from the garden hose
maybe eat a candy bar
and talk about trading baseball cards
until we were cool enough
to return to the diamond
and play another game
in my golden summer of 1969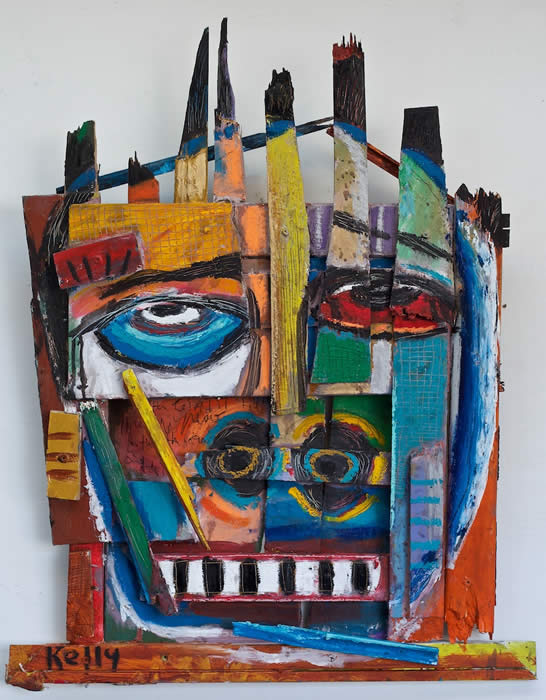 GIANT
32 x 24
wood scraps from the flea
SOULD
october 3rd 2011
dead cowboy came by yesterday
he yelled
"hey hill billy you ever get tired
of painting at the flea?"
i just turned the music up louder
and smiled
he knows what i love
its a game we play....
and so back
to my screwgun & hammer & saw
im buzzing all day long
and then comes the soft paint
the music if you will
notes in my strange song
i often wonder what the effect
of my sound has on the lizard
that is living in my shed this summer
does he come out at night
and look at the art?
does he talk to the toys in my shed?
is he guilt ridden that his sound
may be responsible for creating all this
awful art?
next week when i see the lizard
i will speakly gently with him from my old metal chair
assuring him that
i am responsible
but that if he has any great ideas
for a painting
(perhaps a heroic lizard fighting off a dark bird?)
im always open
to suggestions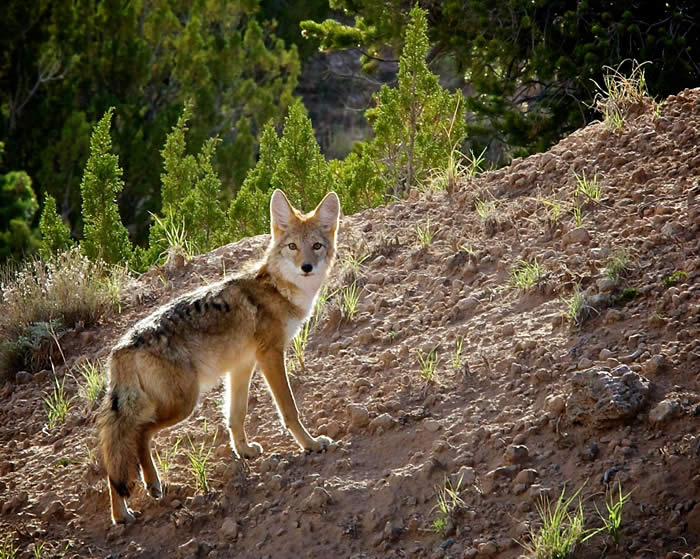 Chimayo Coyote
photo by Kat Livengood
my monthly (well almost monthly)
art and a story from the desert newsletter
comes out tomorrow with some interesting new art and photos
from the desert
and a story about
a dream of a bear, a coyote, and a wild horse
(sign up here if you arent on the newsletter and want a superiour way to waste time)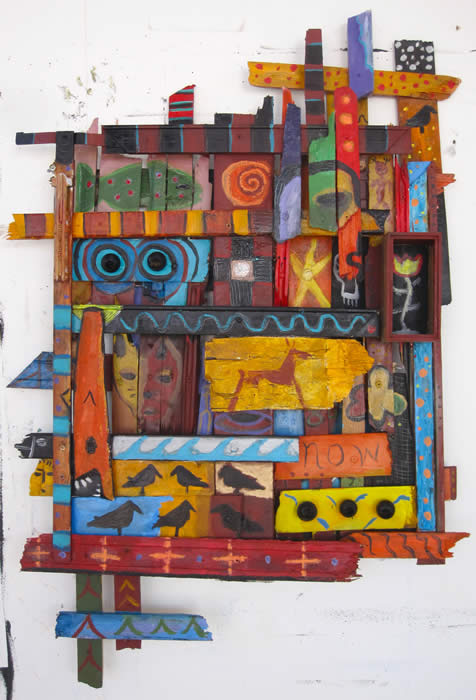 NOW
sould
multiple mixed up medias hammered glued and nailed together
(alot of this one can only be seen in close inspection)
"luck"
to paint at a flea market
in the desert
on a small planet
in a vast universe
where art is bought
and appreciated...
spending a month
in india in 2008
and seeing
hundreds...
(no make that thousands)
of young men
standing by the side of the road
with no work and barely a roof
over their head
made it clearer than ever
that i am more a fluke of geography
than talent


"truth"
that i payd prices along the way
to becoming an artist
that only a fully committed crzy person
with nothing to lose would think good idea
including false hearted lovers
demons in my head
and the naive idea
that art galleries
were here
to help artists


"passion"
or insanity
or just plain balls
call it whatever you want
but i work with a fire in the belly
mixed with an urgency
that i can only describe as
a murmur in my heart
that whispers in my ear
"u dont have much time left"
which compulsively drives me
to create as best i can
with as few regrets
as possible


"love"
without the love
of the right woman
a guy is totally
screwd
(i should know)
-
"kindness"
gawd knows there is ample evidence
to support the idea
that i should not be talking about kindness
as i move a bit too much
like a jack hammer on two legs
(my apologies to anyone who has experienced
the sudden jarring sound of my mouth smashing concrete)
the three most powerful soothing words
i hear in my ear from the one i love are
"gentle gentle gentle...."

"now"
this is all there is
all the other stuff is gone
all the hurts
betrayals & lies
are nothing but distractions
from what i am here to do
which is to work
with wild precise passion
to inspire
provoke
and in courage people
to follow their bliss
to the bitter/sweet end
and along the way
i hope to be a kinder gentler jack hammer
but i cant really swear to god
that at times i wont come across
as a total jack ass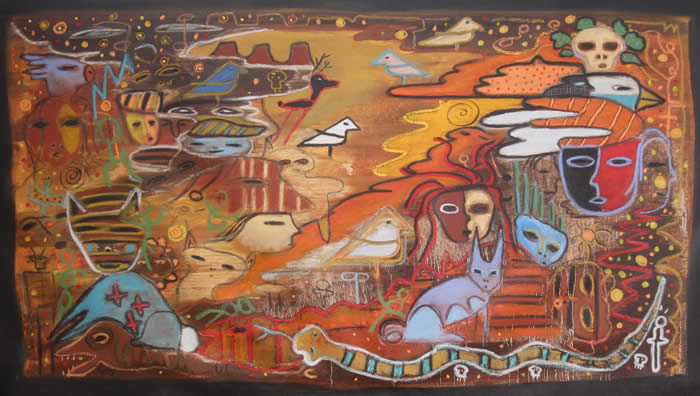 Chinle Wash
sould
big oily
clik hear for one more new painting
sept 12th 2011

when im at my lowest
and i ask the one
with no name no face no place
for help
two words echo
back immediately...
"help yourself "


yesterday i got a guestbook entry
from an "art critic"
who does balloon sculpting for church events
so he can share "the gospel"
with all the sinners...
i suppose he found me
a lost cause
as opposed to trying
to "save me"


what a mess i was
before i moved to new mexico
and found the flea
i was like a car with a huge revving engine
& no steering wheel
with big bumpers
and horn that was stuck
honking all the time


watching wild horses
run near chinle arizona
was the most powerful thing
i saw last week
and when i returned
to the flea this week
its as though the photons
of that dream were still hanging
in suspended animation
and when my eyes gazed upon them
they became manifest and began galloping
around my shed
and then jumped into my painting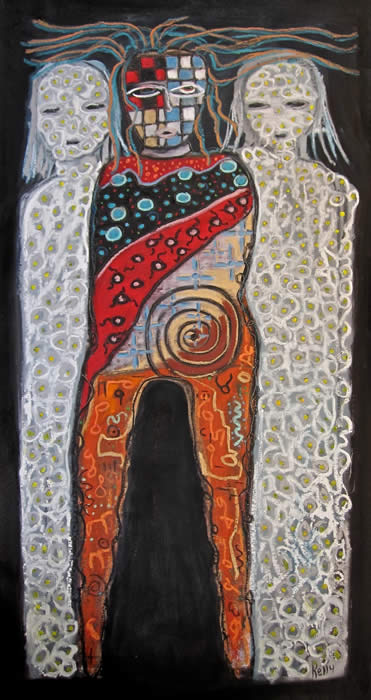 protected by luck & truth
sould
big oily mess
sept 4 2011
whats your story?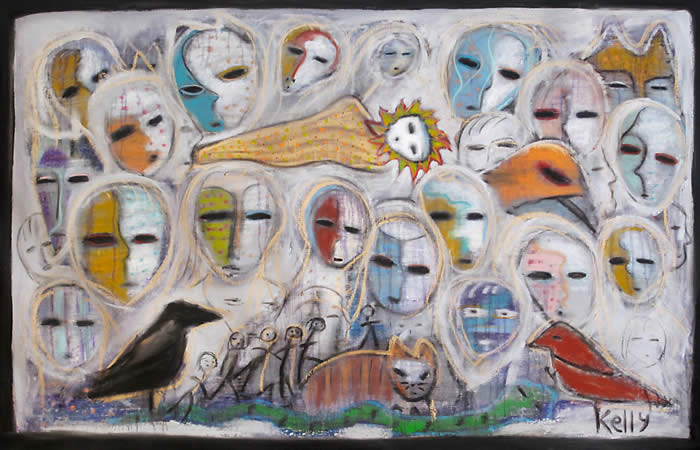 birth of a new myth
ssoouulldd
39 x 59 oily painting on loose canvas
i danced with a lizard
in my shed yesterday
every move i made
reflected back to me
by the syncopated reptile
sometimes it seems
we are more like monkeys
than we think
fighting over who gets the most bananas
& arguing about what grunt
we will label gawd with
the andromeda galaxy
is 2 million light years from earth
and has over 200 billion stars in it
the tumbleweed cafe
is 50 foot from my shed
and three chikn tacos & a coke
is $5
animal tracks
circled my shed this weekend
rabbits may have set up fort
under my paint board
armed with paint brushes
peering out thru my tarps
at surprised coyotes
when i returned home last nite
my headlights caught a skunk
sitting on my porch
looking at one of my paintings
i asked him if he wanted
to join my art newsletter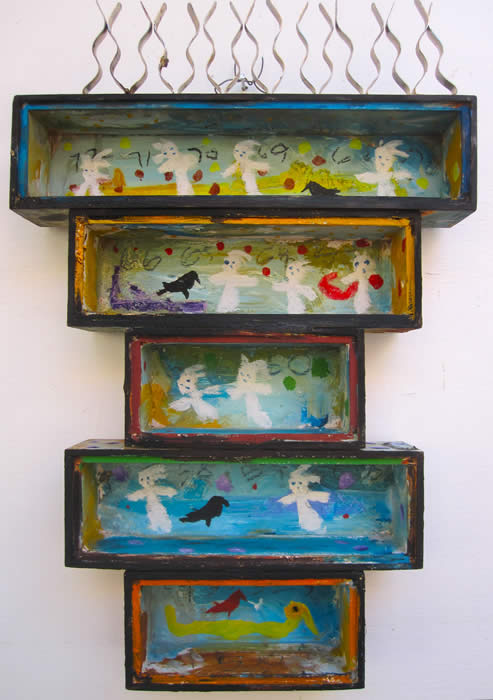 Parallel worlds
sould
about 15 inches tall
august 22 2011
coyote tracks all around

my shed this weekend
maybe looking for one of the red finch fallen from a nest
or possibly he loves figurative art
and thinks my dark dawg paintings
reflect the existental crisis of a modern coyote
dependent on the trash pile
at the flea
-
-
-
-
i went to an art fair last week
in downtown santa fe
there must be 5 or 6 during the summer
none of which i can be part of cuz
im not indian enough to be in indian market
im not successful enough to be in the outsider art show
im not hispanic enough to be in the spanish market
im not a chicken painter so i cant be in the folkfest
and im not cool enough to be in art santa fe
so i drive 5 miles north outside of town
to my shed at the flea market
where i write and mail out rejection slips
to all those shows....
-
-
-
-
-
and so i look up into the sky
from my shed at the flea
pondering the vastness
of the incomphrehensible nature of life
on a small planet
rotating around a medium sized star
on the edge of our beautiful galaxy
overwhelmed with the new found knowledge
that theres another galaxy in the cosmos
for every star in our sky
-
-
-
-
-
one of the gallerys at the show
was familiar with my work
and despite my not asking
if they wanted to rep my work
they informed me
it was "not friendly enough"
to which i respond
im not a freakn interior decorator
but just in case they are reading this
you might be surprised how many
unfriendly folks out there
have my art
on their unfriendly walls
-
-
-
-
-
i will give you $36 for that painting
oh geez....holy cow....wow thats low?!!?
what do i do
with an offer like that?
well..... i take it of course!
there is no dishonor
in the survival of an artist
at a flea market
ya it was a small piece of art
ya it was a low price
and ya
when i was in india 4 years ago
that would have paid rent
for most of the artist i met
for 6 months
so ya
im happy to sell my art
whenever i can
-
-
-
-
-
i read a hip poet this month
who had moved to paris and smoked cigarrettes
while wearing girls jeans
with one of those haircuts
that looks like he needs a hair cut
and despite being a young gun
he only used an old typewriter
to type out his poems
with lots of curse words
dropping the f bomb and all its friends
as often as he could
which seem to work for him
but try as i may to jam those words
in to my writing
im just not built like that
every time i try to curse in a write
i sound like a fraud
so darn it
hip im not
but then again
who cares?
im just not built like that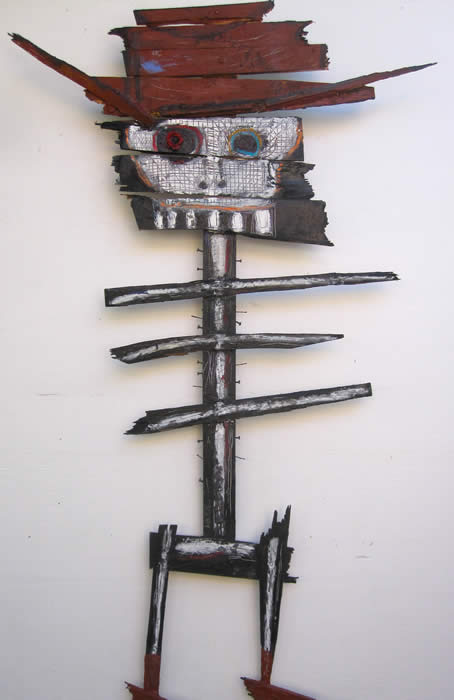 Dead Cowboy
sould
48 x 20 on found board
come see me
at the tesuque pueblo flea market
friday thru sunday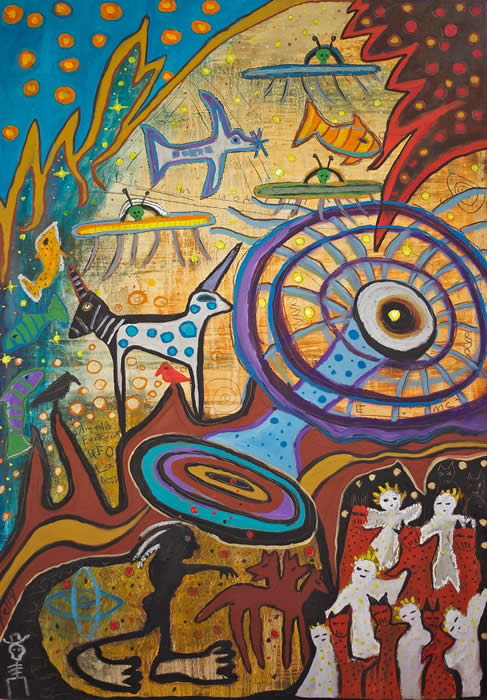 wormholes and bigfoot
sould
oily on a door panel
the coyote watched the monsoon rains

wash over the sangre de christo mountains
the fires were gone
and the nights were cool
hopefully he would see a rabbit today
the concerns of the coyote
here and now
i saw Dharmageddon at the flea yesterday
circling like a crazy raven
he mumbled over and over
"how much more do they want? how much more do they need?
how much more do they want? how much more do they need?"
Traveler the great wild horse
stared at the BLM truck
wondered why the men in the uniforms
wanted to round him up an take him away
sell him to some fella
who would serve him on a dish in Paris
as a horse flank steak
my grandfather hauled watermelons
for a living in arkansas
i remember sitting in his truck
on one of those trips
staring at all the bright lights on the console
and telling him i wanted to be a trucker...
i could tell he was pleased
but that he knew something i didnt know...
that morning before daylight
i ate all 7 egg sandwichs
prepared by my grandmother....
food never tasted so good as it did
going down the road
in the truck with my papaw
the last element
a star creates
before it explodes
is iron
the very thing
that courses
thru your veins
and lights up your eyes and minds
as you re consider
the moon as your mother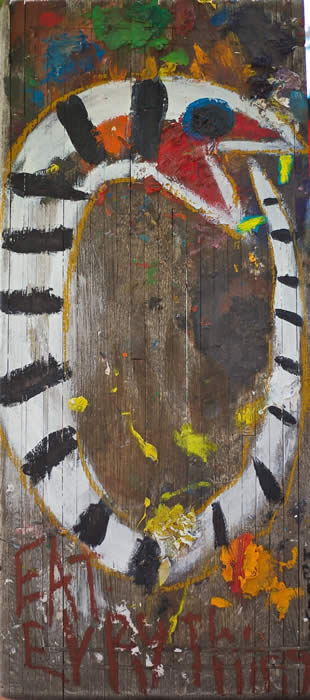 EAT EVRYTHING
oily on half a table top
two raccoons were sitting on fence poles
outside of my window last nite
they looked like elephants
doing a piroutte
in the moon light



my friend from el salvadore
tould me he had a dream
that saddam husseins head
was found buried at the flea
prolly a coyote thought he
could rent a space and sell
it to a dead cowboy
an outsider art exhibit is coming
to santa fe next month
i thought about asking them
to come see my shed at the flea market
but the gallerys only exhibit
successful famous
outsider artist



as you watch the mess in washington
dont forget
you are stardust.....
burn as bright as you can
because we change the world
not the puppets in congress
desert vision
sould
18 x 14 oil on board
click here for lots more art today...
i saw a coyote on the way to coffee this morning
i wonder why he was in the middle of the road
left a fresh deer skull on top of my shed last week
a raven made like a feathered helicopter and tried an air lift
show up on time, have a good attitude and work with passion
words of wisdom from my african friend at the flea
sorry to hear an artist friend was murdered
life is full of so much pain so much beauty
i tryd to explain the 11 dimensions of string theory
he tould me he was a woman school teacher in scotland 600 years ago
found letters to a father in an old ghost house last week
a young man trying to comphrehend his stomach
113 Vampires, Werewolfs, ticks and spiders
about 30 by 40 on a piece of wood
sould
clik here for a few more new pieces of art
july 11th 2011
im way way way way way way way way way way
way way way way way way way way way way
way way way way way way way way way way way way
way way way way way way way way way way way way
way way way way way way
too cranky
to write anything today
so let me just thank all the dark birds (ya thats you)
who read this page every monday or that come out
to my shed at the flea market to see my art in person....
you are all appreciated
and your words and continued support
of my crzy dream
are often the rocket fuel i need
to get thru the hot summer at the flea
kelly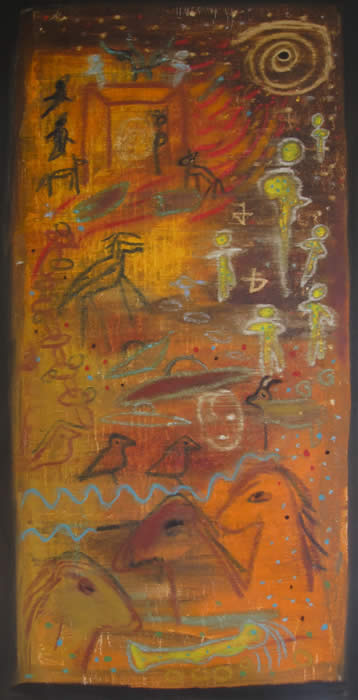 the visit
sould
big oily on loose canvas
click hear for lots of new art
july fourth 2011
i wonder
what does freedom mean?
as politicians push for continued
tax breaks for the super wealthy
what does freedom mean?
when politicians fight for a bomb factory in new mexico
what does freedom mean?
when exxon spills millions of barrels of oil
in yellowstone river in montana
what does freedom mean?
when religious fanatics teach that dinosaurs
existed less than 5 thousand years ago
what does freedom mean?
when a country cuts educational funding
and supports 3 wars abroad to keep us "safe"
what does freedom mean?
when labor unions have become a bad word
and corporate profits boom in our jobless recovery
what does freedom mean?
when one of the top rated shows on cable TV
is about whether or not a guy can eat 6 pounds of ice cream or not?
what does freedom mean
to you?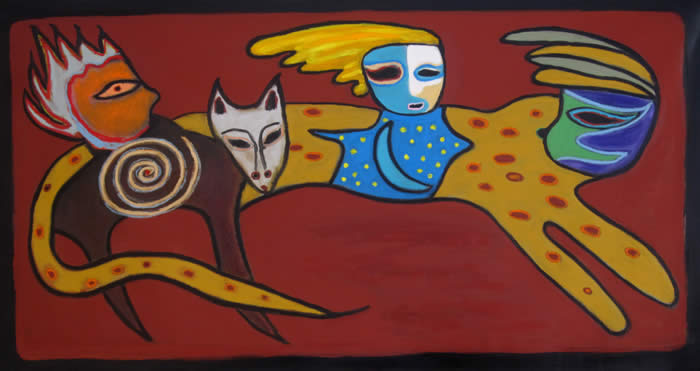 desert cosmos
sould
oily painting
the starship voyager is now
20 billion miles from earth
but still has another 8000 years
of fuel left to travel into outer space
the ash that landed on my head at the flea yesterday
was from a wildfire in los alamos
very close to the labs where the plutonium fuel
for the vessel was made
and still the raven sits on the fenceline
puzzled by black holes and hidden dimensions
and wonders if the dark bird god
is just beyond the veil of the event horizon
prepared to judge him for a taco bag
he stole from a younger raven last week
which made the red finches in my shed
giggle like young girls
" everyone knows dark birds dont have a soul"
which brings me back to a cosmic fed ex package
stashed within the starship voyager
which contains information about
who we are
what we do
and a map to our doorstep
so lets hope if anyone
opens our golden tablet and follows the bread crumbs
back to our planet
they are vegatarians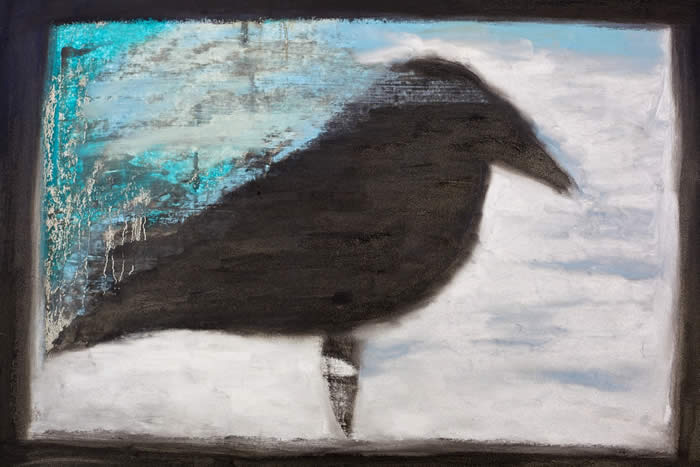 afternoon dark bird
21 x 32 oily
sould
do you think dark birds
wanna be more like humans?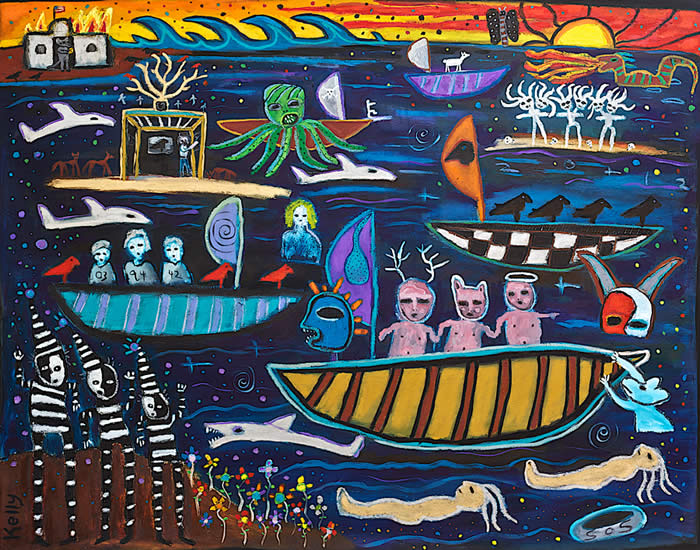 the full catastrophe
sould
big oily mess
is it just me?
or is no one at the wheel
of this full catastrophe?
that was not a skin walker
we saw just off hopi mesa
im quite sure it was marie antoinette
head and all
escaped thru a worm hole
reinvented as a navajo girl....
now if someone could just help that polar bear
get in the boat we could all sing along
la dee daa la dee daaaaaaaaaaa
jack kevorkian died yesterday
he wanted to know why some folks
want control on how we come and go in the world
(is this a private fight or can anyone get in?)
to me we seem to live in a house with a swinging door
where i get regular visits from my dead grandfather
and my daughter who never was but always is
and of course my dog sam
gone from this world 40 years
but i do know
my shed is here today and the tumble weed cafe
delivers my tacos every weekend at 12:30
the rest is a mystery to me
much like the lady dressed as though she lived in 1921 paris france
who wandered into my shed yesterday
while i was painting
and asked if i was "Joshiah"
i answered "no im not"
she turned and walked away
undoubtedly searching for someone she vaguely remembered from another dimension
despite being here and now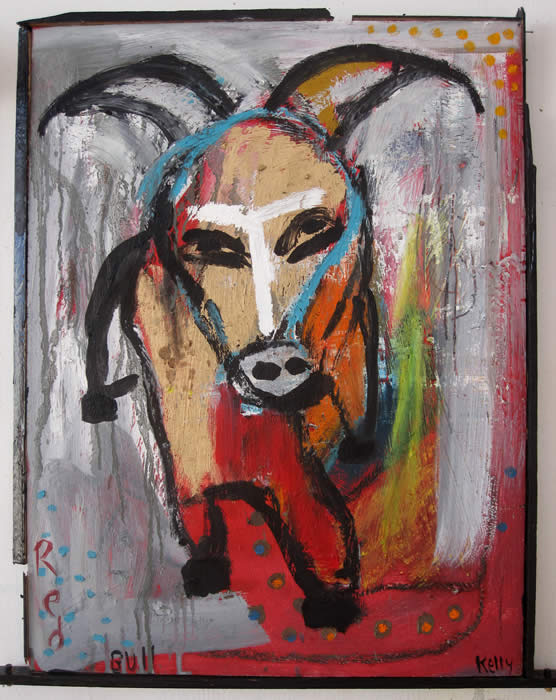 Red Bull
sould
21 x 26 oily on found wood
clik here for several other new pieces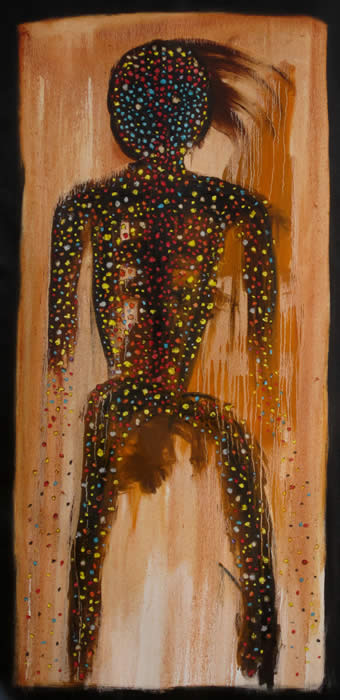 from the milky way
sould
62 x 32 oily on loose canvas
a cosmic rip in the universe
bridged by a wormhole
deep within a black hole
a celestial swinging door
let the wild horses in
exploding across the land
at the speed of light
they dont exist anymore than i do
but they are there
running like the wind
my eyes blink
like a lazy crazy camera
dust wind & cold
laid out like a challenge from god
do you really wanna be here?
am i all that?
its real its not real
the young boy with a gas can
appears from a parallel universe
the land aint got no green
its all dirt and wind
in three minutes i hear it all
a prayer from another place
left in my ear
i wanna go home i miss my family
i wonder what nebula
he comes from
and ya and so
we are all made of stars
and sure as hell
you are gona return to dirt
be it brown red yellow or green oxide
its a cosmic paradox
holyer than thou
or just a piece of crap
that comes out of a cow
and still the horses run
across the sky
past orions belt
crossing the dogstar
heading north east west and south
five thousand light years away
stampeding like a herd of protons
in the super collider of the skys
that smashed into my eye
capturing a star childs memory
of a horse from far away

and yet
here i sit
hawks in the sky
a dead snake in the road
the dog bit her on the nose
& i cant remember
what i had
for lunch
so it is
and it isnt
a halleleujah chorus
i sing on the road going home
yet that searing light
sitting next to me
brighter than a thousand suns
call it buddha, jesus, krishna or I AM
is there
a witness to the isness of the horses
a terrorfying reflection
that maybe I AM here afterall
sitting next to all that matters
and all that any of us
can ever understand
which is un dying love
a devine holy service to another soul
a love made time immortal
witnessed by
a stampede of wild horses
running thru the sky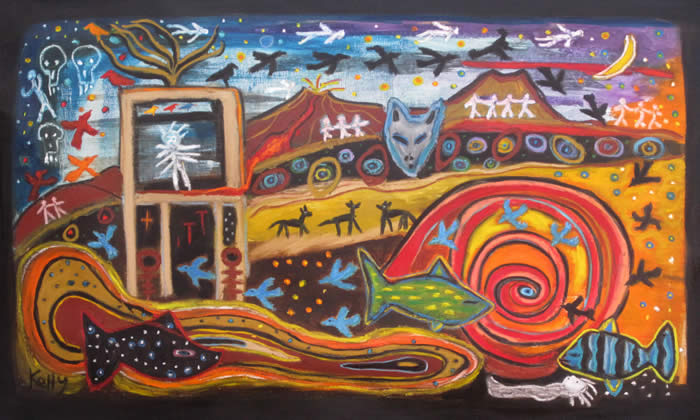 alchemy of a dark bird
sould
big oily on loose canvas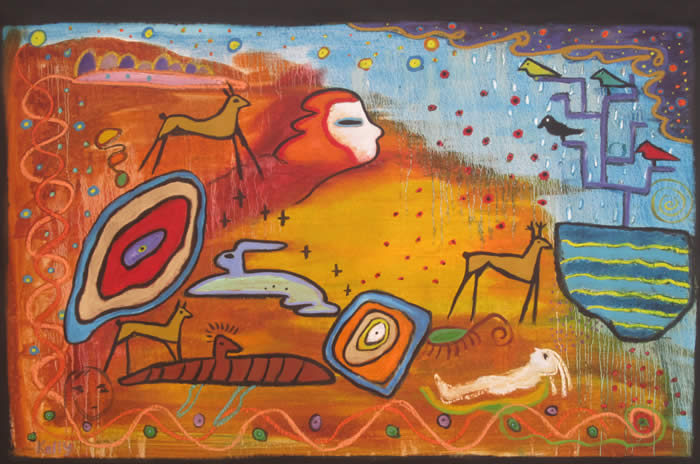 its all there
sould
big oily
may 9th 2011
we watched beavers swim the other night
i wondered if they thought the water was cold
Mo is from burkina faso and says the jungle made him wise
a panther snuck up on me at the shed yesterday and i knew what he meant
looked for wild horses in placitas last week they were nowhere to be found
later spotted them close to the interstate where they had acess to the G4 network
that noise in the night air sounded like a vapor whistle
was just a big elk explaining why he would make a good father
we have a new thai restaurant at the flea
wonder if we should offer boat rides like in venice to catch the european tourist
that black widow in the corner next to the record player made kat nervous like a cat
my daughter who never was and always is ran circles around my shed until i tied her to a red finch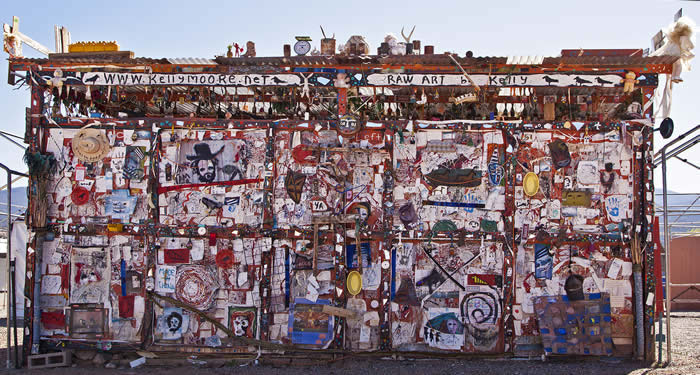 back of The Shed
(u should see the inside)
foto by kat livengood
come see me at
my shed at the flea market
on the tesuque reservation
home to alot of hard working folks
with great stuff and good food
and plenty of dark birds to be seen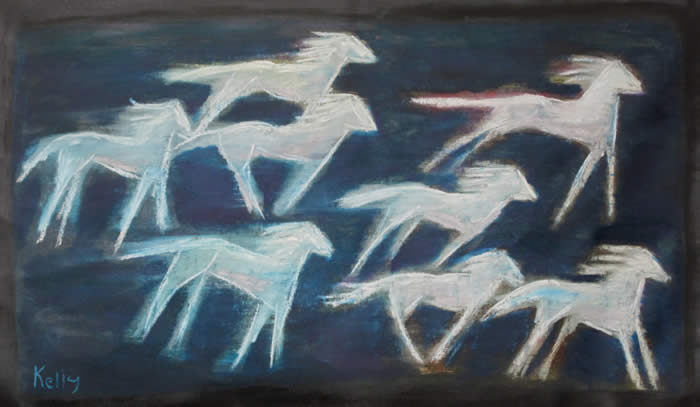 the Misfits
sould
big oily on loose canvas
april 25 2011
the turkeys crossed the road looking for a room
none wore glasses but i was sure they read
whiskey & blackholes consumed that nite
we gazed at the stars almost drowning with our mouths wide open
the jackass was embarrrased and wanted to be somewhere else
humans making coo coo sounds & wanting to hug him did it for sure
ive become obsessed with the curve of her ass
theres no sense trying to wear a tie anymore
scruffy the dawg offers tours at monument valley
wolves facebook him burros blog him and humans pay him
men dumped electronics in the arroyo near galisteo
coyotes found the wires & logged onto the internet asking directions to las vegas
my daughter who always was and never is
stays at home smelling flowers happy to watch bubbles rise in the vase
watching the mustang from nevada
i wondered if an old indian in a horse constume was jogging inside
so much dust and dirt blowing i often wonder
if god is allergic to humans
my landlord uses a mexican detergent
makes the kat want to dance with a sombrero and heels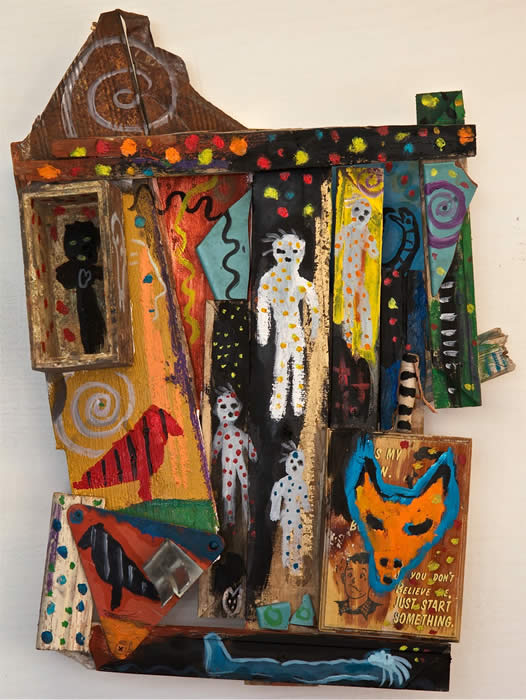 stardust we are
sould
paint on boards, rusty cans & flea market crap
imagine the odds of your toothbrush landing in the toilet
and the mystery of the world seems obvious
i still miss my dog Sam who was my best friend 45 years ago
we wandered the pine trees humming our secret song
the red finch wonder why i sit in their shed at the flea market
the dark birds wonder why the finch consider me worth gossiping about
occasionally i still wonder if i could make a comeback as a baseball player
but yesterday when i climbed the ladder at the shed i realized i had lost my fast ball
as a child i hid my red wagon filled with rocks in a neighbors garage
first hints of the child finding beauty in odd things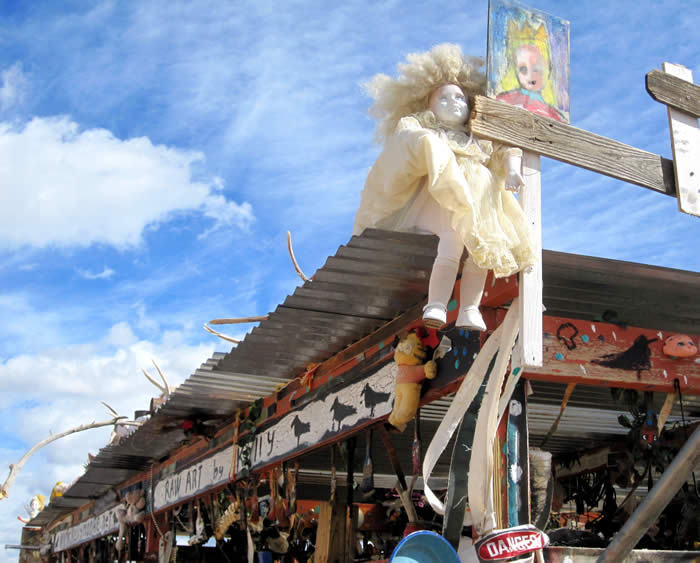 the shed in april 2011
at 20 mph
i marveled at the beauty
of loose tarps dancing in the wind
at 30 mph i stood in awe of the power of nature
as it moves dust, sand, pollen & tumbleweeds with ease
at 40 mph i noticed birds flapping frantically in the sky
while vendors & tailgaters alike took shelter in their cars
at 50 mph gravity rules
and all kiss the ground
sending out desperate prayers at the speed of light
but the SOS never reached the ears of god
or possibly she just doesnt
like flea markets
because the wind blew all weekend long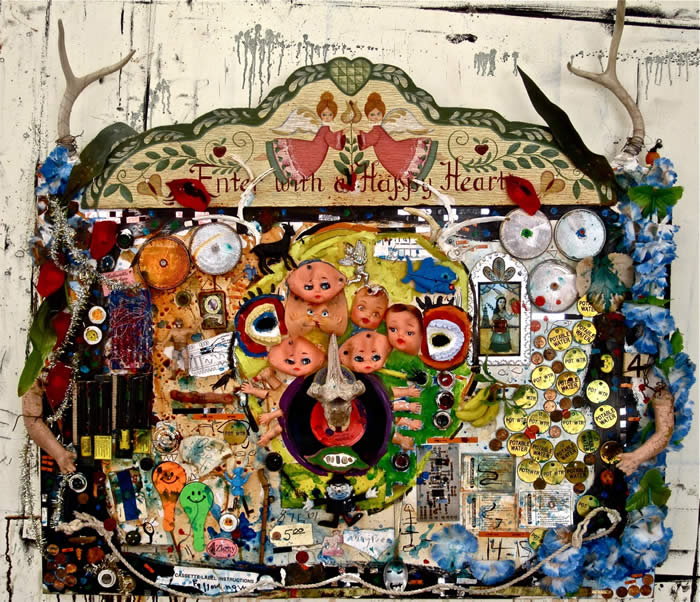 flea market art
big multy media
april 5th 2011
i can hear it snowing
when i wake in the morning
the air is softer than usual
i start with coffee
and a reminder from the ether
that i am loved
and to work with passion today
and so off i go
fleaing santa fe
5 miles north to the tesuque reservation
i drive thru red mud
in the empty parking lot
then walk slowly to my shed
looking at the mountain all the way
the bead traders and rug dealers
were here an hour ago
i open the tarps to my shed slowly
hoping to see a varmint in my space
none there today
except for the invisible dust devil
who thinks he is an interior decorator
and rearranges my shed every nite
i smell eggs coming from the taco stand
where luis is cooking green chile burritos
i set up my space putting things back in place
say hi to trader jack and mo
and smell the cool clean mountain air
as i look north to taos
and then west where the volcano sleeps
the great recession ripped Aisle J apart
i am one of the last remaining from years past
dead cowboy is gone, angel mary is gone and dharmageddon left last year
still there is nowhere i would rather be
i love the flea market
and the people that work here
its the only place ive ever been welcomed as an artist
and that is what i feel
this snowy morning
in march 2011
three horns of truth, (sould) ghost rider (sould) and measure of time (sould)
click any image to see more art from the week at the flea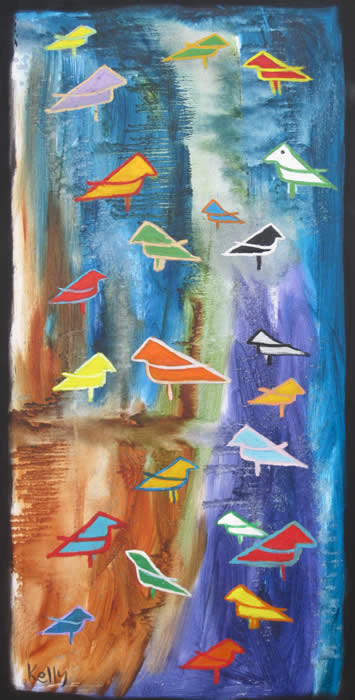 alchemy birds
sould
oil on canvas
japans radioactive
wolves have been driven out of new mexico
the FDA killed of thousands of black birds last month
because they were said to be pests
mysterious earthquakes rattle arkansas
where corporate frackers shatter the earths crust
in search of natural gas
and i cant even buy a piece of fish at the store
without worrying about growing another eye on the side of my head
due to mercury poisoning...
so is it just me?
or are we
becoming the blight on earth
that we seem to be trying to control?
call me a luddite with a twist
i dont think we have to quit the world
but one things for sure
there are too many people on the planet
and not enough wilderness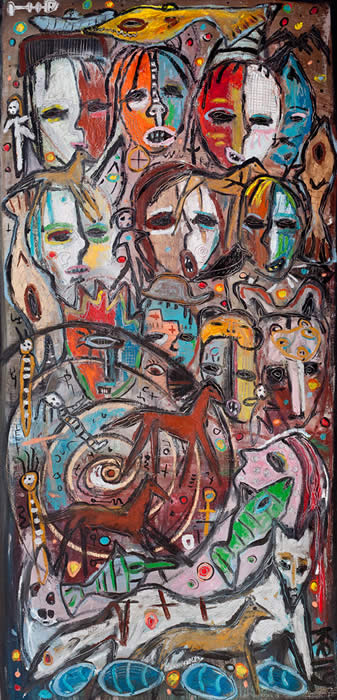 dreamr sees dogtooth in underworld
sould
dreamr says everything is more intense this year
its all vivid colors and strong lines
tied together with 6 pound test
and this year there will also be
dog tooth
as well as more fish bile in my shed
so when the flea market opens this coming week
i will be there wearing my gas mask
as i usually do
and there will be dark birds patrolling the aisles
as they usually do
and the trickstrs hatch door will be open
rite next to my painting board
more so than ever
so come on by and talk to gorilla boy
chat with cherry the talking doll
and watch tuco as he glides around on a roller skate
its all there
at the tesuque pueblo flea market
in 2011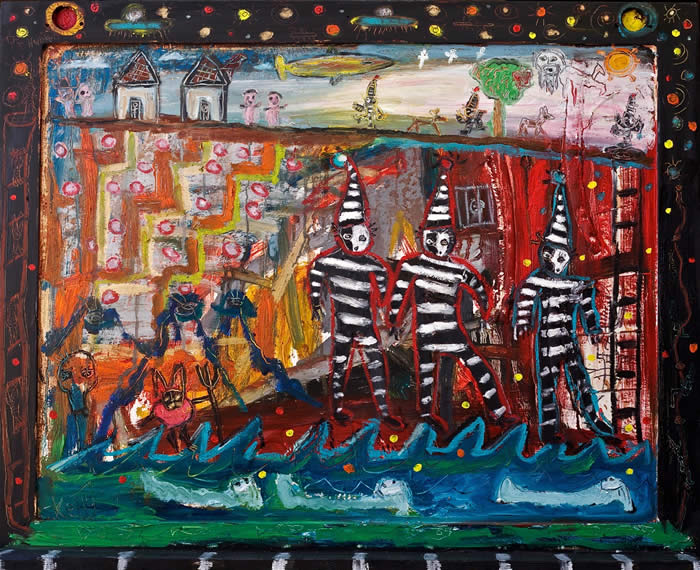 trickster realm
sould
oily on cabine door
febuary 21 2011
what do i do?

how do i live?

i think about this every morning
some are easier than others
occasionally i spend all day
trying to remember what ive forgotten
and sometimes i envy those
that say thay have the map of life
like the lady in salt lake city last week
who had a bible plus the lost chapter
which told her exactly what to do every day in her life
including what pantys to wear
which reminds me of flesh
the deeply flawed rotting stinky epidermis
that every artist brushes up against in their pursuit
to exhibit their art
dear artist
dont forget the business of art is not about the art
and every rejection
every attempt to stop me
brings fire to my pulse
the passion of which reminds me
of the one i love
that whispered to me just yesterday
"you are a good man"
and that is where
i stand today
i love
i am loved
and i do the best i can
in this life
somewhere between heaven and hell
(new paintings next week i promise)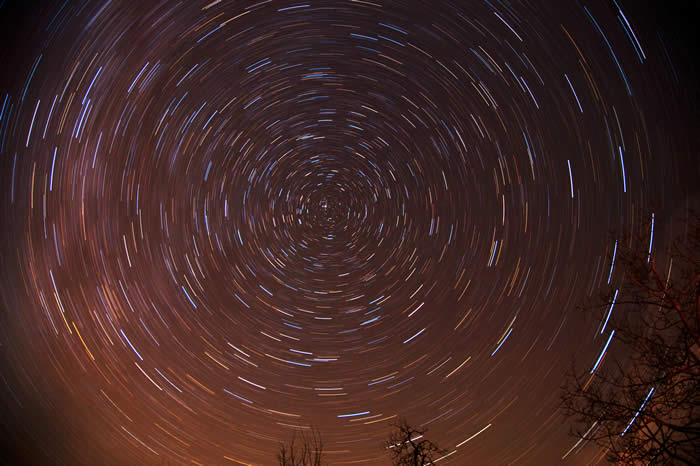 the sky over jackson hole wyoming
foto by kat livengood
febuary 7 2011
its super bowl sunday

and all over the world
people are watching football
as though world peace depends on it
while polaris floats 240 trillion light years away
which means true north is shifting in our world
every....single.......day
but somethings never change
yesterday at a grocery store in jackson wyoming
i heard a cowboy with a green bay sweatshirt
ask the deli clerk if she could
cook a lobster for his super bowl party and dye it green
"not a problem senor" the hispanic lady said
"we dont have a pot of boiling water
but we can microwave it and spray it green!"
which brings me back
to the new north star drifting over egypt
where the old guard seems to still believe
that stars still circle the earth
despite the planet having traveled 2,592,000 miles
thru space and time since yesterday
so you can only imagine it must have felt
as though the planets had re aligned
when the white folks invaded native america
and the church explained that the heathen sinners
would be cast into hell fire if they didnt take up with jesus
which oddly enough become part of their ghost dance ritual
where the saviour does indeed return
but the evil white man is destroyed and the indians saved
bringing me lastly to a small winged dinosaur
on exhibit in thermopolis wyoming
which almost exactly resembles the common chicken on a molecular level
so the next time you go to KFC
and wanna shake things up a bit
dont forget to order a bucket of
supersaurus wings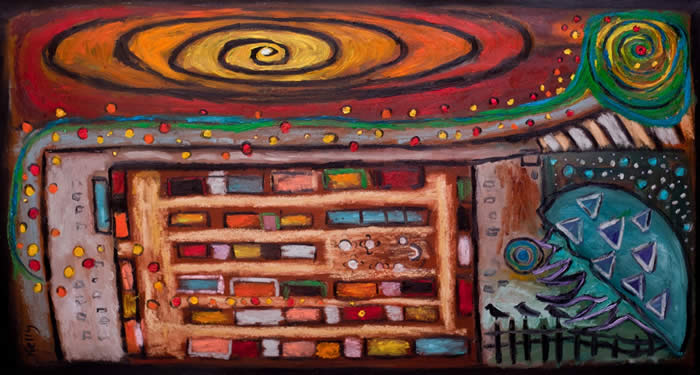 the Map
sould
big oily on loose canvas
no words today
too cranky to write
maybe next week
will type bettr
blech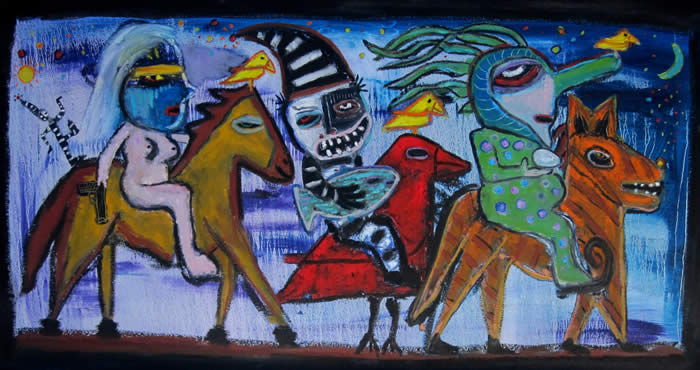 tiny yellow birds
sould
61 x 32
oily canvas messs
news from the desert this week...
dharmageddan reports
he has discovered why native americans
are not as crzy as white folks....
according to the sage its all about the eyes
for instance australian shepards are so inbred
they are often born with blue eyes much like white folks
which invaribly means the dog is crzy or will go deaf....
mack truk says theres a 52% chance
if two guys pull up next to each other at a truck stop urinal
they will stand next to each other in pissless silence
for 1 minute and 23 seconds
till one of the embarrassed bladders
simply zips up and runs for the door....
moonbeam says that
indian road 63 just west of shiprock
is almost impassible due to boulders in the road
and wonders if navajo witches or maybe aliens
from planet transcendence
placed them there as some sorta trick or treat...
either way last month
she saw a man on the road but he quickly turned into
part wolf and part tv set with rabbit ears
and running into the desert nite.....
flowerchild writes that a horse haven
south of gallop states its focus
is to help horses regain their self esteem
and wonders when the horses will start practicising yoga
and aroma therapy at the ranch
thats all from the desert this week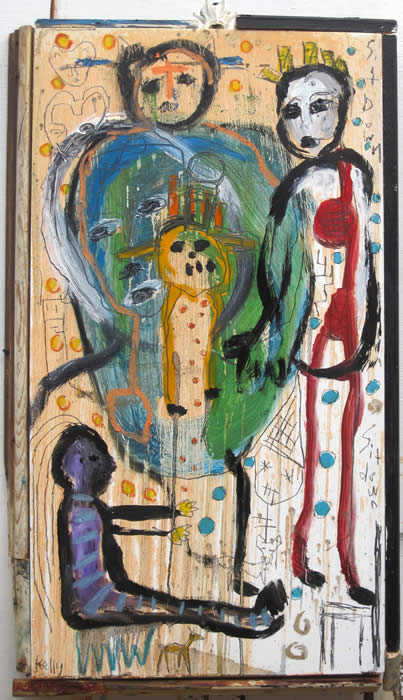 sit down
sould
oily, pencil on board and bone
31 x 18
"dude you should try
selling roasted corn on the rez at tuba city
they get paid on the first of the month
and i do real good selling beads
to the young girls..."
his name was cowboy
but he was all hat and no cows
more likely to follow the grateful dead
than a good market
and every morning before business started
i would see him sitting in his dodge ram
fogging up the windows with maui wowie
just like a pre-party at a concert
until his customers showed up
which would cue his boom box
with foghat or the dead or maybe some zeppelin
announcing the greatest bead show on earth
had arrived and
was open for business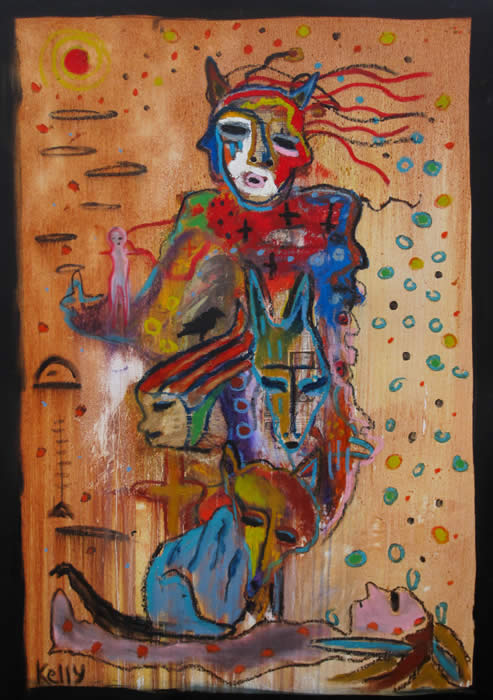 gone
sould
loose canvas oily painting
he reminded me of captain kurtz
from the movie appocalypse now...
he was gone way down the river
and had let it all go from is previous life
which was rumored to be
mortgage banking in little rock
and now he was living out of his car
selling small goods from central america
able to live on less money in a year
than some spent in a month...
"its all over" he said
"theres gonna be a bloodbath very soon
and the assholes in washington
are gonna be the first to be
hung from the cellphone towers"
his name was Dharmageddon or at least
this was the name he gave me when he
rolled out his goods next to my shed
i had seen him the year before
when he pulled up in his dusty old RV
and there had been whispers in the market
that he was insane and it was best not to talk to him
but the old man didnt need anyone
visibibly present to continue his rant
"collapse is immmenint....the mayans knew it! the navajo know it!
hell even the jesus people know it!"
now i could tell you
this was an unusual case
and i dont meet folks
like this very often at the market
but the truth is
im surrounded by good soldiers at the flea
that have gone AWOL
and they are some of the most sane people ive ever met
of course there is the consideration that
a few folks think im crzy myself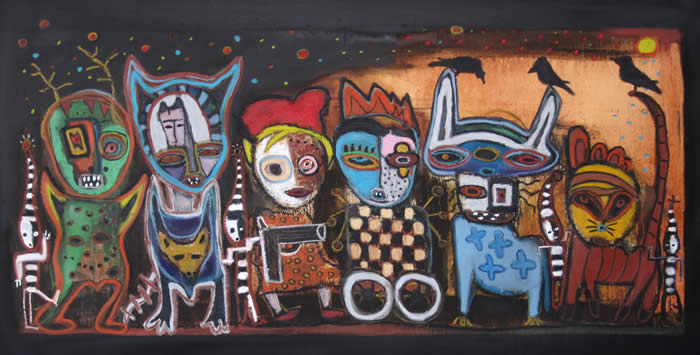 jokers wild
sould
big oily mess 30 x 65 more less
another great year at the flea market has passed
so its always kinda sad when i
pull the tarps for the final time in december
to close up the shed
but sometime in march
i will be back out there again where i belong
but in the mean time
come down the alley to my winter studio
and have some coffee with me
i should be there friday-sunday and by appointment
til i return to the flea next spring

birdz
sould
about 7 foot by 2 1/2 on a closet door
foto is poor as it was late yesterday when i finished it but its a good one
the folks at the flea market
constantly inspire me to work hard every day
and to be relentless in pursuit of my passion
because it is not only my true path
but for others it is also
the right thing to do
as their families and loved ones
depend on them in this great recession....
so as with most folks
that make things or work hard every day
there is less need to talk
as their walk is evident to all those around
so they lead with their lives
and this is what i hope to do
keep my head down
lead with passion
and
let my work speak for itself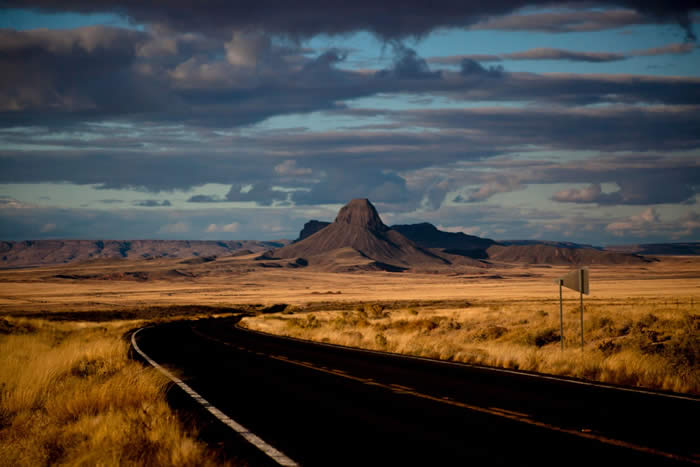 the desert road
by kat livengood
news from the desert this month .....
hatman reported to me
that the flea in yuma has set up a disco
in hopes of raising sales in the great recession
which made me wonder
if theres an opportunity
to offr dance lessons to the snowbirds.....
last week rugman at the flea
told me he wanted afghan food for lunch
and is planning to open
a kebob restaurant next year
which could be a big hit with the dark birds
as even thay need variety in their diets ....
it was reported recently
that a tourist with a cheap digital lens
tryd to foto the famous el tovar lodge at the grand canyon
backpeddling rite up to the rim trying to fit it all in
til he tripped over the fence
and plunged 1000 feet to his death
clutching his camera all the way
prlly determined to post the images on facebook .....
Dakota the great timber wolf
of the wolf sanctuary in new mexico
is reported to have a huge fondness
for dark birds as well as ground chuck
and supposedly wonders if Romeo the fox
really thinks hes a wolf
when he howls along with the dawgs .....
a truckr man from tuscon reported
that a barefoot lot lizard he had picked up in the warm sun of Gainesville
had tryd to steal his boots
when thay stopped for gas in chilly Chicago
telling him as she ran to the truck stop
in her shorts and tank top
that she needed them more than he did....
this week at the flea
it was about 40 degrees in my shed
so my paintings didnt exactly catch fire
but luckily kat livengood shared some of her great fotos
with this dirty desert dawg....
please stay tuned for more news you wouldnt ordinarily get (for good reasons)
from the high desert of new mexico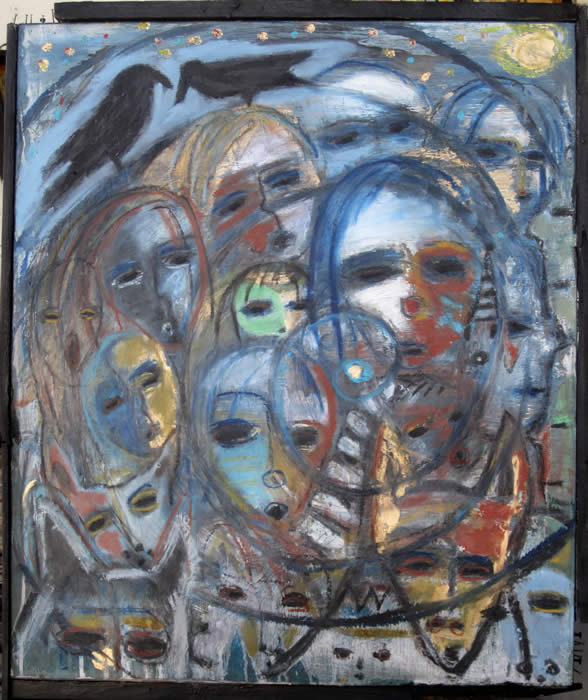 everyone ive ever known
sould
26 x 21 oily on found boards
framed real nice flea style
everyone ive ever known
this life or that life
before or after this
or maybe occurring simultaneously
on a distant planet
is already here
always was
dreaming rite along with us
in some sorta mad shuffle of cards
where occasionally we appear as a coyote in one dream
and a dark bird in another
for reasons we have long forgot
and that may not matter anymore
because as you read this
you are in 10,000 other places
being many different things
for people you have known
all your life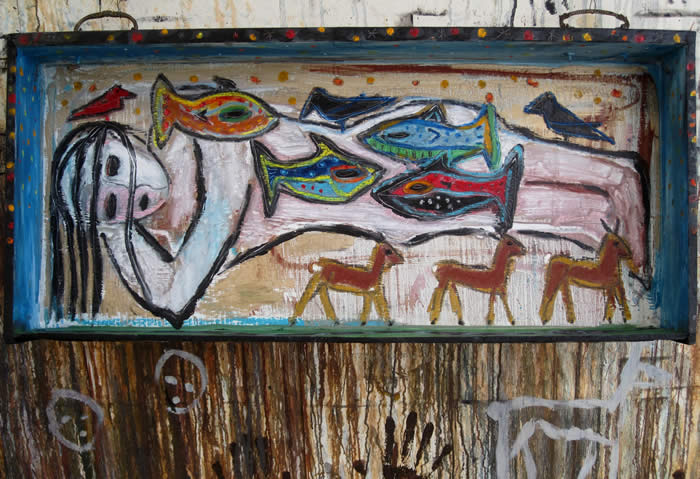 animal dreams
sould
oil painting on dresser drawer
hanging at my studio at the flea
hatman left the flea yesterday
heading for yuma
and all those wonderful snowbirds from canada
that need a bonnet in the desert sun
he will be missed
by the sparrows whom he fed
in his tent
which brings me to the hawk
who will also miss hatman very much
who was unfortunately waiting for the sparrows
in the tent yesterday
and i will miss hatman as well
thank you for the feather
i found in the tent after the desperate squirmish
between the cage fighting avians
and which strangley
leads us to a kat
who found the feather when i left it on the stone
she w ill also miss hatman
as she was quite sure
the elusive magpie talefeather
she so desperately seeks
would eventually meet the hawk
where mad dawg would pick it up
and bring it down the alley to her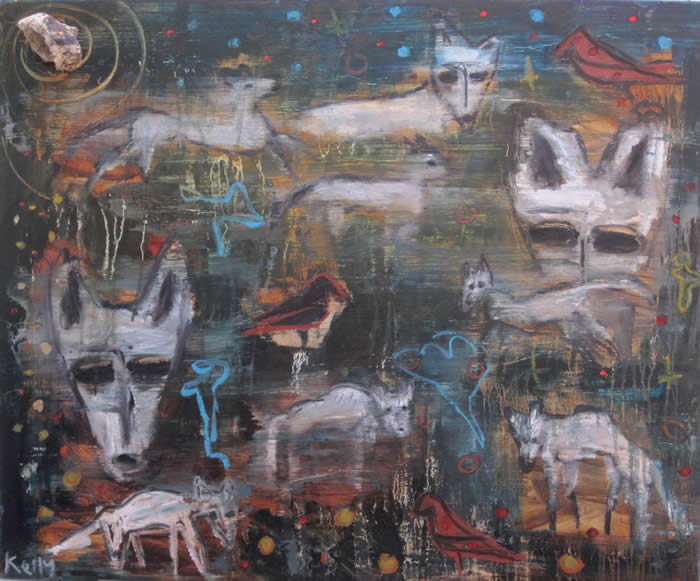 wolf dreams
sould
oil and bone on found board
the two other wolf dawgs had died yesterday
after being locked up in
the abandoned horse trailor on interstate 580 for a week
but the remaining wolf
was stronger than the hybrids
he was a full blooded artic wolf
and there was a memory of strength
in his muscles and heart that had carryd him
thru this ordeal as well as the previous years
that he had suffered
as a carny act in parking lots, circuses and obscure malls
but the gig was up for the owner
and there was no place the man could parade the wolves without fear
that he himself mite end up in a cage
so when the cops opend the trailor door
on the highway that day
the wolf bolted down the road
as fast as it could run
getting as far away from man as it could
and
returning to the wild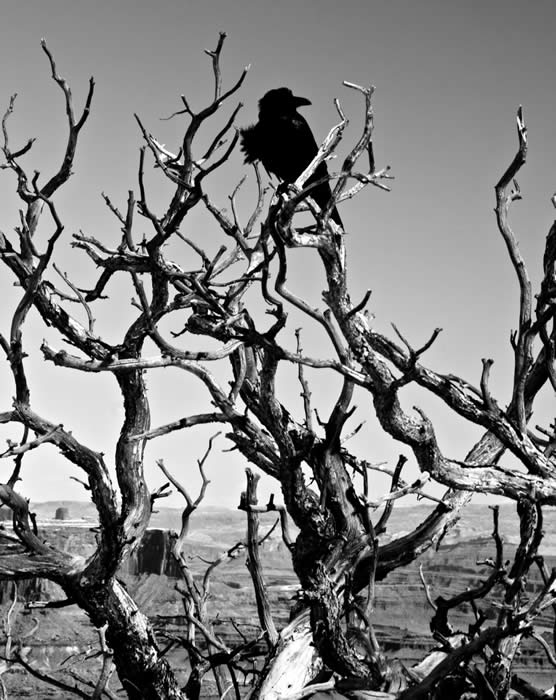 dark bird @ canyonlands
by kat livengood
its long been thought
that the ancient wolf
was domesticated by man
to serve his own needs
but recently the pointy headed folks
made a discovery
that the dark dawgs moved closer to humans
for their own reasons
shifting the focal point of the painting
to the wolfs eye
not mans
which brings me to a problem
(or what i thought was a problem)
namely my inability to paint humans straight up
without a a coyote tale attached to the hindquarters
or a bird beak featured as a nose
or writhing snakes becoming long tangled hair
but now im beginning to understand
all you have to do is use the wolves eye
as you read the front page of the newspaper
or look at facebook
or just take a drive on the innerstate
to realize we need more wild things
because humans alone
arent solving the human problems
and the wolves knew it....
thay came closer to the fire
because thay knew
we needed help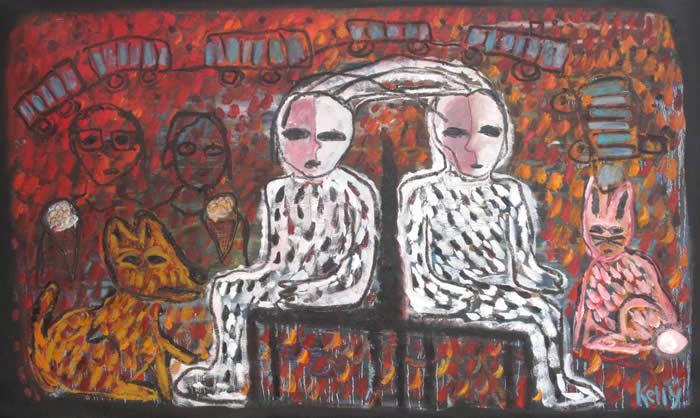 connection
sould
big oily
things are moving fastr now
prolly once you get into the rinse cycle
with all 11 dimensions moving full throttle
theres less reason for the bicarbonators
to get hung on one silly bubble
but pay attention to the third floor apartment
where smoke is coming out the window
there may be one can of sardines up there
that will get hot enough
that the fish will zip the lid clean off
and jump on the couch with the remote control
to watch old gunsmoke reruns
til the cat gets home
with the neopolitan ice cream
which would be a disaster for the feline
if u can imagine
a smokey apartment with melted dairy and sardines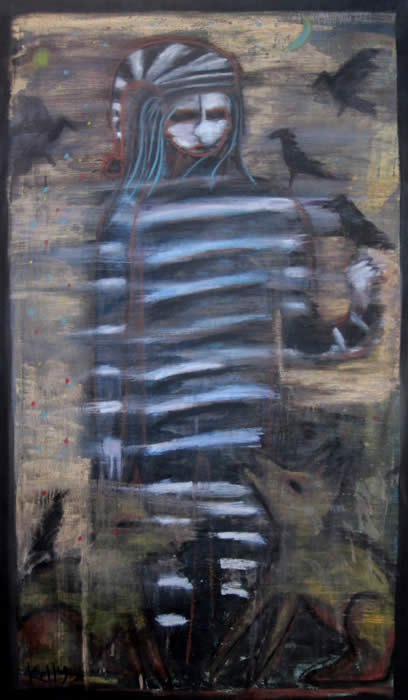 high desert trikster
sould
real big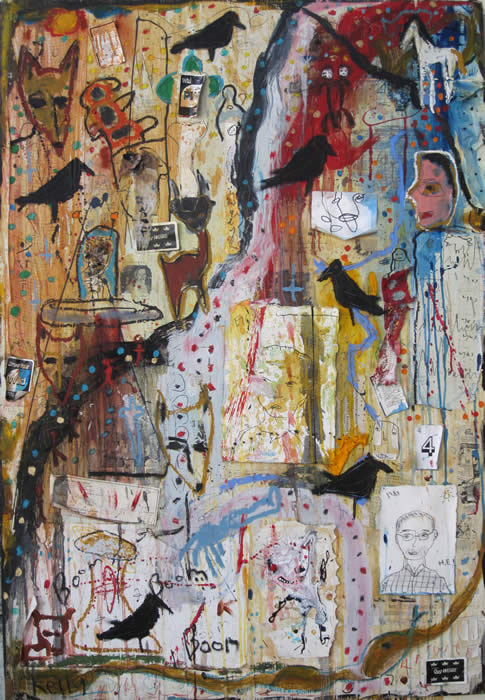 6 dark birds
sould
on a big bord
i had a really good burrito
at the flea this week
(eggs, hash browns, bacon and green chile)
made by the tumbleweed cafe
and as i sat there eating breakfast
looking at my paintings
injoying the new mexico summer weather
i realized how good it all was
but also realized what a close call it had all been
(and its not over yet)
as evidentally every art plan
i had dreamed up in the last 20 years
not only faild
but what a freakn disaster it would have been
if thay had workd out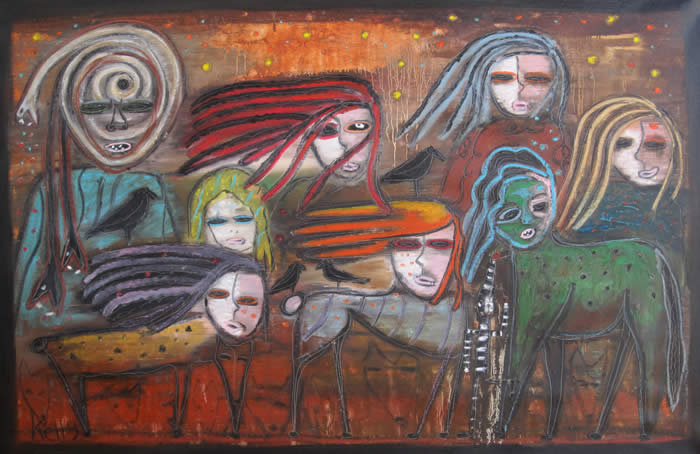 the absurdity of humans
sould
(big)
i know people
arent half human & half coyote
and i know she doesnt have wings
like a dark bird
(or at least i think i know that)
but its all kinda fuzzy to me
i dont live in a world
of absolute truths
atheists bore me
religious fundamentalist do also
and im not exactly comfortable with the
we are all one crowd
(the dining habits of maggots are deeply disgusting to me)
with their smug certaintys
of the mysterious sublime
so
i live in absurd mystery
fully aware that
even scientist cant seem to work out
einsteins theory of relativity
unless thay plug in multiple dimensions of the unseen
of which i am privy to
maybe
one
so lets just say
i deeply suspect something is going on
that i will never understand
but occasionally i do reach around
and check my backside
for a coyote tale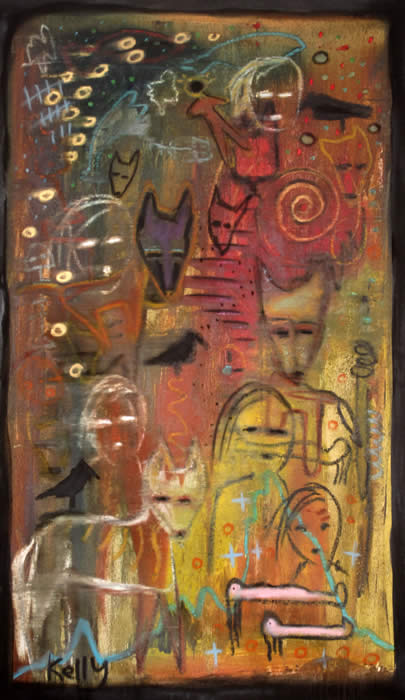 at nite
sould
biggie oily mess
so last nite im watching a science show
where a pointy headed fellow
is explaining that the universe we live in
is 15 billion years old
and either expanding or contracting like a two bit acordian
which either blows your mind
or makes things local in a no exit sorta way
but what i do know
is that im gonna die and your gonna die
prolly sooner than we thingk
so it maybe an exaggerated hope
that i could inspire folks
to be less afraid of dying (when im often terrorfyd)
and more passionate about living
(when im often getting in line)
but as i tould a friend of mine today
absurdity is my friend
and we go back a long ways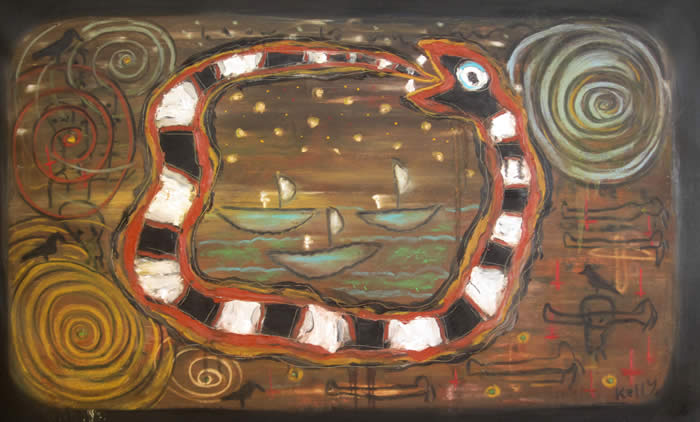 ouroboros
sould
big oily mess (kinda like life maybe)
black next to white
next to red proportionately
should give me the perfect painting
(i think) ....
a nice lady walks up and asks me
what the dolls in the cage mean
which i always answer with a question
eventually leading us to
the age old philosophical pondering of
are we one
or separate with the world
but back to colors and proportion
what thay dont tale u about all that jazz
is the line
that delicate meandering thread that holds
these bold colors together
is the mysterious part of art
that u cant capture with a formula
which pretty much explains why a conversation
about a transcendent truth isnt going far
when we all know
the bears will eat you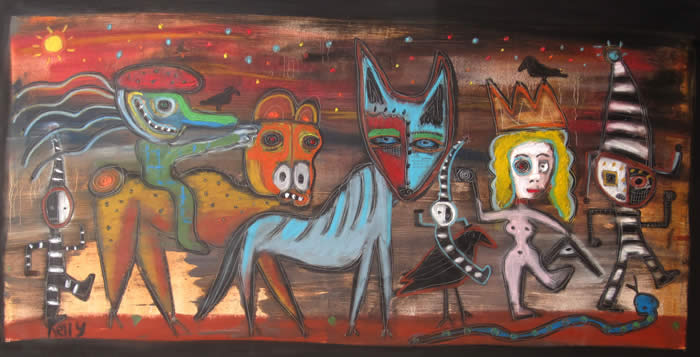 the naked assasin
sould
oily on loose canvas
60 x 32
i read a resume
on canyon road last nite
of an artist that proclaimd to be
a shaman
a mystic
and a visionary
who could also talk to animals.....
((im not sure the resume sayd anything about art))
the artist
was represented
by a fancy gallery
who sold the art for outrageous prices
that few folks will ever understand
and that only a few
rich folks will ever own
so maybe my repulsion
to this sorta elitism comes naturally
from growing up
in small town in arkansas
or maybe its because
im on aisle J at a flea market
making art next to a hard working guy
from guatamala who lives in his van
and sells colorful blankets and hats
for 10 dollars a pop
i dont really care why anymore
the flea is where i belong
i show up everyday to paint
and its honest work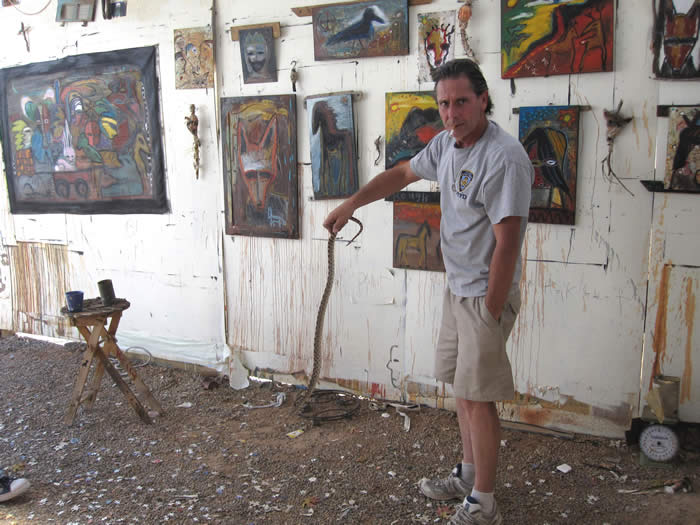 mario catches a snake in my shed yesterday
(clik pixture for new weakly art)
i think im dying
no your not
u say that all the time
well this time i think somethings really wrong with me
ya we all know that
no really
my shoulder is thrown out my gut hurts my leg is killing me
and i cant afford a doctor
if i were u
i would watch out for that snake
that wandered into your shed yesterday
it was a biggie wasnt it?
ya what do u think it meant?
a lady tould me it was about rebirth
shedding a skin or new beginnings
hmmmm...maybe u really are dying

spotted poney
sould
big messy oily
lady...I am burning man!
(oh my gawd did i really say that?!?)
why the hell would i wanna go
to a dance party for yuppies
from san francisco who wanna
get layd in the desert?
(will i never cease shooting myself
in my poor aching feet?)
well....i just thought u mite
injoy the art she sayd....
it was early in the morning at the flea
and i was cranky from
a sandstorm the day before
and she was prolly rite about the art
but the smell of organized anarchy
as an act of something real in the desert
complete with clean porta potties
for every tom dick and harry
who wants to be cool
was too much for this middle aged guy
who never was cool enough to begin with
and besides
i really do make art outdoors
in the desert
at a flea market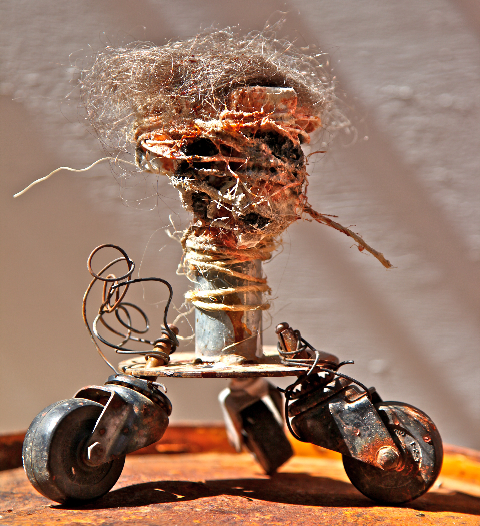 tuco
out of found crap
yesterday about an hour after
i pulld open the tarps
another refugee pulld into my shed
it was tuco....
i had passd him on 285 north as i was driving to the flea
noticing that he was rolling along in the slow lane hould ing up traffic
but he held his own and appeard to be injoying the drive
(what with his hair flowing in the wind and all)
although i did wonder
how he signaled turns and if bug kill was a problem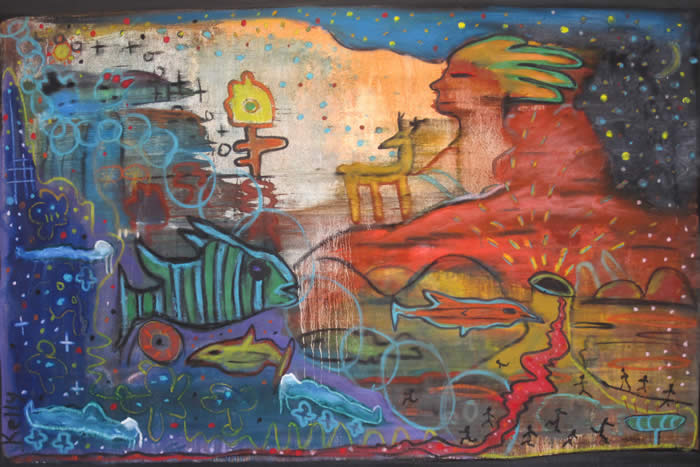 this moutain was once under water
sould
oily bigie mess
i gave up on this painting
2 times this weakend
50 mile per hour gusts with dust
that feels like a spiteful brown snow storm
will challenge your heart like that....
now top that off with the inevitable flood
that is bound to follow the next volcanic eruption
and that on saturday just before i left the flea
i saw billy the kid sitting in my chair
and that a fella on aisle D tould me
he had seen a red heifer which foretould
the end
and i knew i couldnt quit the painting
as this would prolly be
my last chance to ever paint in this lifetime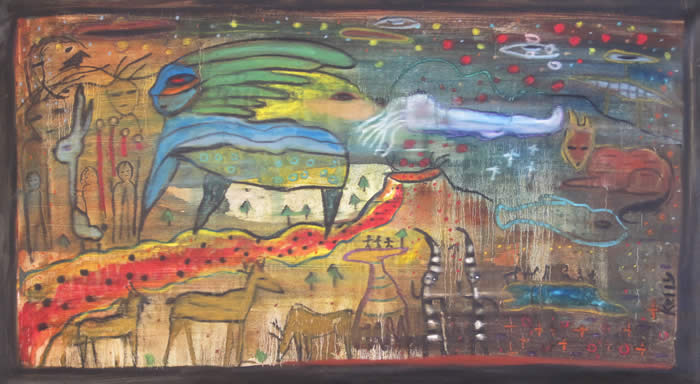 lava flow
sould
big messy on canvas
"do u paint pigs in a bubble gum pink color?"

i lookd over my head

at the two skulls hanging on my door way

and then back at the lady

with fashionably ripped jeans & faded marks

prolly made by a factory in beijing

"why dont u buy one of my dark birds?"

"well thay scare me and i have a two year old...."

i wonderd if i could paint a pink dark bird

but then that mite be scarier

than a bubble gum pig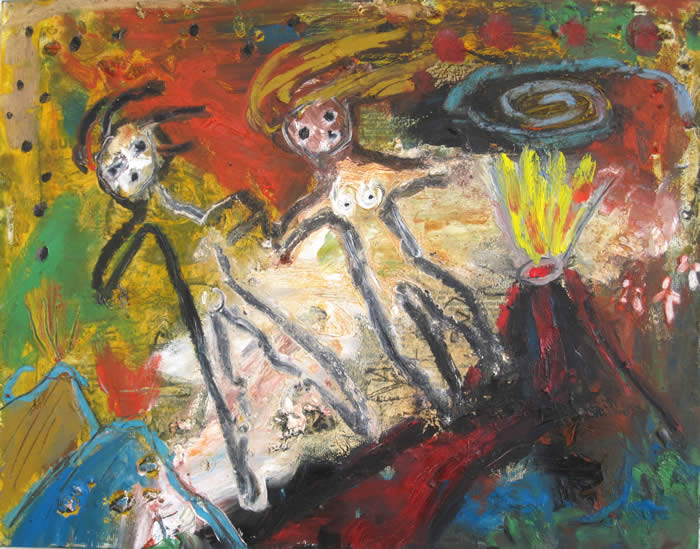 fleaing the volcano
sould
small oily on bord
you leave your art here at
the flea market during the week?
ya its a great place to store crap isnt it?
well surely the pueblo supplys
a security guard or an alarm system
so no one will break in dont thay?
nope but these bungee cords keep
the tarp pulled real tight
to block most of the dust and
some of the varmits out
what if someone steals your art?
lady no one steals art
from a flea market artist
hell i can barely sell it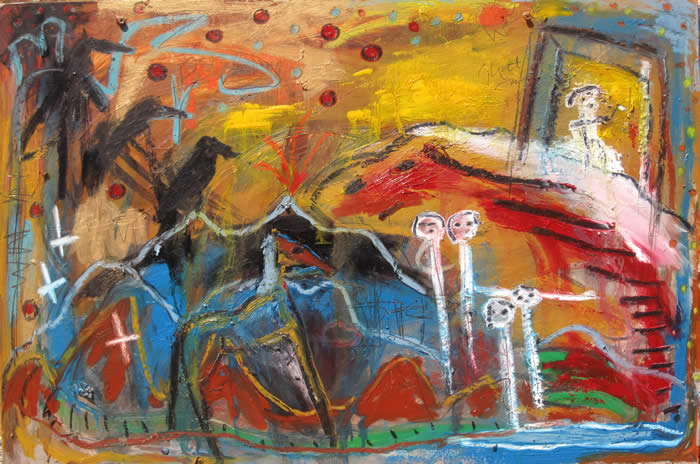 land of volcanos
sould
24 bye 36 on a board
yesterday while it was snowing
at the flea
i heard and then saw
a frantic humming bird fly by
this is afterall
the paradoxical land of volcanos and dinosaurs
route 66 and solar panels
and saviours who are still walking in from the desert
like a fella i heard the other day
who told another he was jesus christ
he had nothing and was clearly homeless
and even quoted the saviour himself

but his flock was having none of it
sayd he heard that on Oprah the other day
hayzeus continued with his sermon on the counter top
til finally the lamb bleated "whatever"
and walkd away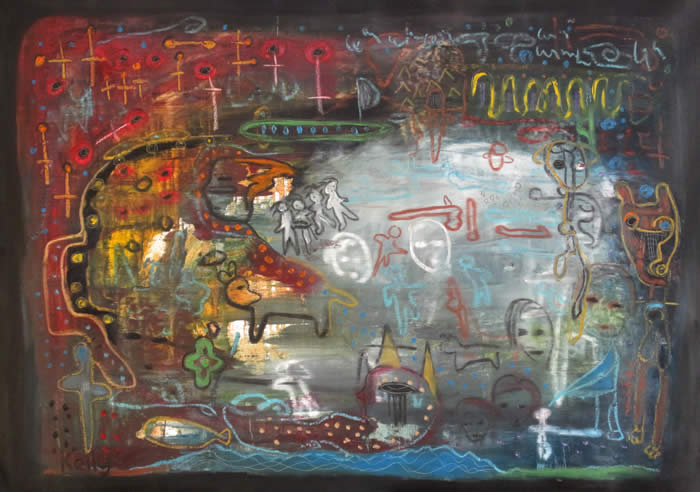 dreamworld
sould
biggie oily
i grew up in a small town
where wal mart every day low prices and tyson chickn mcnuggets
were the local heros
gawd knows it swallowed me for a while
but when you are only using your eyes to see what can be
things can get black and white real fast
luckily for me
my dreamworld was always more vivid than my real world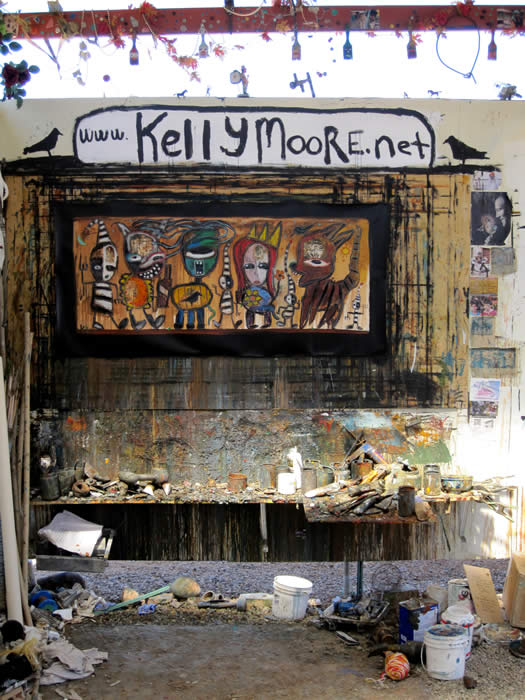 Temptation (clik the pic to sea painting upclose)
studio at the Flea
i have been tould several times
by sophisticated artty sorts that i should not
do my work in front of folks outside at a dusty flea market
but i dont really have that luxuary
and anyway i figure we already have enough artist
locked away in air conditioned condos
working with state of the art paint brushes
pretending to be Oz behind some silk curtain
making high priced fancy art
that will never see the light of day