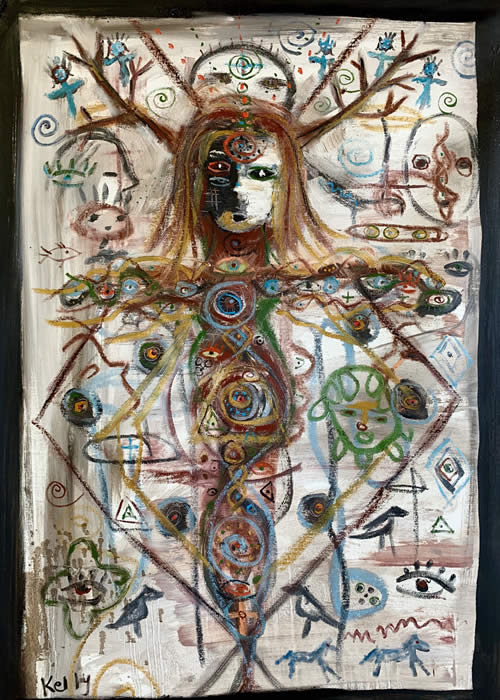 Christ Shaman
about 30 x 40 oily on loose canvas
Silver Linings for a Dark Bird in the midst of a Global Pandemic
Im leaving Canyon Road!!!!!!!!!
a place i never belonged
but had no where
else to be when the FLEA MARKET CLOZED
it took a Disaster to give me a view from
high in sky that
i must only be in a place that
brings me absolute JOY and Clearity of Vision
for my ART and so Im VERRYRRYRYRYRYRYRYRYRYR
HAPPYYYYY to announce my place on Canyon Road is Closed
and so DARK BIRD PALACE
is now at my home just outside Santa fe
in my huge BARN ON 5 ACRES
where people will be able to visit by appointment in the near future!
i cant tell you how excited i am
about being in MY OWN PLACE
where i can truly focus on doing
the best art i can at
DARK BIRD PALACE
clik hear for my STORE LINK or you can simply Scroll down to see a few new pieces of art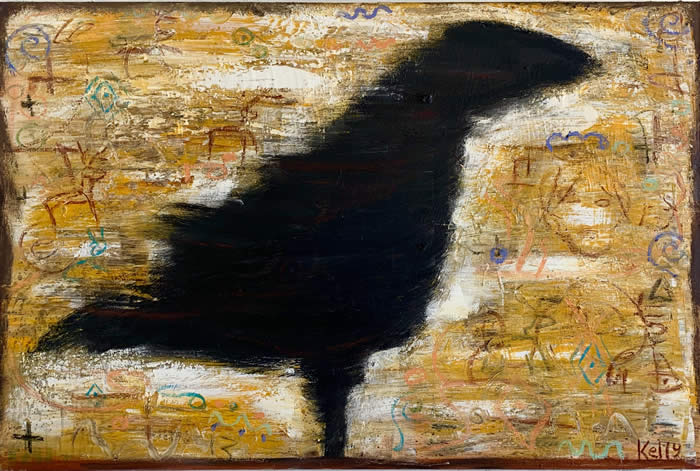 June Dark Bird
Oily on 24 x 30
Prepare for LIFT OFFFFFFF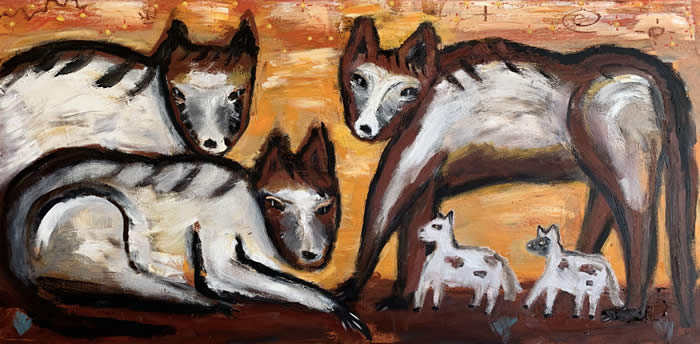 Wolf Pups
24 x 48 oil on stretched canvas
email me at kelly@kellymoore.net for info etccccc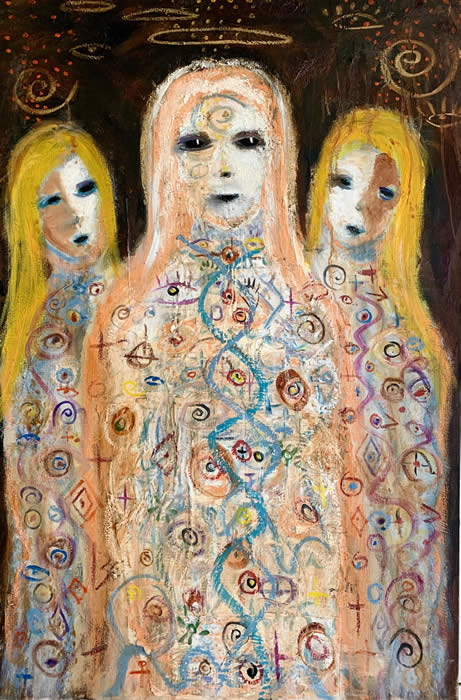 Angels
24 x 36 oil on stretched canvas
to say im happy
about leaving Canyon Road
is the understatement of the year,
decade or century for me!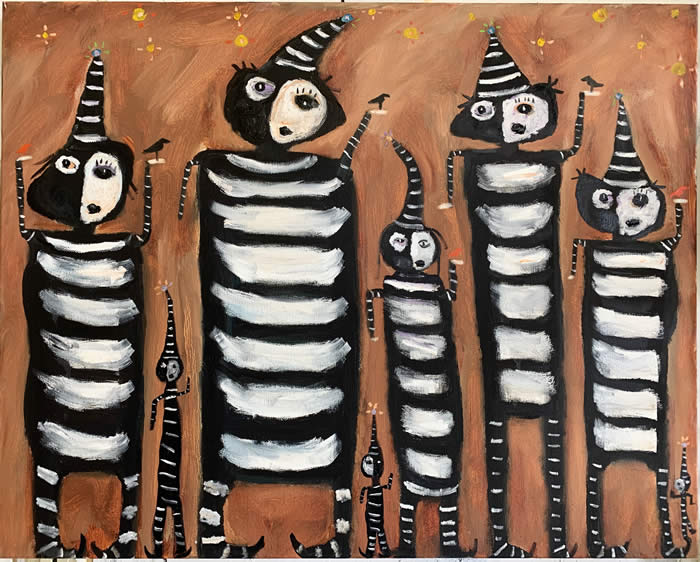 Trickster Fun
24 x 30 oily
clik hear for my store link full of art and some pricesesesee etc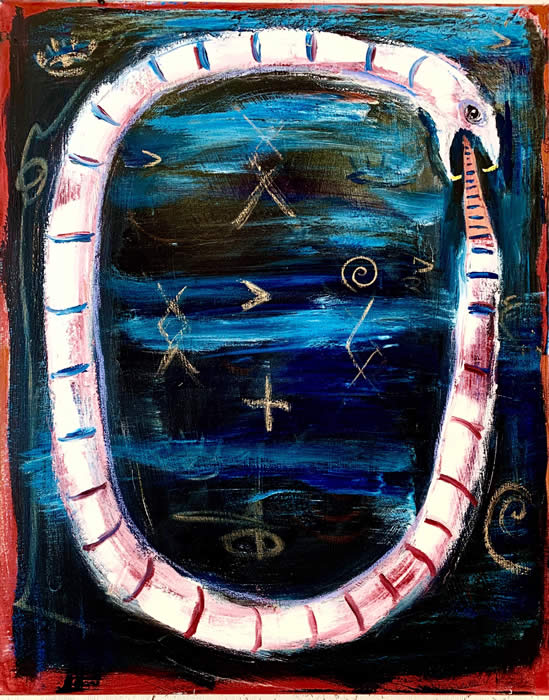 OuroBouros
24 x 30 oily on Stretched Canvas
but its also important to realize how
hard it is for artist to find a
place to be
to offer their art to the world
the places are few
and shriinkinnnnggg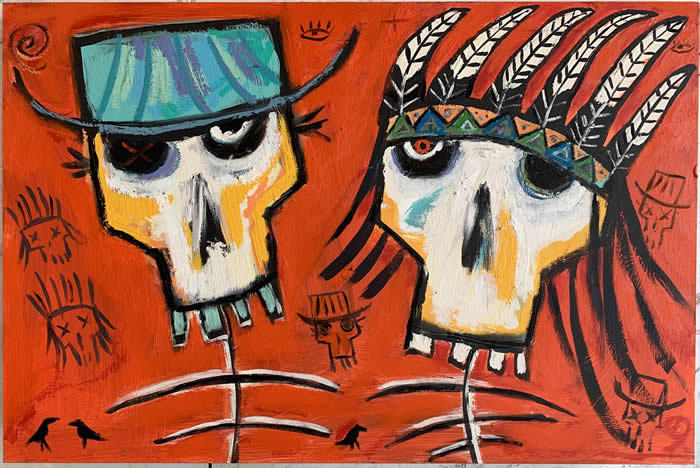 Dead Cowboy and Indian
24 x 36 oil on board
I am now doing Saturday Night Movies on Instagram
that are about anything
but
ART
(last week it was Dark BIrd Dinner in the DESERT)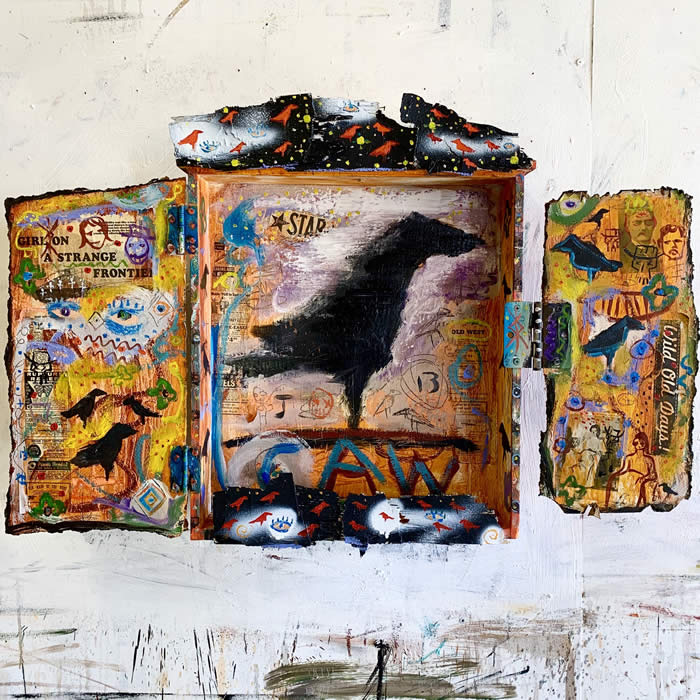 Wild Old Days Retablo
36 x 24 when fully opend
this piece is
unique as a Dark Bird
off the leash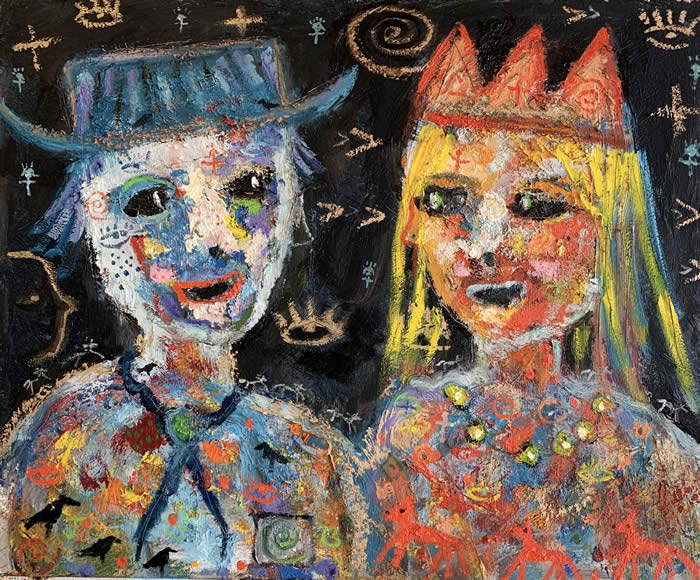 Love Story
16 x 20 oily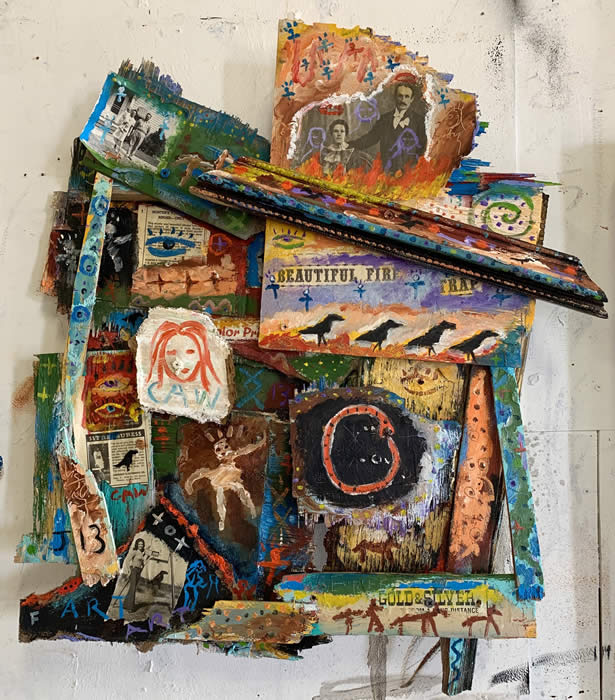 Gold and Silver Retablo
about 29 inches tall
Multicrappia Deluxe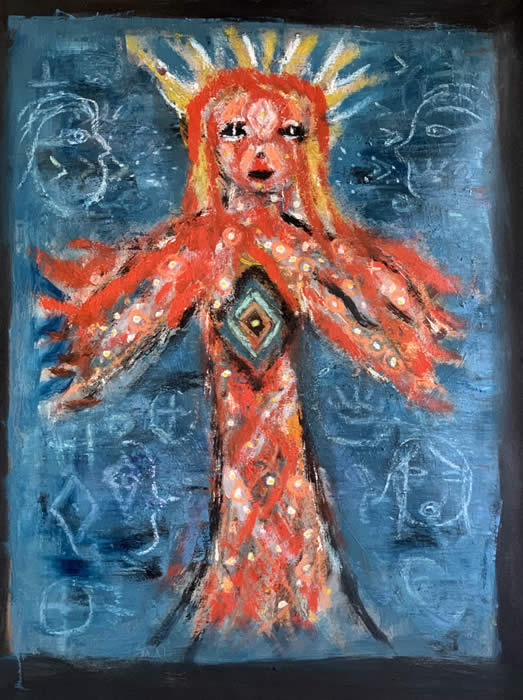 Red Angel
Oil on Loose Canvas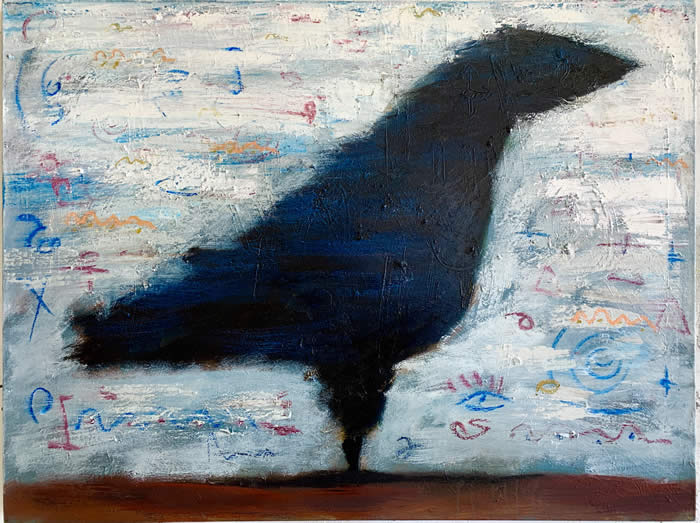 Blue Dark Bird
30 x 40 oily on loose canvas
Beautiful painting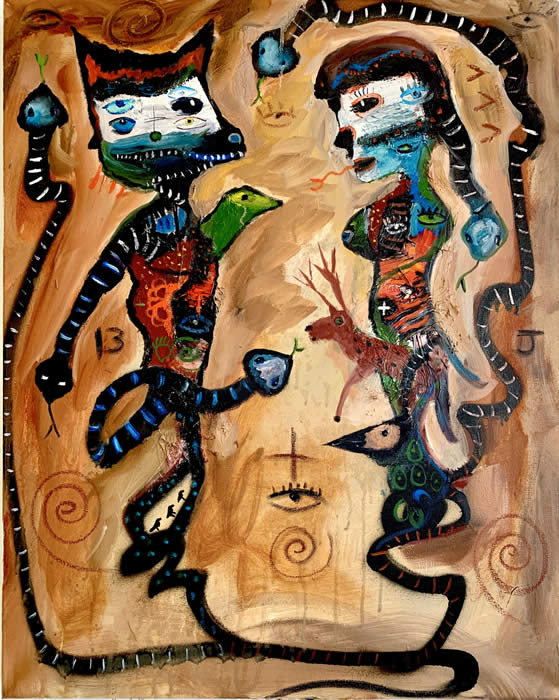 Snake Mask
oily on Stretched Canvas
Several more Snake themed paintings on my Store Link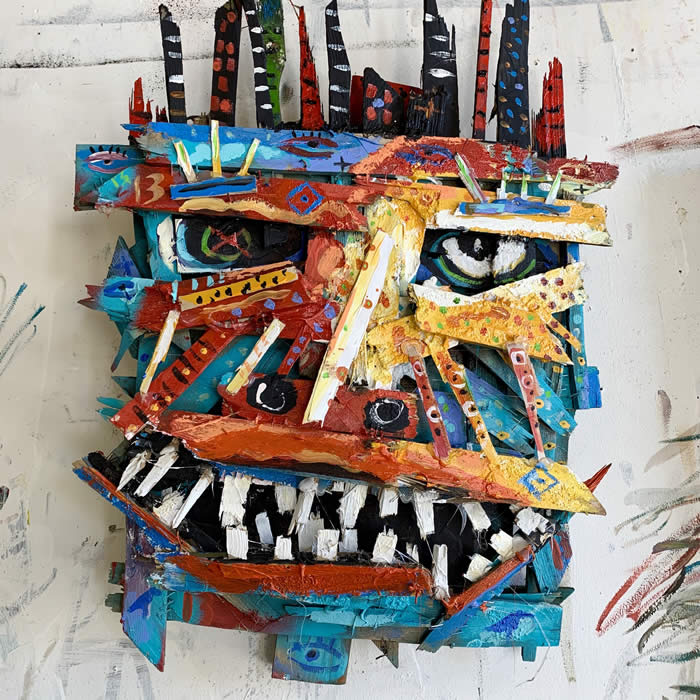 Fang
approximately 29 inches tall
Smile!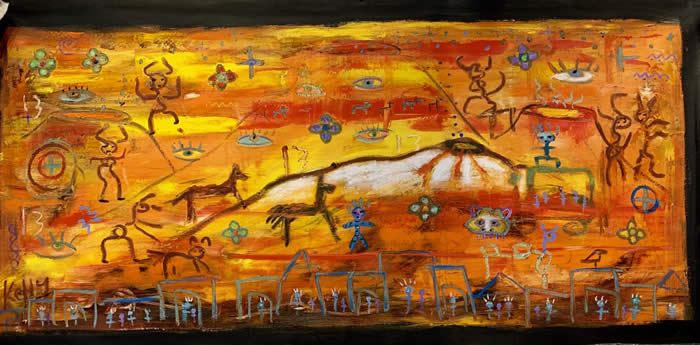 Volcano Land
about 38 x 62 oil on loose canvas
all my Big Loose Canvas Prices are by Request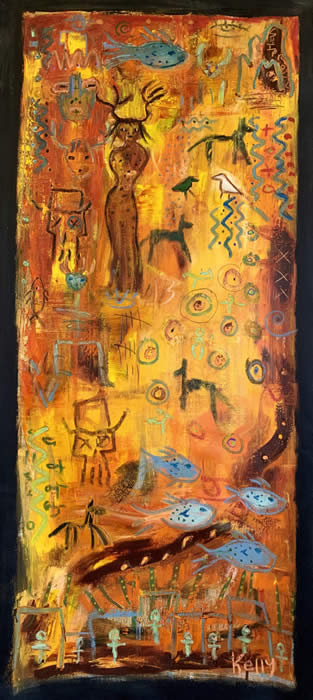 Deer Dancer
29 x 63 inches oil on loose canvas
Desert SPirits
35 x 63 inches oil on loose canvas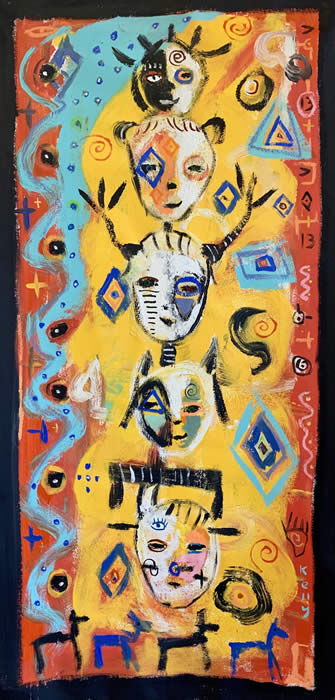 Desert Totem
30 x 62 inches on loose canvas
email me if you rinteresteeedededd
kelly@kellymoore.net

Wild Horses and Dark Birds
about 31 x 62 oil on loose canvas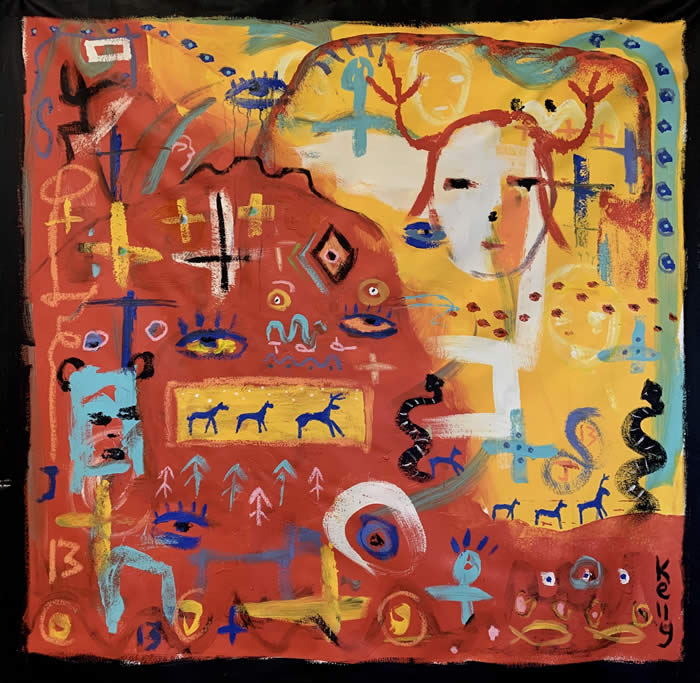 Blue Deer
65 x 65 on loose canvas easy to hang or stretch
clik hear 4 Dark BIRD Palace at NIGHT
a few animals from a drive in the west
Clay Allison New Mexico Outlaw
Join my Monthly Art Newsletter for First Looks at New Art
stay away from the Road Less Traveled
Kelly Moore the originator of Multi-Crappia
Big Horn Sheep
clik hear to read & see bout our trip to South Dakota to photo wild horses...
heres a picture of me dropping a Dark Bird on Cadillac Ranch in Texas last month
the Return of the Tesuque Flea Market
BURROS Truth sayers of the Southwest!
clik hear to buy an art book for a christmas present
photos of Christmas Eve at Dark Bird Studio
clik four a new Picture of me at the flea market
clik hear and tale me what you think
come sea me at the flea
or drop by the alley and sea
kat fend off my paintings while
she whispers to
horses
thank you
for
getting off the main road (thats a DARK BIRD folks)
and looking at art by a guy
who paints at a
flea market
OR
sighn my guestbook and tale me what u think
s
sign the guest book if you want to leave a mark
the New Book..."Absurdity is my Friend"
back to the front page (more words & art)