Childhood

Joan of Arc was born to Jacques d'Arc and Isabelle Romée

in Domrémy, a village which was then in the duchy of Bar
(and later annexed to the province of Lorraine and renamed Domrémy-la-Pucelle).[13] Her parents owned

about 50 acres (0.2 square kilometers) of land and her father supplemented his farming work with a minor position as a village o
fficial, collecting taxes and heading the local watch.[14] They lived in an isolated patch of northeastern territory that remained loyal to the

French crown despite being surrounded by Burgundian lands.

Several local raids occurred during her childhood and on one occasion her village was burned.
Joan said she was about nineteen at her trial, so she was

born about 1412; she later testified that she experienced

her first vision around 1424. She would report that
St. Michael, St. Catherine, and St. Margaret told her

to drive out the English and bring the Dauphin to Reims for his coronation.[15]
At the age of sixteen she asked a kinsman, Durand Lassois,

to bring her to nearby Vaucouleurs where she petitioned

the garrison commander, Count Robert de Baudricourt, for permission to visit the royal French court at Chinon. Baudricourt's sarcastic

response did not deter her.[16] She returned the following
January and gained support from two men of standing: Jean de Metz and Bertrand de Poulengy.[17] Under their auspices she

gained a second interview where she made a
remarkable prediction about a military reversal near Orléans.[18]
Robert de Baudricourt granted her an escort to visit

Chinon after news from the front confirmed her prediction. She

made the journey through hostile Burgundian territory in male disguise.[19]

Upon arriving at the royal court she impressed Charles
VII during a private conference. He then ordered

background inquiries and a theological examination at

Poitiers to verify her morality. During this time Charles's mother-in-law Yolande of Aragon was financing a relief expedition to Orléans.

Joan petitioned for permission to travel with the army

and wear the equipment of a knight. She depended

on donated items for her armor, horse, sword, banner, and

entourage. Historian Stephen W. Richey explains her

attraction as the only source of hope for a regime that was near collapse: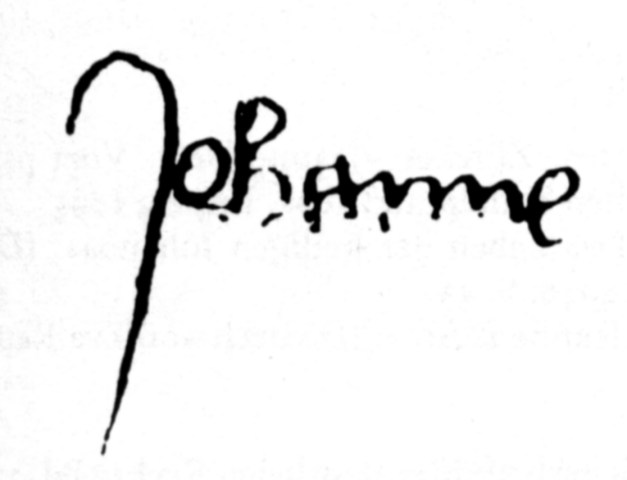 She dictated her letters. Three of the surviving ones are signed.
Early
in the trial an attempt
was made to link her to witchcraft

by claiming her banner
had been endowed with "magical" powers, that she allegedly poured
wax on the heads of small children, and other accusations of this sort, but these charges were
dropped before the final articles of accusation were drawn
up on April 5th. In one of the more curious bids to
discredit her, Cauchon objected to her use of the "Jesus-Mary" slogan
which, somewhat paradoxically, was used by the Dominicans who
largely ran the Inquisitorial courts. Her saints were dismissed as "demons", despite the transcript's own description that they had counseled her to "go regularly to Church" and maintain her virginity.


In the end, Cauchon would convict her on the cross-dressing

charge, which he utilized in a manner which gives an indication of
his character. According to several eyewitnesses - the trial bailiff
Jean Massieu, the chief notary Guillaume Manchon, the assessors
Friar Martin Ladvenu and Friar Isambart de la Pierre, and the
Rouen citizen Pierre Cusquel - after Joan had
finally consented to wear a dress, her guards immediately increased their
attempts to rape her, joined by "a great English lord" who
tried to do the same. Her guards finally took away her dress entirely
and threw her the old male clothing which she was forbidden to wear,
sparking a bitter argument between she and the guards that "went on
until noon", according to the bailiff. She had no choice but to
put on the clothing left to her, after which Cauchon
promptly pronounced her a "relapsed heretic" and condemned her to death.
Several eyewitnesses remembered that Cauchon came out of the prison
and exclaimed to the Earl of Warwick and other English
commanders waiting outside: "Farewell,
be of good cheer, it is done!", implying that
he had orchestrated the trap that the guards had set for her.


The scene of her execution is vividly described by a number of
those who were present that day. She listened calmly to the sermon
read to her, but then broke down weeping during her own address,
in which she forgave her accusers for what they
were doing and asked them to pray for her. The accounts say
that most of the judges and assessors themselves, and a few of the
English soldiers and officials, were openly sobbing by the end of it.
But a few of the English soldiers were becoming impatient, and one
sarcastically shouted to the bailiff Jean Massieu, "What, priest, are you
going to make us wait here until dinner?" The
executioner was ordered to "do your duty".


They tied her to a tall pillar well above the crowd. She
asked for a cross, which one sympathetic English soldier
tried to provide by making a small one out of wood. A crucifix was
brought from the nearby church and Friar Martin Ladvenu
held it up in front
of her until the flames rose. Several eyewitnesses recalled that she
repeatedly screamed "...in a loud voice the holy name of Jesus,
and implored and invoked without ceasing the aid of the saints of
Paradise". Then her head drooped, and it was over.


Jean Tressard, Secretary to the King of England, was seen returning
from the execution exclaiming in great agitation, "We are all ruined,
for a good and holy
person was burned." The Cardinal of England himself and the Bishop of
Therouanne, brother of the same
John of Luxembourg whose troops had captured Joan, were said to have
wept bitterly. The executioner, Geoffroy Therage,
confessed to Martin Ladvenu and Isambart de la Pierre afterwards, saying
that "...he had a great fear of being damned, [as] he had burned a
saint." The worried English authorities tried to put a stop to
any further talk of this sort by punishing those few who were willing to
publicly speak out in her favor: the legal records show a number of prosecutions during the following days.
Question: At what age were you when you first did hear these voices?

Answer: I was thirteen when I had a voice from God for my help and guidance.The first time that I heard this voice, I was very much frightened, it was mid-day, in the summer, in my father's garden . . . I heard this voice to my right, towards the Church, rarely do I hear it without its being accompanied also by a light. This light comes from the same side as the voice. Generally it is a great light . . .
Questions During her Trial


Q: How long is it since you heard your voices?

A: I heard them yesterday and today.

Q: What were you doing yesterday morning when the voice came to you?

A: I was asleep. The voice awoke me.

Q: Was it by touching you on the arm?

A: It awoke me without touching me.

Q: Was it in your room?

A: Not so far as I know, but in the Castle.

Q: Did you thank it? Did you go on your knees?

A: I did thank it. I was sitting on the bed. I joined my hands. I implored its help. The voice said to me, "Answer boldly, God will help thee" . . . (then addressing the Bishop of Beauvais) You say you are my judge. Take care what you are doing, for in truth I am sent by God, and you place yourself in great danger.

Q: Has this voice sometimes varied its counsel?

A: I have never found it give two contrary opinions.

Q: This voice that speaks to you, is it that of an Angel, or of a Saint, of from God direct?

A: It is the voice of Saint Catherine and Saint Margaret. Their faces are adorned with beautiful crowns, very rich and precious.

Q: How do you know if these were the two Saints? How do you distinguish one from the other?

A: I know quite well it is they, and I can easily distinguish one from the other.

Q: How do you distinguish them?

A: By the greeting they give me. It is seven years now since they have undertaken to guide me. I know them well because they were named to me.

Q: What was the first voice that came to you when you were about thirteen?

A: It was Saint Michael. I saw him before my eyes, he was not alone, but quite surrounded by the Angels of Heaven.

Q: Did you see Saint Michael and these Angels bodily and in reality?

A: I saw them with my bodily eyes as well as I see you, when they went from me, I wept. I should have liked to be taken away with them.

Q: What sign did you give to your King that you came from God?

A: The sign was that an Angel assured my King, in bringing him the crown, that he should have the whole realm of France, by the means of God's help and my labors, that he was to set me to work . . . that is to say, to give me soldiers; and that otherwise he would not be so soon crowned and consecrated.

Q: Of what material was the said crown?

A: It is well to know it was of fine gold, it was so rich that I do not know how to count its riches or to appreciate its beauty. The crown signified that my King should possess the Kingdom of France.

Q: Were there stones in it?

A: I have told you what I know about it.

Q: Did you touch or kiss it?

A: No.

Q: Did the Angel who brought it come from above, or along the ground?

A: He came from above, I mean, he came at our Lord's bidding. He entered by the door of the chamber.

Q: Did he move along the ground from the door of the chamber?

A: When he came into the King's presence, he did him reverence, bowing before him and speaking the words I have told you about the sign. Then he reminded him of the beautiful patience he had shown in the face of the great tribulations which had come to him. And from the door of the chamber he stepped and moved along the ground as he came to the King. When the Angel came I accompanied him and went with him up the steps to the King's chamber, and the Angel went in first. And then I said to the King, "Sire, there is your sign . . . take it."

Q: Do you know if you are in the Grace of God?

A: If I am not, may God place me there. If I am, may God so keep me. I should be the saddest in all the world if I knew that I were not in the grace of God. But if I were in a state of sin, do you think the voice would come to me! I would that every one could hear the voice as I hear it.

A: He came for a great purpose. I was in hopes that the King would believe the sign, and that they would cease to argue with me, and would aid the good people of Orleans. The Angel came for the merits of the King and of the good Duke d'Orleans.

Q: Why to you rather than to another?

A: It has pleased God so to do by a simple maiden, in order to drive back the enemies of the King.

Q: If the Church Militant tells you that your revelations are illusions, or diabolical things, will you defer to the Church?

A: I will defer to God, Whose Commandment I always do . . . In case the Church should prescribe the contrary, I should not refer to any one in the world, but to God alone, Whose Commandment I always follow.

Q: Do you not then believe you are subject to the Church of God which is on earth, that is to say to our Lord the Pope, to the Cardinals, the Archbishops, Bishops, and other prelates of the Church?

A: Yes, I believe myself to be subject to them, but God must be served first.

Q: Have you then command from your voices not to submit yourself to the Church Militant, which is on earth, not to its decision?

A: I answer nothing from my own head, what I answer is by command of my voices, they do not order me to disobey the Church, but God must be served first.
pixtures from castles in britain